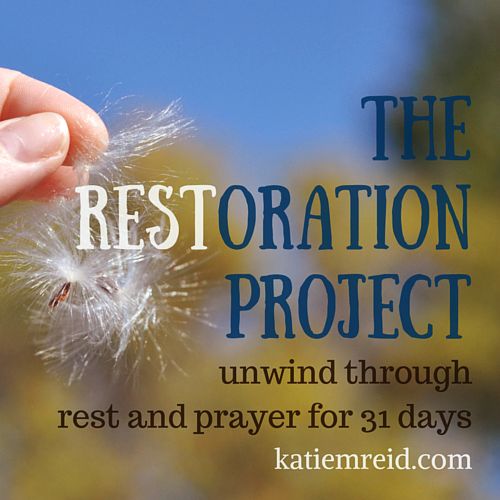 Welcome to Day #2 of the Restoration Project!
We are so glad that you are joining us as we unwind through rest and prayer for 31 days.
Each Friday, and most Thursdays, in October, I will be hosting the words of some of my blogging friends as they help us rest well.
I met Marina at the Declare Conference and I'm excited for you to get to know her.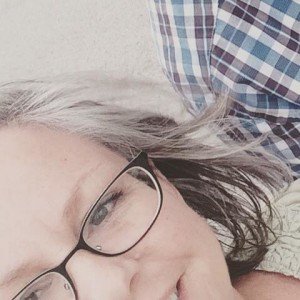 A bond-servant of Jesus Christ, Marina is wife to Mark, mom to 3 (and 3 in-laws), and "Gramma" to nearly 10 grands. She spends her days packing and moving, and enjoys capturing photos of God's creation and making memories with her grands. She is passionate about Missionary Care Ministry, and loves to encourage others to love on their own favorite missionaries. In her spare time Marina writes at Marina's Kitchen Table, and posts to her Facebook page of the same name. Her photography has been featured at Roy Lessin's devotional blog, Meet Me in the Meadow, where she served as his Virtual Assistant and Photographer.
Deposit Rest
I lay awake in the darkness of my room, thoroughly exhausted. Moments ago I was falling asleep on the couch. I'm obviously tired and capable of sleep. The distraction of the T.V. show was enough to allow me to disengage from the burdensome thoughts of our most current move, and the frustrations of house-hunting from 500 miles away.
Our fifth move in as many years, and I'm weary.
I recount the phone conversation from earlier, as my husband explained why the house he looked at wouldn't work. Another house in disrepair, the photos online not representing the current status of the home.
The weight lays heavy on my chest and my mind, and I can't seem to shake it.
How can I be so worn out, so exhausted, and not fall asleep?
Out of nowhere, my heart is tuned to a song I learned years ago, "Come unto me, all who are weary and heavy laden, and I will give you rest…"
Could it really be so simple?
Too often we find ourselves dragging – emotionally and physically – even in seasons of fullness and blessing.
A good friend once told me that stress doesn't have to come from bad circumstances, it can come from good things too! Anything that takes out of us more than we're able to put back into us will leave us empty and in need of rest.
A few years ago I read Holley Gerth's book, You're Already Amazing. In Chapter 10, entitled, "Is It Okay to Take Care of Myself?" she relates our well-being to an energy bank account. She gives great ideas of things we can do to refill our energy accounts—whether it's emotional, mental, social, physical, or spiritual.
Time in prayer, a nap, or just looking out the window and watching the rain can help restore our emotional bank account. Even doing something physical can help us feel a certain peace that will substitute for a "restful" activity.
Don't you love the way you feel as you work in the garden, go for a walk, or a casual bike ride? We are all different, but I think we can experience that peace when we are alone washing dishes by hand, or hanging clothes on the line. Our Grandmothers relied on it to bring balance to their life and rest to their soul, but we've gotten too busy with life's comforts to take time to be alone, with Him.
It is the spiritual discipline of coming to God in song and prayer, which brings rest—and restoration—to our body, mind, and spirit. In a world where we are under attack spiritually, weighed down emotionally, and physically pulled in every direction, we need to make it a priority to take time alone with God daily.
Then Jesus said, "Come to me, all of you who are weary and carry heavy burdens, and I will give you rest.  Take my yoke upon you. Let me teach you, because I am humble and gentle at heart, and you will find rest for your souls. For my yoke is easy to bear, and the burden I give you is light." Matthew 11:28-30 (NLT)
It's important to schedule time to "deposit" and build our accounts after a stressful "withdrawal." It might be a family member who rubs us wrong, a friendship that exhausts us from their negativity, or an activity that leaves us empty.
-Looking at your life today, what things can you identify as stressful withdrawals from your emotional bank account? (Family relationships, work situations, sin in our life…)
-Are there things you can do afterwards, to counter a stressful withdrawal? (Taking a walk, praying with a friend or spouse, journaling…)
-In day-to-day life, what things do you see that build up your account, bringing you joy, and ultimately rest and restoration? (Quiet time with God, gardening, playing an instrument…)
Dear Lord,
 We thank You for giving us examples of rest in the scriptures, and for promising us rest when we come to You. Give us wisdom in identifying the things in life that zap our emotional bank accounts, and also to sense Your leading in when, and how, to come to You to be refilled. Help us to be sensitive to the many ways You choose to work through us each day, that we can deposit in other people's lives, encouraging them to draw near to You, and not leave them weary and burdened. In Your name we pray, 
Amen.
Resting in Him,
Marina
P.S. If you missed Day #1 of the series, head on over to get caught up.