As we wrap up 2015, I'm reflecting on some of the favorite words I've read. Kate Motaung inspired me last year when she shared 10 of her most memorable posts (she is hosting a link-up for all us to share our lists this year).
Here are some of my favorite posts from some inspiring women.
Happy Reading!
Favorite Posts from Others Around the Web:
No More Sleeping Walking Through Life by Jennifer Dukes Lee
You are not a machine, or a spreadsheet, or an agenda, or a resume. You are a person. You have a heartbeat, skin, scars, and soul." -Jennifer Dukes Lee
Let's Slow Down Before We Shut Down by Holley Gerth
And when we are hurting, we seek something to soothe our souls–often beyond the boundaries of what God allows. And just like the click of a mouse, a decision is made that shuts down a once-thriving family, ministry, heart." -Holley Gerth
A Post For the Invisible, For the Uninvited, For the Ones Who Desperately Want A Seat At the Table by Kimberly D. Jenderson
The Holy Spirit nudged me with a telling question on my way home from lunch. Do you want to make a difference or do you want to be famous? I shifted uncomfortable in the seat of my minivan." -Kimberly D. Jenderson
The Mom Behind the Machine by Karen Brown
I needed to learn that my goal isn't to raise up happy, carefree children. It's to hold up a Savior who's worthy of their trust- especially on the crying days. Only a real mom with a real testimony can show her kids how to stumble into the arms of Jesus. Only an honest, humble mom can reveal God's strength through heartbreak, doubt, and tearful worship. Pride powered the machine, but grace fuels the mom." -Karen Brown

Beauty in the Cracks of Life by Kelly Balarie
How often do I take for granted God's gentle cracks of beauty, because I am too caught up in the pot that contains no flowers? How often am I so dead set on my plans, that I miss God's desire to spread his seed beyond me?" -Kelly Balarie
The Lie of Feeling "Behind" in Life by Ann Swindell
I am not "behind" in life if I am in step with Christ. Next to him—with him—is the exact place I'm supposed to be. If his pace with me is slower than it is with my best friend or my colleague, it is not my responsibility to try to catch up to them. In doing so, I would leave Jesus behind. Similarly, if his pace with me is faster than it is with my friend or my neighbor and if I slow down rather than pressing ahead with him, I leave Jesus behind." -Ann Swindell
Are the Blogging Rules Robbing Your Authenticity? By Christin Slade via the Allume Blog
Many people don't need another "how to" post. They need to hear from people who are living lives according to His Word, not the way some self-help book has it laid out. Friend, use the voice God gave you—don't allow the blogging rules to cut out the most passionate, authentic parts of yourself just to reach the masses." -Christin Slade

Authentically Creative, by Wendy Speake via the Allume Blog
Well, you see, I believe that God made me an actress, it's part of who I am.  So you are basically asking me how long I'm going to give myself the opportunity to be myself before I embark on the grand adventure of being someone else." -Wendy Speake
Who Am I Really? by Christy Mobley
My issue is keeping up with "appearances". What might yours be? Is it appearance like me? Perhaps weight? Color? Education? Status? How twisted our thinking can become when we attach our self-worth to these perishable things.  And that's just what the devil wants. Because when these are depleted we are left with empty. If we attach our self-worth to the One who is worthy we will always be full." -Christy Mobley
Faith on the Edge of the Sword by Angela Parlin
I hope the story of these 21 brave brothers in Christ–and all the others who have gone before–inspires you to follow Jesus bravely, the way it's inspiring me. Instead of growing our fears, may these stories grow our faith.They lived in this world, but they had died to it already. They had died to the world, and the world had died to them. May we stop craving our illusions of safety, and may we hunger for heaven instead.
How My Muslim Neighbors Helped Me Grow Closer to the Heart of Jesus by Angela Nazworth
Aisha and Hasim helped me grow closer to the heart of Jesus through their generous hospitality. They didn't know Jesus like I do (although I still pray that they will), but they knew how to love like Jesus asked us to love others. And sometimes, they did it far better than I did.
Our Words Can Save a Life by Abby McDonald
Never underestimate the power of your words. Our words have the power to breathe life or stifle it. With a simple "hello," a smile, a conversation spent listening instead of simply waiting to speak, we breathe life into the bones of others. Others who are hurting, wanting, and needing our presence and affirmation. All it takes is a simple decision. But that decision can make the difference between life and death. With our words, we can speak hope.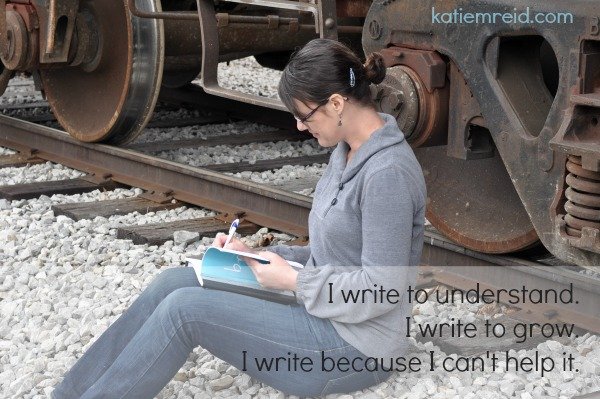 Top 5 Most Popular Posts from katiemreid.com for 2015
 The Secret Place (A Special Announcement)
There in the secret place of our hearts He is listening, working, moving. He knows what is best and what is necessary to shape us. He is not Santa Claus nor a leprechaun with gold at the end of the rainbow. But He is present and able to open and shut doors according to His plan. He gives good gifts even when they are unexpected and come in different packaging than we had pictured.
Many of you know me as the Tightly Wound Woman—that won't be changing anytime soon—and you will still find many posts about control and letting go here. But, instead of just encouraging you through writing, I am also sharing my songs, messages and photos with you, in one place. As you explore this new home it is my prayer that you unwind in His Presence and draw nearer to Jesus.
When we sidestep the path ahead we do ourselves and others a disservice. As we walk forward, taking the next step, may I remind you that you are welcome here.You don't have to have it all together—none of us do.You have permission to be yourself. Don't be a chameleon who changes what they look like based on the environment they are in. Be you, be true.
Unraveling Grace Series: Choosing Stillness (Guest Post by Courtney Stanford)
No one ever added a day to his life by worrying. No one ever brought God glory by holding the reigns of control so tightly. No, I have to give that all to Him. In my busyness, He reminds me to give Him control. He has this. He always has. Praise the Lord that He is the one holding my life in His hands and guiding my footsteps! I don't have to take the lead. I can follow Jesus. He is worthy of every ounce of faith that my heart can surrender.
Unraveling Grace Series: Fears for Your Kids (Guest Post by Betsy Cruz)
When fears of school violence and internet dangers assault us, let's fix our thoughts on the One who'll guard our minds in perfect peace as we trust Him. Let's turn those worries into prayers. God's bigger than any threat our kids can face. As much as we might like to hover over our children to protect them from every danger, we can't. They'll make mistakes and encounter challenges, but God causes all things to work for good, and He's got their good in mind (see Romans 8:28). We can entrust our kids to His care.
Well, I hope that you enjoyed a glimpse into what I read this year. I will be back here on Thursday to share What I Learned in 2015.

P.S. Linking up with Kate Motaung for her Memorable Posts of 2015 Link-Up and Kelly Balarie for the #RaRaLinkup.