If you've been following along on Instagram Stories, then you know that I've been counting down to my 40th birthday.
Yes, it's true, I'm turning 40. I'm thankful that the "Over the Hill" 40th birthday party thing isn't popular anymore. 40 is young!
Last year I shared 39 things you might not know about me, but this year I'm sharing one thing, sure and timeless.
Some thoughts on turning 40…
What is the measure of success at 40?
Is it things you can check off your to-do list, your Wish List, or a Bucket List? Is it found in striving and accomplishing and a dream-come-true lifestyle that defines your decades?
After years of living wound up tight in an effort to control my world, my circumstances, and myself, I'm finally learning what true success looks like.
It's much different than I thought.
I've been wise in my own eyes and it's blinded me. It's kept me from life-altering, soul-freeing, chain-breaking, joy-overflowing kind of truth.
Success is less about striving and more about abiding.
Achievement is less about doing and more about remembering.
Winning is less about competing and more about helping someone else succeed.
Many tell me that I've made the most of my time on the planet thus far, but in some ways I feel like I've been stuck—until recently.
You see, I had a revelation.
It had been a long time coming. Many along the way scattered seeds of truth, but it wasn't until the other day that the seeds sprouted bold and beautiful.
I came to—out of the numb and out of a try hard lifestyle.
My vision is clearing, my posture is readjusting, my ears are opening to a beautiful sound.
In some ways I feel embarrassed that it took so long to understand what many already know, but I'm not letting it rob me of this newfound joy.
For decades I have lived as if success was dependent on me—good grades, appearances, agreeable nature, dependable, responsible, available; not too rough, wild, or extravagant.
Don't be "too much". But definitely don't be "not enough".
Do you do this too? Do you stuff down, or cut off parts of who you are because you feel misunderstood? Do you feel like "taking up your cross" means you have to be a robot, with no distinctive characteristics, marching in line and playing the part, with a "Yes Sir" and a left right left. Stay in line, don't rock the boat, be good.
Is this what success is?
Not a chance.
On the eve of 40, I'm turning a corner. I'm getting right side up because my thinking has been turned around.
Jesus loves me.
Really, Katie? That's the revelation. Didn't you learn that at 4, not 40? Yes and no. I could recite the words and sing the tune yet my life offered a clashing contrast to the truth behind the lyric.
I believed what Jesus did on the cross and accepted it. And then I spent my life, all thirty-plus years of it, straining to earn the Love that I'd already been given.
Maybe I felt guilty or unworthy or afraid my "too much and not enough" would eventually make Love leave?
Deep down I didn't trust myself so I tried to follow the rules (or at least keep enough of them to be deemed "okay"). I worked hard to control so I wouldn't slip, wander, or fall off the deep end.
Yet He already loved me.
I was dusting (okay not really, I almost never do that), cleaning up, and trying to earn His love—striving to earn that which was already decided. I was sweating and stewing and falling into bed exhausted because I was trying to please He who had already completed the work. I was spinning and performing and striving and shouting, trying to get others to notice. But I already had His attention. I was worrying and fearing and scheming and hiding, when He already had it under control.
I want this year to be marked by abiding with the One who loves me, remembering His faithfulness, and helping others discover and remember His Love.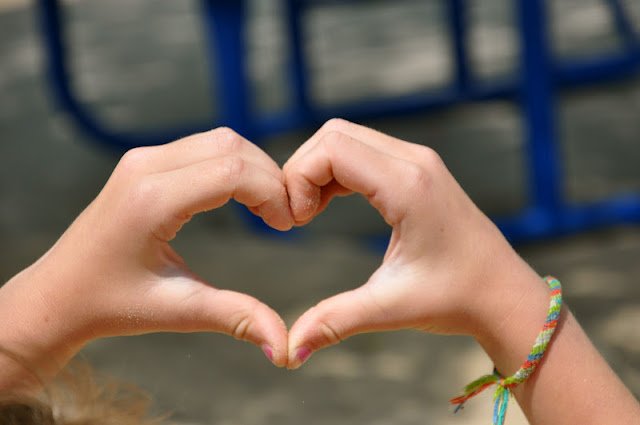 Your posture changes when you know you're loved. Your eyes sparkle when you have the affection of another. Your head clears when you believe what's already true.
Jesus loves you.
If you have invited Him in, He's there. You don't have to perform, perfect, or prove your worthiness. You are worthy because God created you and because Jesus came, died, and rose on your behalf.
Your sins? Forgiven.
Your salvation? Secured.
Your future? Full of hope and in His control.
Jesus has taken up residence in you—if you have welcomed Him in—and He is not leaving. He is not going anywhere.
Your past is covered with grace, your present is full of His Presence, and your future is bright with promise. Because Jesus lives.
40 is threatening to freak me out a little, but I'm staying grounded—secure in a Love that doesn't leave, change, or fade away. I can sit down, cease striving, and rest in what's mine in Christ.
And the best part? It's yours in Christ too—the grace, the peace, the promise. It's available for us all. If only we receive the Gift, Jesus Himself.
There is real, lasting hope for your future because of this simple and glorious truth.
Jesus loves you. This I know.
It might be hard to believe, but it is indeed and already true.

You, dear reader, are a gift to me. And in honor of both my 40th birthday and your readership, I'm hosting a special giveaway!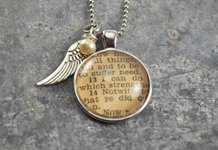 Kraft Kash Giveaway!
My generous friend, Krafty Kash, is giving away a necklace of choice to one of you! The winner will be able to pick out a beautiful piece of jewelry from Krafty's shop.
Enter the Giveaway:
P.S. Affiliate links are in this post.
Linking up with Kelly Balarie's of purposefulfaith.com for the #RaRaLinkup 
Save