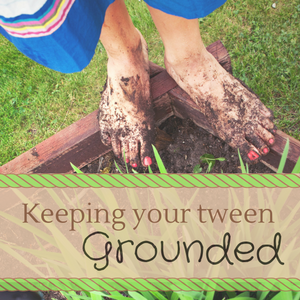 Welcome to Day #1 of the Grounded Series!
We're excited that you are joining us as we explore the tween years with faith and fun. Learn more about the series here.
Be sure to subscribe (just enter your email address in the top right box) so you don't miss any posts. One of our subscribers will receive a Mother/Daughter prize pack.
Did you see that we have designed a shirt and sticker to celebrate the start of this series? You can order them for one week only! Several colors are available.
During the series, Brooke (my 12 year old daughter) and I will tackle some topics that tweens and their mothers face.
On Saturdays we will be doing a Facebook Live video on my author/speaker page for the "I Dare You" Challenge. This challenge is designed to grow your relationship with your tween by doing something silly or stretching together.
Sometimes tweens roll their eyes and act like they don't want to spend time with us. But maybe that's because we are often lecturing them vs. listening and laughing together?
Today's challenge is…
I Dare You to Wear It!
1. Go to the thrift store of your choice, together.
2. Tweens, pick out three shirts that you want your mom to try on (be nice and pick out the right size). Choose something that you think would look good or outrageous on your mom. Your mom will do the same for you. 😉
3. Try on the three shirts together in the dressing room. Be a good sport and enjoy the process!
4. Choose the one shirt that you like (or dislike) the most and buy it!
5. We'd love to see a picture of what you choose over in the comments on Facebook (we will be sharing ours on Facebook Live). Feel free to share how this experience went in the comments section on the blog too.
The point of this challenge is to laugh and spend time together.
Try not to veto each others selections. And have fun!
Stay grounded in love,
Katie and Brooke
We'll see you tomorrow for the Sunday devo!
Save