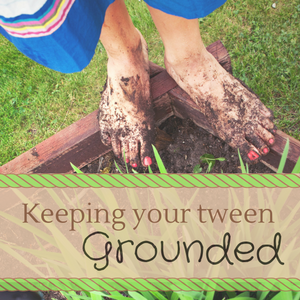 Welcome to Day #2 of the Grounded Series!
Yesterday was the "I Dare You to Wear It!" Challenge. We had fun shopping for and with each other at our local thrift store. You can access the video of the dare here. Be sure to let us know if you do the challenge, we'd love to hear about it and see pictures of what you found!
On Sundays of this series, we are hosting a devo for Mothers and Tweens to do together.
Devotional: What about Prayer?
Read Ephesians 3:14-15
For this reason I bow my knees before the Father, from whom every family in heaven and on earth derives its name…"

Prayer is important but it often is something we forget to do or only do when we are out of options.
I feel guilty about my pathetic prayer life. I should pray more but I forget. I have seen the power of prayer yet I neglect its practice. Can you relate?
Could it be that we struggle to pray consistently because we view it as a chore instead of a conversation with a friend?
When I get together with my best friends, we talk and talk and talk. It's a joy to talk with those I love. So why do I struggle to talk to Jesus?
It would be crazy to invite your best friend over to dinner and then only talk to them through your parents.
For example, "Mom, can you tell Lexi that I am so glad that she is here for dinner tonight?" Or, "Dad, can you ask Lexi if she'd like some dessert?" It wouldn't make sense to go through your parents when your best friend was sitting right next to you. Why not talk directly to her?
But often we rely on our parents' faith instead of making it our own. We can go directly to God's Word, and Jesus' Presence to know Him more. Sure, your parents are there to help you navigate this faith journey but young people have access to Jesus like adults do.
You don't have to use fancy words when you pray. You don't have to pray long prayers.
You can pray just like you talk.
For example: "God, I'm really mad right now! I've having friend issues at school and it seems like You're not doing anything about it! Can You help me out and give me some ideas of how to deal with this?"
You don't have to edit or pretty up your prayers! God wants to hear what you think and feel. He loves you! He also has wisdom to give as you stop and listen and as you go to the Bible to discover truth for yourself.
God is a Good Father. Jesus wants to be our best friend. The Holy Spirit is ready to help us. Let's talk to Him today about how we are really doing.
Your Turn:
What is an obstacle that you face with praying?
Take a moment and pray with your mom, dad, or loved one, right now. Take turns offering up an honest prayer to the God who loves you.

We'll see you back here tomorrow as Brooke talks about something that drives her crazy…CHORES!
Moms, are you looking for a quick way to get into the Word each day? Check out Asheritah's Bible and Breakfast Challenge. I'm sharing a favorite Scripture and breakfast idea over there.
You might also like:
Save
Save
Save