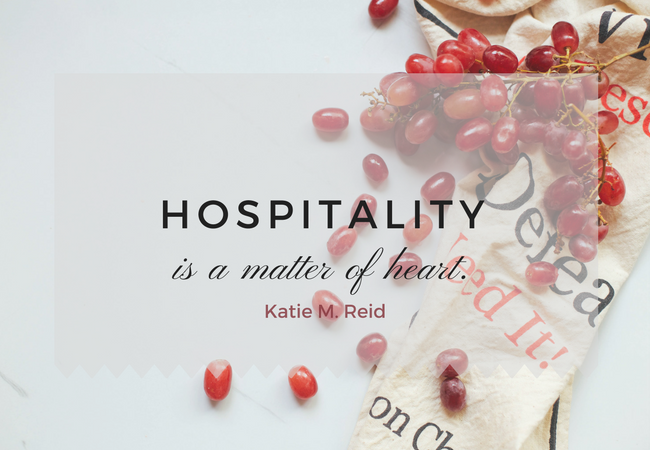 When it comes to hospitality, I am an idealist. That's a fancy way of saying I have unrealistic expectations.
I want to serve a mouth-watering meal, with all the food groups, and act like money is not a restrictor to the menu. I dream of serving said meal in a Pinterest-pretty home that is dusted, shiny, and clutter-free. I imagine that my five darlings will not interrupt the conversing adults and will be thoroughly entertained and independent while we visit with friends.
It all looks pretty in my head but something gets lost in execution.
As an outgoing introvert I love the idea of hosting people; I just want to hide out once they show up.
I like to think that I prepare for others calmly, but my family knows better. They get out of the way as Host-zilla emerges, barking orders to pick-up and help out and shouting out an exasperated, "Yes! We have to vacuum right now so the house looks great when they arrive."
Then the guests come and I am worn-out and we all try to put on a happy face and act like preparing for their arrival was no big deal and aren't we so glad they are here?!
Of course we are glad they came but the frenzy beforehand leaves me feeling like a hypocrite.
A controlling woman makes for a less-than gracious hostess. #TightlyWoundWoman #hospitality
Click To Tweet
That's me, the Tightly Wound Woman, who wants everything just so. Thankfully I married a Mr. Steady who was born with a hospitable heart.
He'd just assume feed the guests cereal and step over toys on the way to the couch then act irritable to our guests. His culinary repertoire might be lacking but his heart is welcoming as he greets our guests and makes them feel at ease.
Maybe I've got it all backwards? I am busy cleaning the outside of the cup while the inside is cracking from all the pressure I put upon it (see Matthew 23:23-28).
I am so concerned with how nice everything looks and tastes that I bypass the heart of the matter.
Continue reading on At the Picket Fence (be sure to checkout their lovely book, Life in Season, while you're there)!

Join us at 12:30 EST on FB Live for my interview with artist, NDR Creative, on the Inspiration Doula show!