Welcome to Week #6 of the Made Like Martha mobile book club!
We hope you'll join us for the next five weeks as we dig into this message of grace and freedom. As we discuss each chapter of Made Like Martha, I've invited some of my writing friends to take turns hosting our mobile book club, at their place.
We'll also interact over in the Made Like Martha Sisterhood (Facebook Group), so be sure to join it, if you haven't yet. Today's host will be joining me tomorrow, around 8:00pm EST, in our Facebook Group, for a live chat about Chapter 6, on Wednesday, August 29th.
We look forward to getting to know you better as we read, chat, and interact.
Disclosure: Affiliate links below. Read full disclosure policy here. 
In case you haven't ordered one yet, grab a copy of Made Like Martha (paperback, ebook, or audio version) before next week, since we'll be discussing Chapter 7, next Tuesday.
Our host for this week is the one-and-only, Jami Amerine. Jami is the author of one of my favorite books, Stolen Jesus: An Unconventional Search for the Real Savior.
Jami's next book is coming out very soon, Sacred Ground, Sticky Floors: How Less-Than-Perfect Parents Can Raise (Kind-of) Great Kids.
I had the honor of writing the foreward for this one. Here's a snippet:
Sacred Ground, Sticky Floors contains a refreshing dose of hilarity, mixed with heart-wrenching moments and topped with guilt-lifting revelations. Jami writes from a place of raising man-babies and a runaway bride, parenting a prodigy, fostering littles, and carting around vandals. She has launched some of her kids, wants to drop kick a couple, and loves them all fiercely. Jami no longer parents from a place of panic. And we don't have to either. We don't have to wring our hands, think through every worst-case scenario or hide the fact that our children are far from perfect. Our lack of having it together is cause for Jesus to be enough for us (parents and offspring alike).
Let's give a warm welcome to Jami, the belle of Texas, as she hosts this week of the Made Like Martha mobile book club.
Book Club Week #6
The very first time I met Katie M. Reid we talked about Martha. Martha, Martha, Martha… how can someone so efficient, so committed, so justified in her ways, be wrong? And if she was wrong, was her very creation wrong? And if so, and we were so much like her, how could we ever be different? And if we were to be different, why did God make us like this?
The conversation was the beginning of Katie's and my journey into the arms of Grace. The simple fact was, God made Martha, and He wasn't expecting her to morph into Mary, He was asking her to rest in the completed work of belonging to Him.
Spoiler alert: This is no easy task for a doer. Essentially, you are free. You can rest. You do what you do, but your hard work, or lack of work, do not change the loving sacrifice Jesus made on the cross. He just loves you.
I was over the moon when Katie's book was picked up by a publisher. And when I held it in my hands, I knew I wanted to do something special to celebrate the occasion. So, I messaged Katie's husband, Adam, withdrew some funds from savings and booked a trip to surprise Katie for her book launch party at Baker Books in Grand Rapids, Michigan.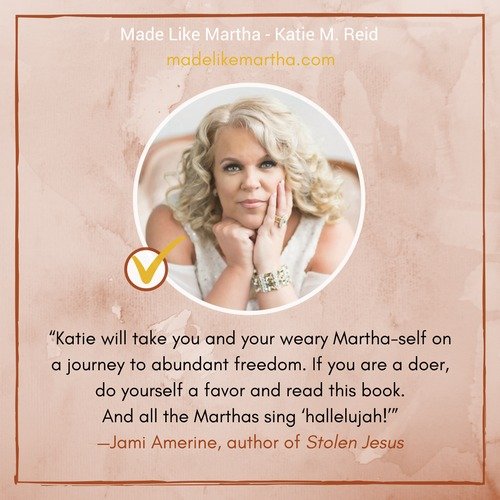 All systems were go, except for one key ingredient, confidence in my flight. And a bigger dilemma still? Katie is my prayer buddy.
I do not like to fly. Like, tased by TSA, screaming, crying, snot flinging, don't like to fly, kind of don't like to fly. If I must fly, Katie is my prayer warrior for smooth, easy flying.
People say…"You're more likely to die driving than flying!" But I am not afraid of dying, let me see my Jesus. I am afraid of FLYING. Small spaces, heights, turbulence… yeah. I don't like it. Adding to my stress was an economy cheap ticket, a middle seat at the back of the plane, which tends to be bumpier, stuffier, and more traumatic for me.
As I drove to the Houston airport, I talked out loud to Jesus. Tempted, I wanted to message Katie and say, "I am flying somewhere, I can't tell you where, but please pray for me." Jesus and I decided against that.
I pulled into the parking garage and tried to swallow. My hands were trembling, my heart was pounding, and I was without my usual prayer help from my fellow Martha, Katie.
And then the unexpected happened…
Made Like Martha Book Club Chapter 1 (with Vanessa Hunt)
Made Like Martha Book Club, Chapter 2 (with Betsy de Cruz)
Made Like Martha Book Club, Chapter 3 (with Kristin Funston)
Made Like Martha Book Club, Chapter 4 (with Dalene Reyburn)
Made Like Martha Book Club, Chapter 5 (with Jen Weaver)