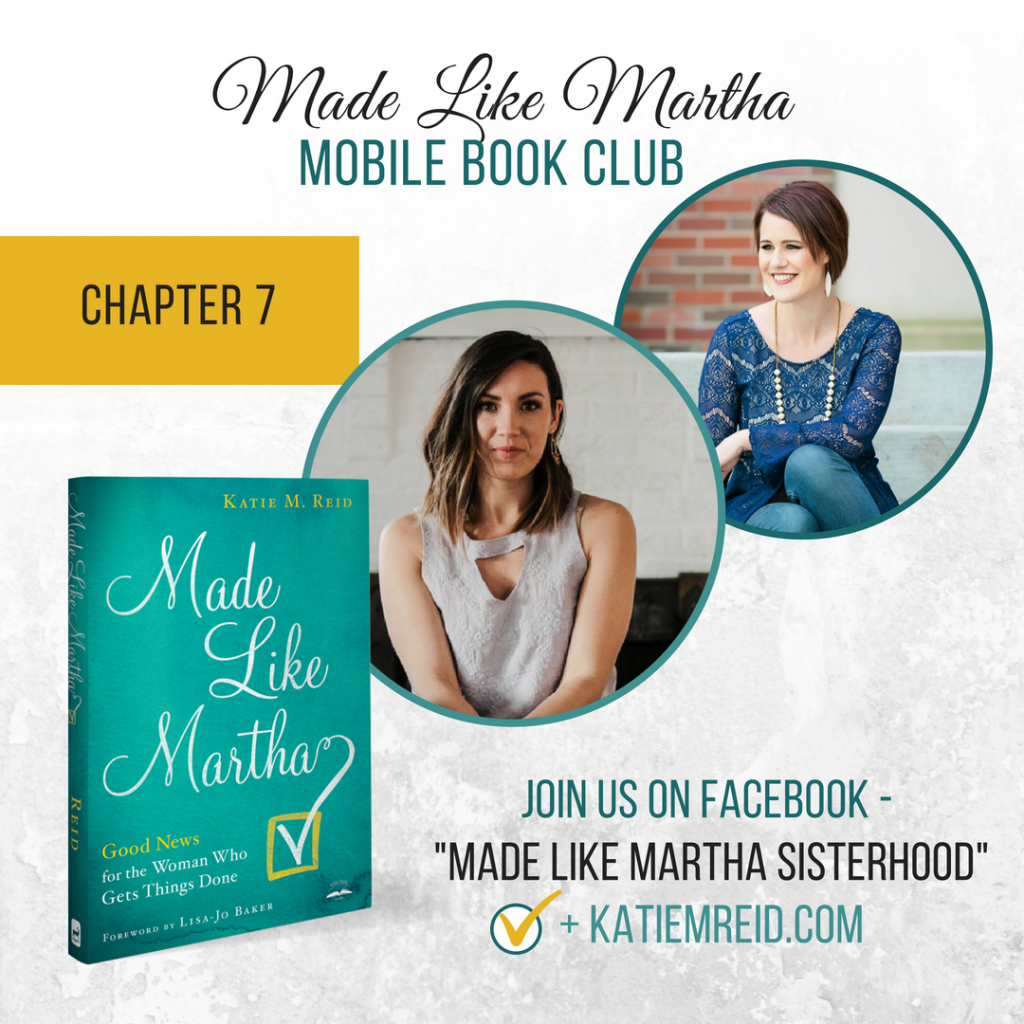 Welcome to Week #7 of the Made Like Martha mobile book club!
We hope you'll join us for the next four weeks as we dig into this message of grace and freedom. As we discuss each chapter of Made Like Martha, I've invited some of my writing friends to take turns hosting our mobile book club, at their place.
We'll also interact over in the Made Like Martha Sisterhood (Facebook Group), so be sure to join it, if you haven't yet. Today's host will be joining me tomorrow, around 8:00pm EST, in our Facebook Group, for a live chat about Chapter 7, on Wednesday, September 5th.
We look forward to getting to know you better as we read, chat, and interact.
Disclosure: Affiliate links below. Read full disclosure policy here. 
In case you haven't ordered one yet, grab a copy of Made Like Martha (paperback, ebook, or audio version) today. We'll be discussing Chapter 8, next Tuesday.
Our host for this week is the lovely and creative, Tessa Kirby. Tessa is a lifestyle blogger & social media influencer, living in Central Illinois with her husband and adorable kiddos. Be sure to checkout Tessa's beautiful home, but more importantly, her beautiful heart.
Grateful for her transparency in this post…
Book Club Week #7
Constantly I am pressing into my "worth" by trying to do, do, do in order to receive. When in reality I have to DO absolutely nothing in order to receive my worth because God has already paid it all so that I can stand before Him blameless and righteous.
Jesus has already DONE so that I can BE. Click To Tweet
This reality is hard for someone like me, someone that constantly wants to be productive and be seen for that productivity.
When I decided to be a stay-at-home-mom at the young age of 21, I thought I was watching my dreams come true. I had wanted to be a homemaker and mother since I can remember and actually getting the opportunity to do so made my heart soar. I couldn't wait to do all the "mom things" like cook meals for my husband, rock my baby to sleep, read books, make my house a home and steward the needs of my family all in a day's time.
I eagerly awaited that first day home alone.
And as that day came upon me, I sat there…and sat there. I waited for those feelings of joyful bliss to find their home in my heart but all I felt was sheer boredom and isolation. This was nothing like I had imagined it would be.
There was only so many productive things I could do in a day, in between nursing a baby, cleaning up spit up, and changing yet another poopie diaper. In fact, I felt like that's all my days consisted of. I couldn't get anything done when my baby started crying the moment I put her down, or the minute I did put her down without fussing all I wanted to do was take a nap myself!
I remember feeling so hopeless and defeated when my husband would come home from a long day and ask, "So what did you do today?"
Every time he'd ask that I felt like he was that little pesky kid poking the belly of a bear just waiting to see how long it took for that said bear to attack. It took everything inside of me not to punch him in the face.
Constantly I am pressing into my "worth" by trying to do, do, do in order to receive...
Click To Tweet
I felt like he wanted to expose my failed attempts at productivity, I felt like he could see right through my fake facade of blissful motherhood. But now, when I subjectively look back at that time in my life, I know what I was feeling. My feelings of inadequacy from not "doing" what I deemed was "productive" were masked in the form of worth. 
You might also like:
Made Like Martha Book Club Chapter 1 (with Vanessa Hunt)
Made Like Martha Book Club, Chapter 2 (with Betsy de Cruz)
Made Like Martha Book Club, Chapter 3 (with Kristin Funston)
Made Like Martha Book Club, Chapter 4 (with Dalene Reyburn)
Made Like Martha Book Club, Chapter 5 (with Jen Weaver)
Made Like Martha Book Club, Chapter 6 (Jami Amerine)