Summer is one of my favorite seasons to pick up a good book. If you enjoyed reading Made Like Martha by myself or It's All Under Control by Jennifer Dukes Lee, then you will enjoy (and get a lot out of) today's featured book!
Disclosure: Affiliate links are used in this post. If you choose to purchase through the links, I may be compensated at no additional cost to you. See full disclosure policy.
It was my joy to endorse Amy Carroll's and Cheri Gregory's book, Exhale: Lose Who You're Not, Love Who You Are, Live Your One Life Well. 
Carroll and Gregory pour out hard-won wisdom like a balm for dependable women. Through candid stories, pivotal observations, and aha moments, Exhale delivers clarity and assurance. Breathe deeply of God's love, and walk confidently, with purpose, as you interact with this gold mine of goodness."
Interview with Cheri Gregory and Amy Carroll
1. Exhale is the first book that the two of you have worked on together. Talk to us about how you became interested in this journey of change for women. 
The pain of the women we were listening to—our friends, family, and podcast listeners—was the true catalyst for Exhale. We kept hearing common themes like the exhaustion that comes from trying to be all things to all people, the emptiness an unexamined life with a schedule filled with others' expectations, and the hurt of not feeling confident in her gifts. Lots of times women even told us it felt selfish to explore those gifts or use them!
Because of our own experiences and wrestling, we've found some solutions by moving through the process to lose who you're NOT and love who you ARE so that you can live your ONE life well. We want to share those solutions with others!
2. Why do you think so many women who want to follow God's plan feel so stuck?
Many of us are stuck in a fixed mindset, seeing everything in terms of success or failure without any in-between. It takes intentionality to shift from a fixed mindset to a growth mindset, learning to see everything—even failure—as a learning experience with success occurring after many, many faltering steps toward growth.
And speaking of failure, those of us who are perfectionists are often paralyzed by "error terror." 
The fear of failure can keep us from ever starting anything new or drive us far beyond seeking excellence into unnecessary hyper-vigilance. @CheriGregory @amydohmcarroll
Click To Tweet
3 . What do people struggle with the most when it comes to losing who they're not? 
First, guilt. When you've believed all your life that you're supposed "be all things to all people", scaling back can make you feel like you're cruelly abandoning the people you love. We've lain awake at 2:37 AM, certain that our children and friends are experiencing unfair consequences of our "selfish" choices to do less for them. 
Second, pride. When we discovered that our kids and friends were doing just fine without us, we weren't relieved—we were peeved! It's humbling to find that we needed them to need us far more than they actually needed us.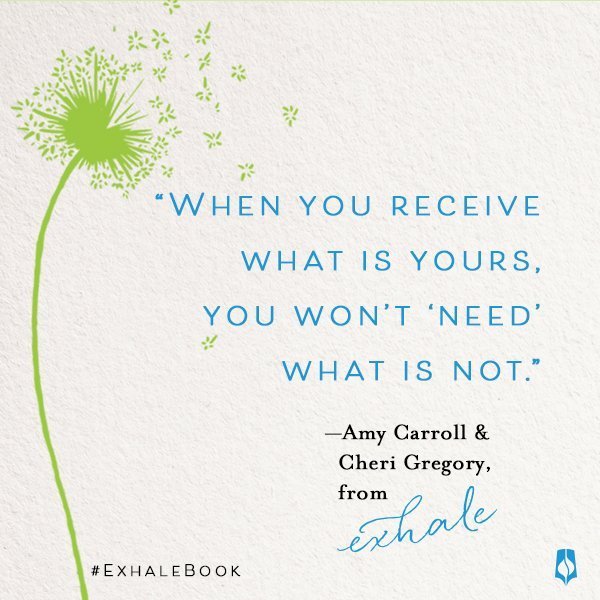 4. Once we are able to love who we are and who God has made us to be, what changes might we see in our daily lives? 
Setting clear boundaries comes naturally when you love who you are. You're able to discern the difference between God's direction and someone else's expectation. Instead of comparing yourself with others and competing with them, you'll find yourself collaborating with them and celebrating their strengths and their wins. You'll also start to notice the need with your name on it—a nudge from the Holy Spirit to serve those in need in ways that are uniquely you.
5. In Exhale, you talk about the idea of dis-appointing people. Can you talk a bit about this and how it's played out in your life? 
As God's been opening our eyes to the destructive effects of perfectionism and people-pleasing, we've realized that too many people have had authority about our identity, worth, actions, and inactions. "Dis-appointing" means intentionally rescinding authority from any person who has taken too much authority or been given too much authority.
Of course, this feels rather horrifying for women who have spent their lives trying to never disappoint anyone, let alone those they love! But what we've found is that when we internally dis-appoint others—by reminding ourselves This person does not have that kind of authority in my life—we are better able to hear the voice of God, the one true authority in our lives.
You. Have. Limits. The only One who has none goes by the name God. @CheriGregory @amydohmcarroll
Click To Tweet
6. What do you hope readers will gain from reading this great book? 
First, we hope they'll discover that they can move from running-on-empty to spent-and-content by learning to invest their lives in soul-satisfying ways.
Second, that they can achieve all three longings of a Jesus-loving-woman's heart: fulfilling the desires of your heart, loving your people well, and bringing glory to God. You don't have to settle for just one or two on the list. You can have all three.
7. Could you offer up a prayer for the woman who feels stressed out and longs to live more peace-filled?
Lord, we step out in faith, believing that our desires, our people's needs, and God's glory aren't mutually exclusive. We want to live in the fullness of your life. Empower us to change. Cause us to pause to listen to you before we utter "yes." Make us committed to unearth your gifts and invest them. Help us to exhale and to bring your breath of life into every room. Give us the compelling desire to live for your glory. Amen!
Amy Carroll is a speaker, writer, and international initiatives coordinator for Proverbs 31 Ministries; the author of Breaking Up with Perfect; and a cohost for the podcast Grit 'n' Grace. Amy and her husband live in Holly Springs, North Carolina. Find out more at www.amycarroll.org.
Cheri Gregory is a frequent speaker and the coauthor, with Kathi Lipp, of You Don't Have to Try So Hard and Overwhelmed. She's also a contributor to the (in)courage devotional Bible for women. She lives with her family on the central California coast. Learn more at www.cherigregory.com.
Pick up a copy of Exhale for your next read and breathe deeply of God's love for you!
You might also like:
The Surprising Thing Your Type A Friend Needs (But Probably Isn't Telling You)
Grit 'n' Grace Podcast: Episode #109 Being a Loved Daughter Who Does All The Things
Grit 'n' Grace Podcast: Episode #110 How-To for Worker Bees (Weeding Out the Good from the Bad)