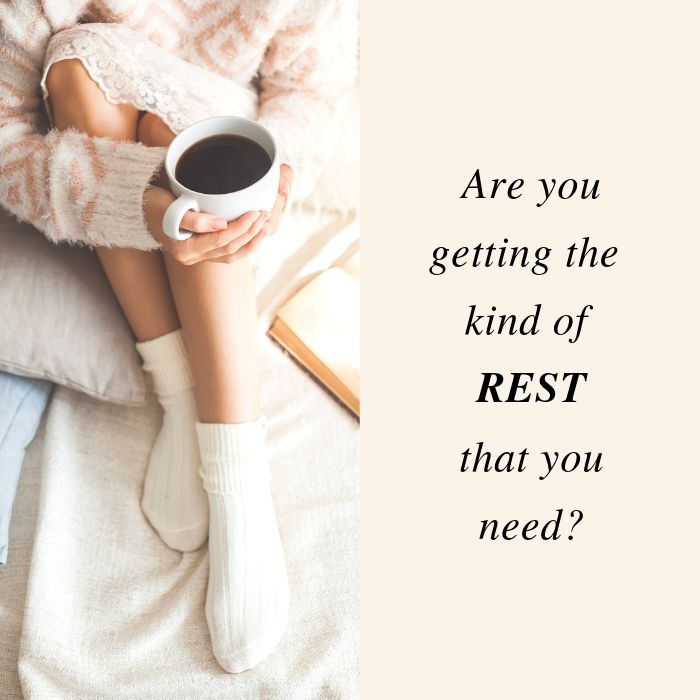 Have you read the book Sacred Rest: Recover Your Life, Renew Your Energy, Restore Your Sanity? It is an excellent book, written for women who want to live well and avoid burnout.
It is a treat to welcome the author of Sacred Rest, Dr. Saundra Dalton-Smith, as she shares about the importance of rest for hard-working women.
Disclosure: Affiliate links are used in this post. If you choose to purchase through the links, I may be compensated at no additional cost to you. See full disclosure policy.
Rest Is Not For The Weak
By: Dr. Saundra Dalton-Smith
I have always viewed rest as an activity for weak people. It's what you do when you don't have the stamina to keep up with those of us who know to persevere. It took me years to fully understand the flaws in my way of thinking. Even in science we are told, an object in motion stays in motion unless acted upon by an outside force (Newton's First Law of Motion).
Stopping requires power.
It is easier for me to get caught up in the busyness of my day than to intentionally stop and rest. Rest requires me to erect personal boundaries around my life. It means standing up against my people pleasing tendencies by giving a heartfelt no rather than a reluctant yes when asked to do things I would rather not do. Rest compels me to choose what is best over what is good. Rest is not for the weak.
Rest opens up room in life for creativity to bloom and purpose to be realized. @DrDaltonSmith
Click To Tweet
The Bible challenges me to exchange my daily hustle to daily hush in the presence of God. It offers rest for my weariness and promises that in the process I will experience His goodness. In Isaiah 30:15 (ESV), God says "In returning and rest you shall be saved; in quietness and in trust shall be your strength." This verse came to me like an outstretched hand, willing me to grab hold. The final words of this verse, however, stood before me declaring the truth about my current situation. "But you were unwilling…"
At times, I am unwilling. Unwilling to be still and know. Unwilling to remember the Sabbath and keep it holy. Unwilling to trust God to carry the load while I rest in Him. I forget that rest is not optional. Rest is a necessity for living well and loving well. Rest is required to fully give of myself and my talents. Rest opens up room in life for creativity to bloom and purpose to be realized. Rest is sacred. It's a gift from a holy God to a fallen people. It's His strength poured out in small portions. It's a gift.
Rest is how an All-Powerful God pours back into the vessels He has created in His image.
Every day I use physical, mental, emotional, spiritual, social, sensory, and creative energy. With each type of energy used, this vessel is poured out. Failure to allow time in my life to be poured back in to results in feelings of emptiness and burn-out. Maybe you've been there too, juggling your need to get much done with your need to get restored in His presence. Or perhaps you've found yourself struggling to navigate the doors of opportunity while prioritizing your need for Sabbath.
Just as work is valuable, rest has great value. It is by definition restorative. What needs restoring in your life?
If you are unsure of the area of your life most in need of restoration, visit RestQuiz.com to find your personal rest deficit quotient.
Once you know what type of rest you are missing in your life, begin intentionally getting more of that specific type of rest. If you are lonely, you will benefit from the social rest of sharing authentically with others in small groups or with a trusted friend. If you have tension headaches, you will benefit from the physical rest of muscular stress relief and the mental rest of de-cluttering your mind. If you are broken, you will benefit from the spiritual and creative rest of spending time enjoying the beauty of nature with the Healer.
Matthew 11:28 invites, "Come to me, all you who are weary and burdened, and I will give you rest." (New King James Version). It is an open invitation to all to receive whatever type of rest is required. It includes rest to your mind, your body, your emotions, and your relationships. It is an invitation without restriction; an offer for rest in every area.
What type of rest do you need today?
Dr. Saundra Dalton-Smith is an author, speaker, and board-certified internal medicine physician. She is an international media resource on the mind, body, spirit connection and a top 100 medical expert in Good Housekeeping Doctors' Secrets. She has been featured in many media outlets including Women's Day, Redbook, Daystar, MSNBC, Psychology Today, and Prevention. Her newest release is Sacred Rest: Recover Your Life, Renew Your Energy, Restore Your Sanity, which includes ground-breaking insight on the seven types of rest needed to optimize your productivity, increase your overall happiness and live your best life. Learn more about Dr. Saundra at IChooseMyBestLife.com.
You might also like:
Deep Breaths for Hard-Working Woman
Give It a Rest: Receive the Gift You've Been Refusing