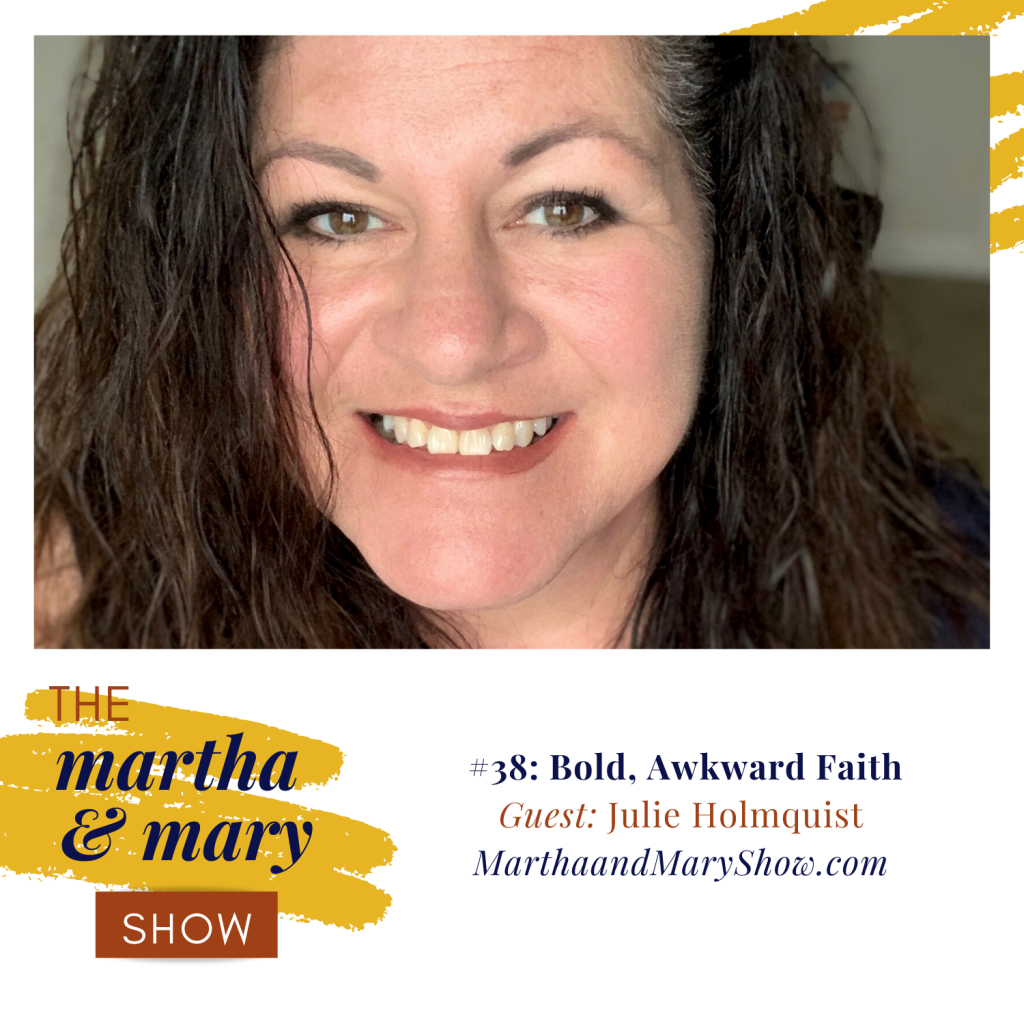 We hope you had a wonderful Easter weekend! This week's episode is dear to my heart, as Jenn and I interview writer and podcast host of Kairos Moments, Julie Holmquist.
Discover how God answered a fervent, fleece prayer of a busy mama with timely encouragement from across the globe, and the divinely-inspired dream of an acquaintance, to confirm His will.
God truly knows what He is doing and will stop at nothing to bring about His purposes.
Listen to the latest episode over here, on our podcast webpage, or access Episode #38 on your favorite podcast app.
Subscribe to the show and leave a rating and review via your podcast listening app: iTunes, Stitcher, Libsyn, or Spotify.
What if your bold, awkward faith step was exactly what was needed to bolster someone else's next step? #marthamaryshow
Click To Tweet
Show Notes for Episode #38: Bold, Awkward Faith
Putting yourself out there takes boldness and can also be awkward. Jenn and Katie interview Julie Holmquist about a divine experience they shared and the importance of walking forward in faith, even when you aren't sure of the outcome.
Disclosure: Affiliate links are used in this post. If you choose to purchase through the links, we may be compensated at no additional cost to you. See full disclosure policy.
Show Sponsors: Big thanks to Sarah Beth Marr, author of Whispers and Wildflowers, for sponsoring today's show. Learn more about this beautiful book, at: http://sarahbethmarr.com/ 
Theme Music: "Sunny Martha" by Cade Popkin
Today's Guest: Julie Holmquist is an author and Bible teacher. She hosts the podcast Kairos Moments — helping people recognize and respond to the moments God has carved out for them for radical growth and amazing transformation. She and her husband live in North Carolina with the two youngest of their four sons. Connect with Julie on Facebook or Instagram or inside her podcast Facebook group.
Blessed is she who has believed that the Lord would fulfill his promises to her! -Luke 1:45
Click To Tweet
Things We Talk About:
The boldness of Martha, the wisdom of Mary
I will answer them before they even call to me. While they are still talking about their needs, I will go ahead and answer their prayers!" –Isaiah 65:24, NLT
Today's Verse: Hebrews 11:8
By faith Abraham obeyed when he was called to go out to a place that he was to receive as an inheritance. And he went out, not knowing where he was going."
Be obedient and leave the results up to God. -Julie Holmquist @stuffofheaven #marthamaryshow
Click To Tweet
Made Like Martha: Good News for the Woman Who Gets Things Done by Katie Reid
If you aren't already a subscriber to Katie's website, text the word MARTHA to 33777 (then follow the prompt) to sign-up. You'll receive bi-monthly emails of encouragement and updates into your inbox.
And Mary said, "Behold, I am the servant of the Lord; let it be to me according to your word." And the angel departed from her." -Luke 1:38
Connect with Us:
Be sure to subscribe, so you don't miss any shows!
We'd appreciate it if you'd leave a rating and review of the podcast too. Thanks!
Listen to Season 4 of the Podcast:
#34: Discerning What's Next (with a Surprise Guest)
#35: For the Love of the Church