Here is the latest installment for "A Remarkable Thought"—a short story podcast to engage your mind and lift your spirit. Each episode contains a fictional story and a quality question to help you ponder what you've heard.
Jami Amerine and I have created this podcast as a gift for you—to take a beat and refresh your remarkable mind.
Listen or Read it or Both!

Disclosure: Affiliate links are used in this post. If you choose to purchase through the links, we may be compensated at no additional cost to you. See full disclosure policy.
You're never going to believe this story…
I was sitting in my living room during the pandemic and I received an email. I almost dismissed it as spam, but thank goodness I didn't.
The email went something like this…
"We found your novel on Amazon because we love Christmas and we produce Christmas music and, believe it or not, our music is popular in Germany and we've spent some time there…hence the Bavaria connection led us to your book. We'd like to produce your audiobook."
What in the world?!
Only God could orchestrate a story like that…and it gets even better.
I always wanted to be on Broadway…I also hoped somehow there could be an audiobook for A Very Bavarian Christmas (and I dreamed of it being a musical on Broadway, or the Hallmark Channel, or something like that).
A New York actress was chosen to narrate the audiobook and sing the song I wrote for the novel on the recording!
You can imagine my amazement as I listened to Jillian Blair belting out "Everything" for the audiobook. I didn't make it to Broadway (well on stage anyway) but God brought Broadway to my living room.
I'm not going to lie, sometimes I feel invisible, not taking seriously, or overlooked in my career.
Yet, this crazy story is a reminder that God knows your address (physical and email) and mine too, and He can make anything happen.
A Very Bavarian Christmas audiobook is tangible proof of that.
I'm just a 44-year-old sitting on her couch from Goodwill, with orange shag carpet under my feet, and I love telling people the good news about Jesus…the Yes of Christmas, and the Yes of lasting redemption and true hope.
He deserves all the credit!
Merry Christmas in July, friends. You are seen, valuable, and oh so very loved.
I hope when you listen to Jillian's rendition of "Everything" on A Very Bavarian Christmas audiobook, you are reminded afresh about the specific and personal love of God, for YOU!
To celebrate the release of the audiobook we are hosting a Christmas in July GIVEAWAY!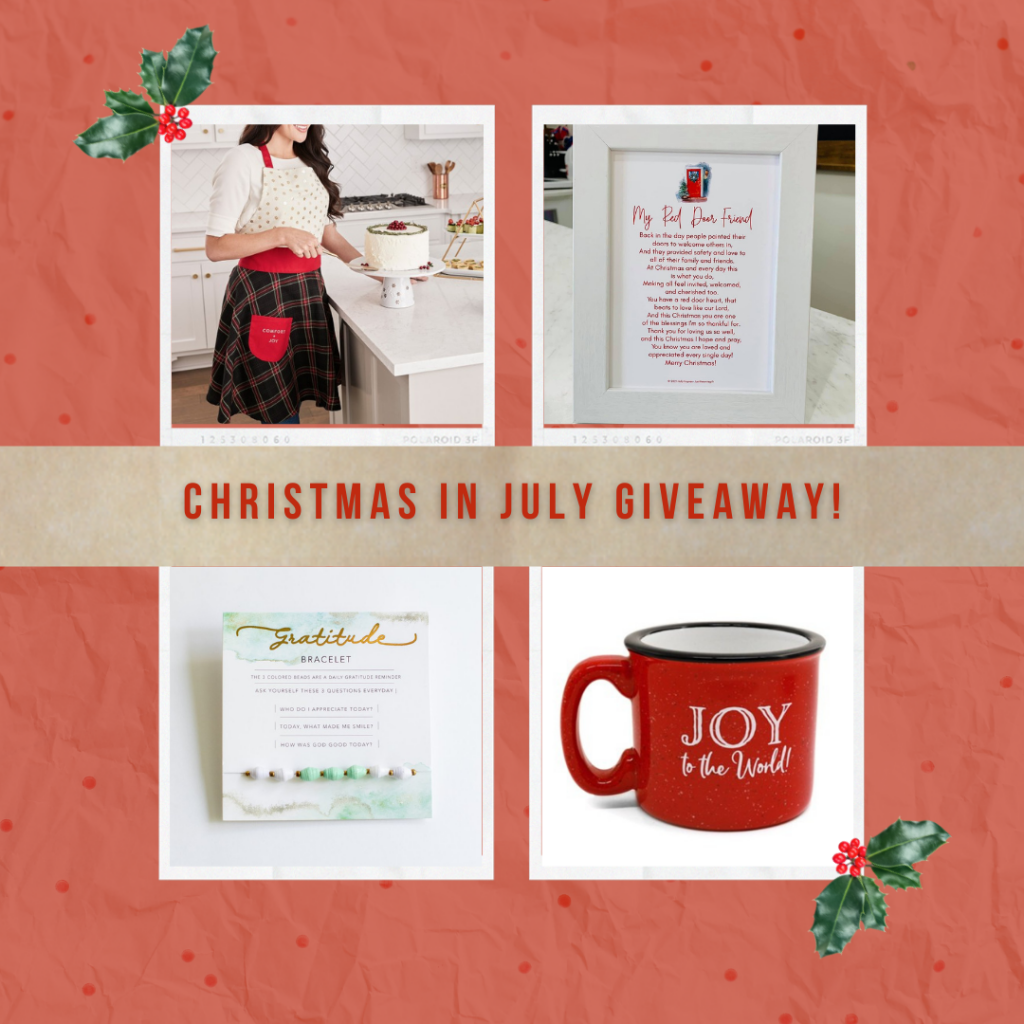 You could win these fabulous prizes:
Comfort + Joy ♥️apron from the Candace Cameron Bure line at DaySpring.
"The Red Door Friend" poem 🎁 by Holly Haynes of "Just the Write Gift on Etsy
The Gratitude Bracelet from 🇰🇪 Mercy House Global
Joy to the World 🌎 mug from Christian Book
To Enter:
Just purchase a copy of A Very Bavarian Christmas digital audiobook on Amazon. Then send a screen shot of your purchase to my DM's on Facebook or Instagram or email the number here, by July 22! Or you can email your entry through my website contact form.
The audiobook is amazing because New York actress, Jillian Blair, 🌟 narrated it AND sings the book's theme song on it!
What are you waiting for? Go get the audiobook and send us your proof of purchase either through email, or FB or IG private message!
*This giveaway is not sponsored by IG or any of the companies mentioned above. Open to U.S. residents only.
Excerpt from Chapter 1 of A Very Bavarian Christmas
Holly couldn't believe this was her actual life.
She begrudgingly tied on her red apron and plastered on a forced, albeit festive, smile as she pushed through the swinging doors that led from the break room to the sprawling showroom of Neumann's, otherwise known as the mile- long Christmas store. Every hour, on the hour, a message rang throughout the store: "Willkommen to Neumann's—a mile of Christmas joy for every girl and boy. Whether you're one or a hundred and two, we've got something special just for you. Happy shopping!" 
As she made her way to her work station in Section 8, Holly wondered why on earth she let her mother talk her into working at Neumann's. "It's the Most Wonderful Time of the Year" swelled from the rafters, but a "Bah humbug!" anthem retorted in Holly's heart. 
This was never the plan. 
Holly sighed and tightened her messy bun before taking her position behind the ornament personalization counter. Moving back to her hometown of Bavarian Falls to regroup as a thirty- something had not been part of Holly's life goals. But here she was, on her fifth day of work, applying her art degree to fragile ornaments. 
"Hey, Holly. Ready to make someone's holiday brighter?" teased her co-worker, Andy. 
"I'll do my darnedest, but truthfully, Christmas and I aren't the best pairing."
"Your secret is safe with me, Holly-girl," Andy assured her.
Although they hadn't known each other long, Andy reminded Holly of her older brother, 
Gabe, particularly because teasing was his preferred method of communication. 
Holly flashed him a genuine smile as she picked up her clipboard with the printed spreadsheet of custom orders for the day. 
"I don't understand why we can't use a computer instead of this clipboard." 
"But that would be out of place now, wouldn't it?" chuckled Andy, gesturing to the time capsule of Christmas nostalgia that surrounded them—all 5,280 feet of it. 
"Hullllooo! Holly! I've got some good news to deliver," sang the store manager, Ms. Betty Jo Wilson. 
If ever there was a woman who embodied Christmas cheer, she was it. With her rosy cheeks, blinking necklace that lit up brighter than Rudolph's nose and had a setting that could induce a seizure, and obnoxious socks that jingled as she walked, Betty Jo was one-of-a-kind. 
"Special delivery for Miss Holly Noel! Your beloved name tag has arrived, and now you are . . . official. An official member of the Neumann family," cooed the store manager. 
"Um . . . thanks, Betty Jo. Wow, my first and middle names, huh? I haven't been called by both names since . . . ." 
"I just couldn't resist. I mean . . . is there not a more perfect name for a Neumann's employee than Holly Noel? It made my day!" 
"Why . . . um, thank you."
"Now there's one thing left to do before I'm off to straighten up Section 10."
Betty Jo explained in a very loud whisper, "The angel ornaments end up in such disarray after the preschool groups visit. Those little cherubs act like little devils sometimes." 
At this heretical admission, Betty Jo snort-laughed before continuing, "But I digress . . . the matter at hand, or should I say, in my hand . . . is to present you with this name tag, Neumann's style." 
Andy tried to muffle his laughter as Holly fought to maintain her composure. 
"We have a tradition here, Miss Holly Noel, that you probably aren't aware of. When a new employee has been here for a week with satisfactory results, I pin on their name tag. Disclaimer, I've only poked two employees to the point of shedding blood." 
Holly's eyes widened as Betty Jo repeated her snort-laugh.
"It was just a dab of blood, dear, that's all. I promise. I had you a tad worried, didn't I?" 
One last snort-laugh for good measure.
"As I was saying, I will pin this name tag on your cute self as our theme music plays. 
Any employee who is within reasonable walking distance will join in singing, as we willkommen you to the Neumann's family." 
Andy's knowing smile met Holly's "You knew about this?" glare, as Betty Jo busted out her walkie-talkie to let the higher-up know it was time to cue the music. 
N is for Nativity . . . that celebrates the Savior's birth.
E is for Emmanuel . . . Christmas is with us every day.
U is for the Unique ways . . . we spread this yuletide cheer.
M is for . . . ."
Betty Jo, Andy, and a handful of employees—who'd hustled over from their stations as soon as they heard the opening notes of the theme song—jubilantly sang their hearts out. Andy was loudest of all. After N-E-U-M-A-N-N-S was spelled out and the final chord resounded, Holly's official name tag was pinned on her apron by Betty Jo.
Spoiler alert: no blood shed.
The End.*
*Excerpt from Chapter 1 of A Very Bavarian Christmas © Katie M. Reid 2020
To hear the rest of the chapter, listen to the podcast episode in its entirety OR head over to Amazon to grab your copy of the newly released audiobook, featuring actress, Jillian Blair. 
You can also find the ebook on Amazon or order a print copy of the book through Walmart's and Barnes & Noble's website.