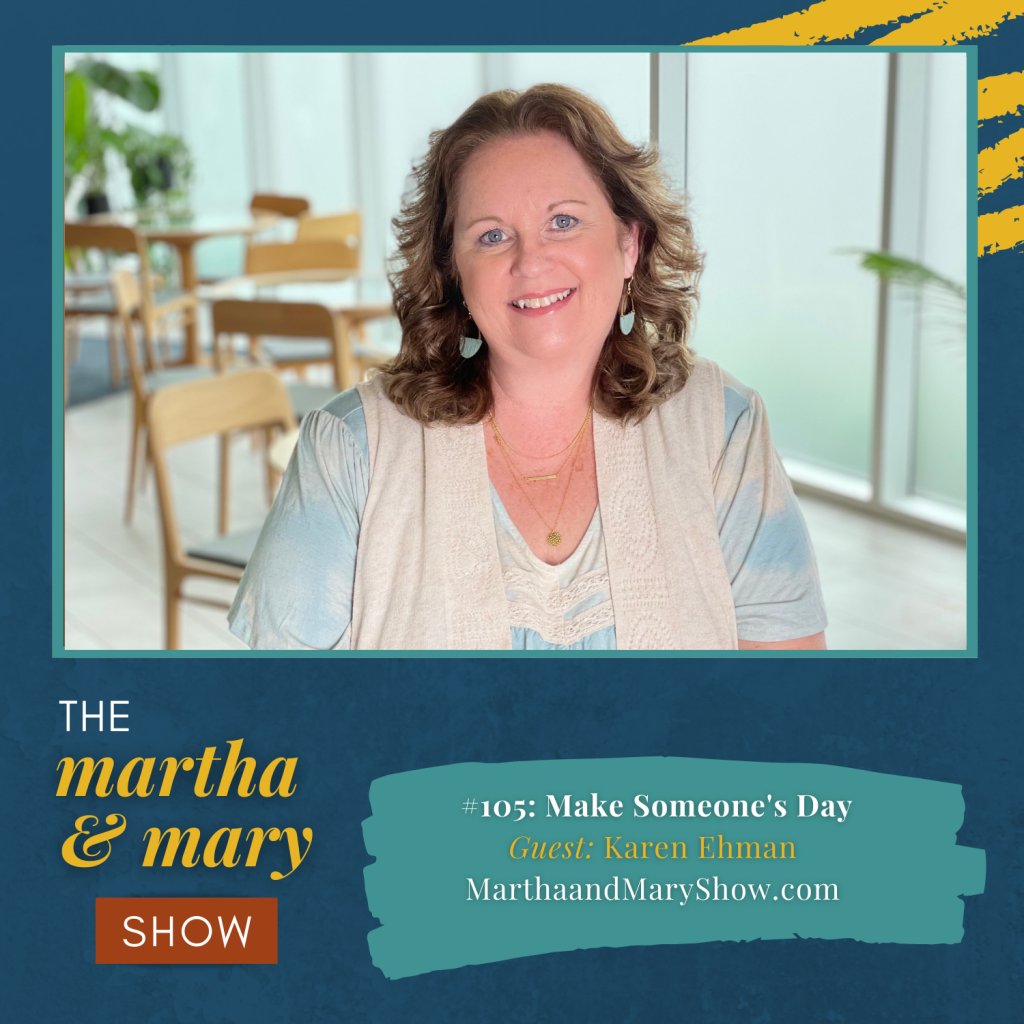 We're back with a touching interview with best-selling author, Karen Ehman. She supplies us with many incredible ideas for making someone's day!
If you are interested in sponsoring the show, contact Katie for more details.
Disclosure: Affiliate links are used in this post. If you choose to purchase through the links, we may be compensated at no additional cost to you. See full disclosure policy.
Listen to the latest episode below, on our podcast webpage, or access Episode #105 on your favorite podcast app.
Show Notes for Episode 105: Make Someone's Day with Karen Ehman
Karen Ehman, author of Make Their Day, shares simple, powerful ways to love others well.
Today's Guest: Karen Ehman is a New York Times bestselling author of 17 books including KEEP IT SHUT: What to Say, How to Say It, and When to Say Nothing at All and the 2020 ECPA devotional book of the year Settle My Soul: 100 Quiet Moments to Meet with Jesus. Her passion is to help women reflect the gospel to a watching world. Married to her college sweetheart and the mother of five, (three by birth and two by marriage, but she forgets which are which) she enjoys feeding the many family, friends, and strangers who gather at her mid-century dining table.
Theme Music: "Busy Bee" by Cade Popkin
Show Sponsor: Brave Moms, Brave Kids: A Battle Plan for Raising Heroes by Lee Nienhuis
Things We Talk About:
Make Their Day by Karen Ehman
Fun ways to love on our friends
Thoughtful gestures for those who are grieving
Ideas for showing teachers appreciation
Creative ways to thank your necessary people
Here are some simple yet amazing ways to care for those in your community. #maketheirday @karen_ehman #marthamaryshow
Click To Tweet
Connect with Us:
Subscribe to the show and leave a rating and review.
We're chatting with best-selling author @karen_ehman about how to make someone's day on the #marthamaryshow podcast. #maketheirday @bethany_house
Click To Tweet
Catch Up on Season 6 of the Podcast:
104: The One About The Provers 31 Woman
102: The One About Guarding Your Heart
101: The One About Fearing God