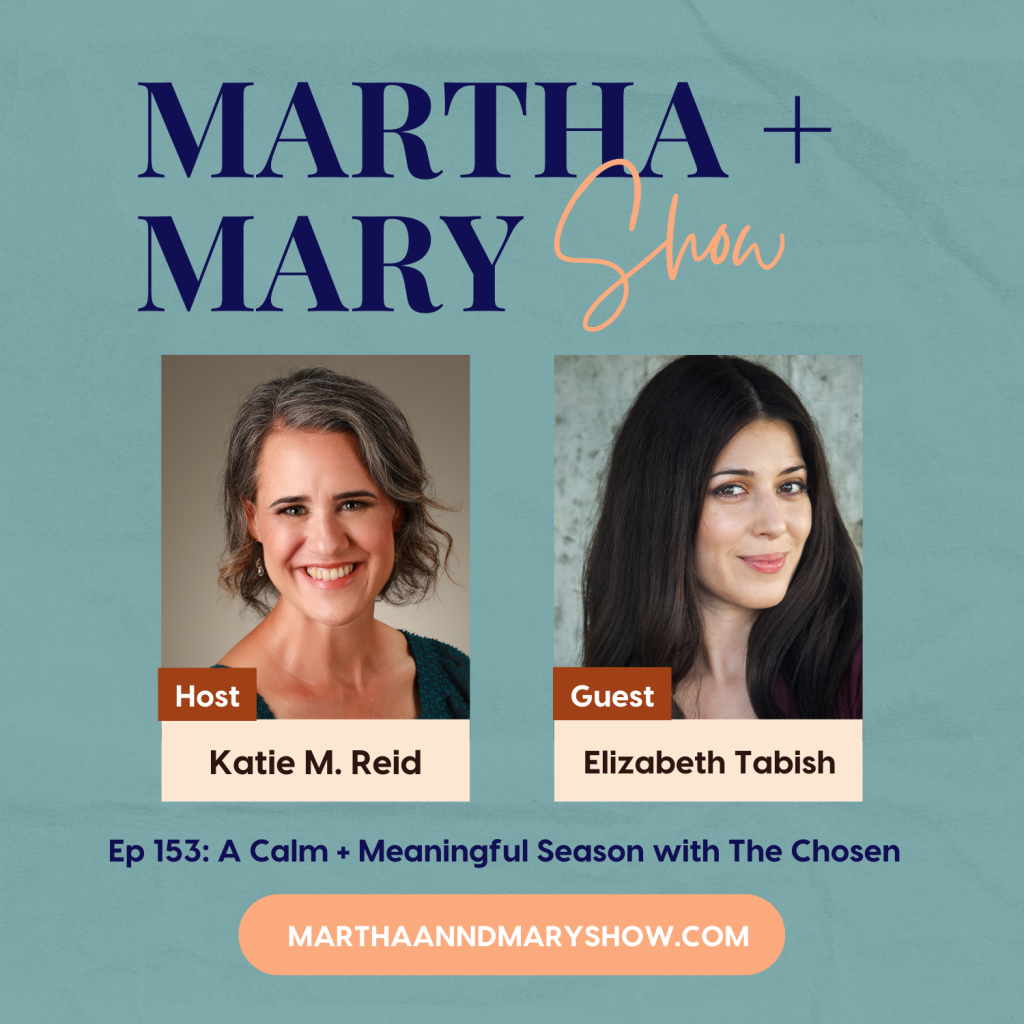 Do you watch "The Chosen"? We are big fans of the show at our house. We are thrilled to welcome the actress, who plays Mary Magdalene, on the podcast this week as we talk about the new season.
Disclosure: Affiliate links are used below. If you choose to purchase through the links, we may be compensated at no additional cost to you. See full disclosure policy.
Listen to the latest episode below, on our podcast webpage, or access Episode #153 on your favorite podcast app.
Show Notes for Episode 153 with Elizabeth Tabish
Actress, Elizabeth Tabish, who plays Mary Magdalene on The Chosen talks about her experience and the new season of the show.
Today's Guest: Elizabeth Tabish is an actress and filmmaker based in Los Angeles known for her portrayal as Mary Magdalene in "The Chosen." She received her M.A. in theater and B.A. in film studies from Oklahoma State University. Elizabeth has produced and directed a number of award-winning short films that focus on female archetypes. She is the co-creator and art director of Arthouse Film Festival.
Theme Music: "Found" by Lisa Troyer and Dawn Yoder Venture3Media/Circle of Friends
Show Sponsor: Made Like Martha: Good News for the Woman Who Gets Things Done by Katie M. Reid
Things We Talk About:  
Come and see what @liztabish from @thechosentvseries has to say about Season 3! #comeandsee #bingejesus #thechosen #marthamaryshow
Click To Tweet
You're forgiven and you are loved. God just wants your heart, the rest will come in time. Quote from The Chosen @liztabish #marthamaryshow #thechosen #faith #comeandsee
Click To Tweet
5 Tips for a Calm Christmas:
Simplify: Choose a few events to actively participate in and either say "no" to the rest or limit your involvement. Curb the guilt and give yourself, and loved ones, the gift of your sanity this season.
Be Realistic: Be realistic with your time and energy level. Think through what that "yes" might mean for you and your family. Pace yourself to avoid burnout and sickness.
Have Fun:  Instead of cramming the days with too many tasks and tinsel, make a list of everyone's top idea for holiday fun and try to make your way through the list this month.
Get Fresh Air: The great outdoors is a great place to find a change of perspective. Bundle up and go make a snow angel. Walk over to the neighbor's house and brings them some cookies.
Savor: Take time to sit and eat and enjoy the sights, smells and tastes of the season. Reflect on the birth of Christ and read it in various versions of the Bible.
Connect with Us:
Subscribe to the show and leave a rating and review.