We're delighted to have Crystal Paine back on The Martha + Mary Show talking about her latest book. Our conversation is full of practical tips to help you enjoy your life and accomplish what matters most while you're juggling a lot.
Disclosure: Affiliate links are used below. If you choose to purchase through the links, we may be compensated at no additional cost to you. See full disclosure policy.
Listen to the latest episode below, on our podcast webpage, or access Episode #165 on your favorite podcast app.
Show Notes for Episode 165 with Crystal Paine
Crystal Paine, author of Time-Saving Mom, helps you pray, prioritize, plan, and prep so you can enjoy what matters most to you.
Today's Guest: Crystal Paine is the founder of MoneySavingMom.com, host of The Crystal Paine Show podcast, and a New York Times bestselling author. Her desire is to help women across the globe live with more joy, purpose, and intention in their everyday lives. She lives with her husband and six kids in the Nashville, Tennessee, area, where she is actively involved in her local church. Her biggest passions are helping women understand how the gospel can radically transform their lives, raising awareness for foster care, going on adventures with her family, finding great deals at the grocery store, having heartfelt conversations, and trying to read too many books at one time!
Theme Music: "Found" by Lisa Troyer and Dawn Yoder Venture3Media/Circle of Friends
Show Sponsor: Made Like Martha book by Katie M. Reid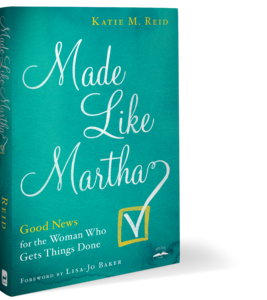 Things We Talk About:
Crystal's 4-step system
More family meals around the table
Body fat loss goal (protein, sleep, water intake, and strength training)
Reward yourself with a fun task after your complete an unpleasant task
Adoption
When to say "no" to something that isn't working anymore
When to push through when the "yes" is hard
Looking people in the eyes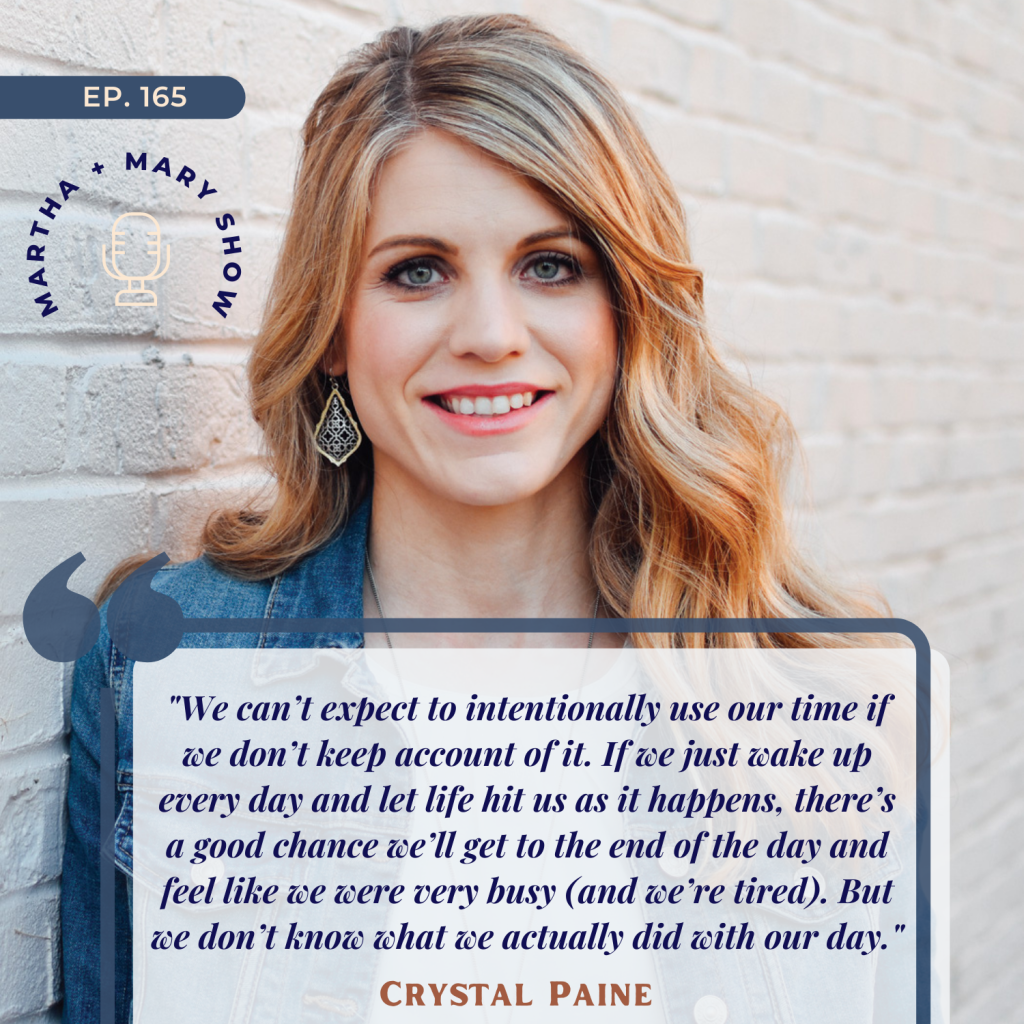 Crystal's 4-step system to organize and simplify your life:
Begin your day with the posture of relying on Jesus in prayer. @moneysavingmom #marthamaryshow #prayer #getitdone
Click To Tweet
Pray
Start your day with a posture of relying on Jesus. Lift up your day to Him.
Prioritize
6×2 Priority System, Choose 2 of your 6 priorities to approach each day in order to minimize overwhelm.
Marriage, Kids, Health, Home, Friendships/Relationships, Business
Plan
Google Calendar and a Time Block To-Do List
Habit Chart
Prep
Morning and Evening Routines
Set a timer for 5 minutes to curb procrastination
Why do you procrastinate? Fear of failure? Hung up on the details? Do you need to break the task down into smaller steps? @moneysavingmom #timesavingmom #marthamaryshow #procrastination
Click To Tweet
Want to see your product featured on The Martha + Mary Show? We have a limited number of ads spots available. Reach out via the contact form for more details and pricing options.
Check out all the products featured on the podcast to find a new favorite!
Connect with Us:
Subscribe to the show and leave a rating and review.