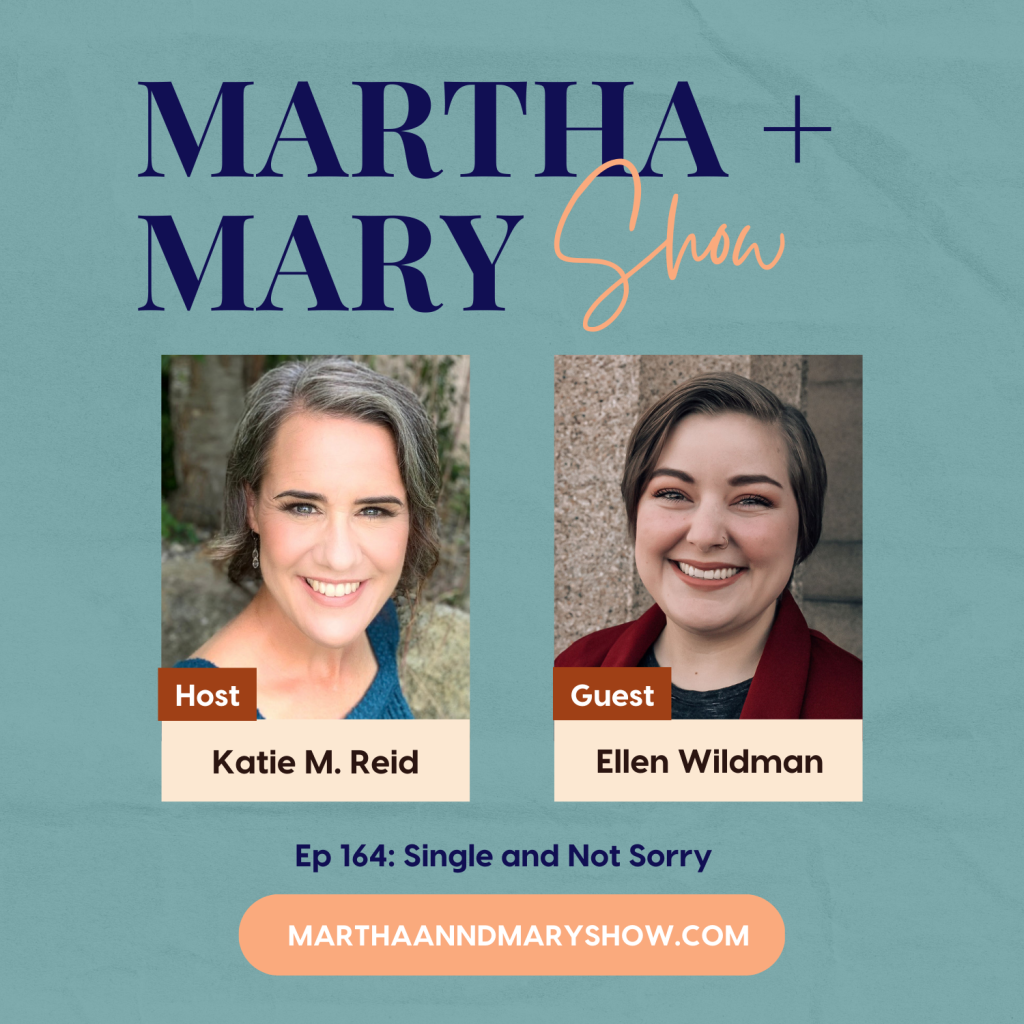 It is an honor to have a variety of listeners tune into The Martha + Mary Show. Some of our listeners are single and we want to make sure they feel seen, loved, and valued just as they are.
Disclosure: Affiliate links are used below. If you choose to purchase through the links, we may be compensated at no additional cost to you. See full disclosure policy.
Listen to the latest episode below, on our podcast webpage, or access Episode #164 on your favorite podcast app.
Show Notes for Episode 164 with Ellen Wildman
Ellen Wildman, author of Single and Not Sorry, talks candidly about the gifts and the challenges of single life.
Today's Guest: Ellen Wildman is the product manager over Bibles and Bible Resources at DaySpring, and author of the devotional Single and Not Sorry. She holds a BA in Bible and Ministry to Women from Moody Bible Institute ('16) and an MA in Biblical and Theological Studies from Denver Seminary ('22). Ellen lives in Nashville, TN, and in her free time she enjoys reading popular fiction, trying new sourdough recipes, and tending to her thriving houseplants.
Theme Music: "Found" by Lisa Troyer and Dawn Yoder Venture3Media/Circle of Friends
Show Sponsor: Inspiration Doula: Schedule a coaching call with Katie to get the help you need to see your creative project through to the finish line!
Things We Talk About:
"Word before World"
"Do I need to do this right now?"
"You are Not Behind" devotion
Some of the best things about being single, according to Ellen:
Time: To read, refresh, nap, cultivate hobbies, invest in others, show up for others, and more flexibility to help those in need.
Space for healing: Resources to heal, therapy, time and space to process and get to know yourself better and invest in yourself.
Please stop giving unsolicited advice to your single friends. @ellen_wildman #singleandnotsorry #marthamaryshow #singlelife
Click To Tweet
Connect with Us:
Subscribe to the show and leave a rating and review.