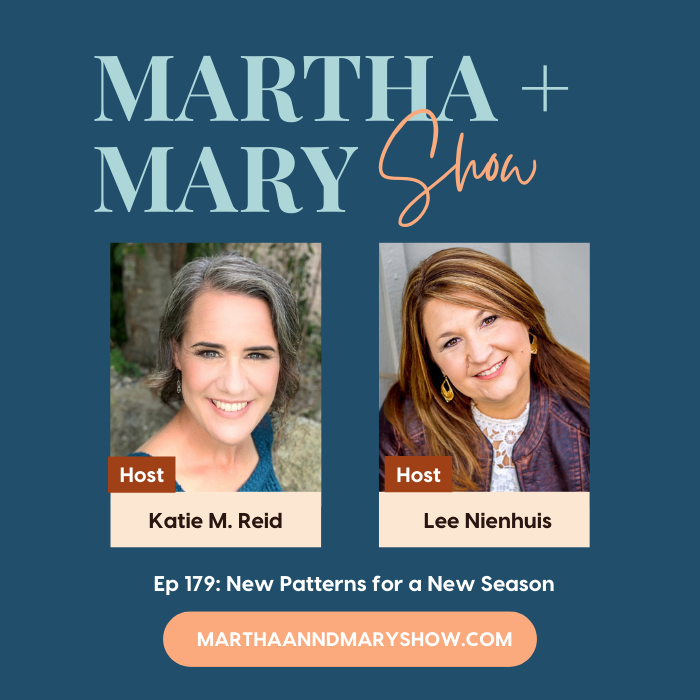 Welcome back! We're delighted to start a new season of the Martha + Mary Show.
Disclosure: Affiliate links are used below. If you choose to purchase through the links, we may be compensated at no additional cost to you. See full disclosure policy.
Listen to the latest episode below, on our podcast webpage, or access Episode #179 on your favorite podcast app.
Show Notes for Episode 179 with Katie & Lee:
Lee coaches Katie through a life-giving checklist to help her and YOU develop new patterns and routines this fall.
Show Sponsor: Looking for professional and engaging speakers for your next event? Book Lee Nienhuis or Katie Reid (or both!).
Things We Talk About:
Plug into the Power Source
Try Softer book by Aundi Kolber
Reground
Give it Time
Celebrate the Wins
Are you moving forward at a pace that your soul and your physical capacity can bear? @leenienhuis #marthamaryshow #soulcare #faithjourney
Click To Tweet
Here are 5 life-giving things to do in a new season... #marthamaryshow #todo #thrive
Click To Tweet
Connect with Us:
Subscribe to the show and leave a rating and review.