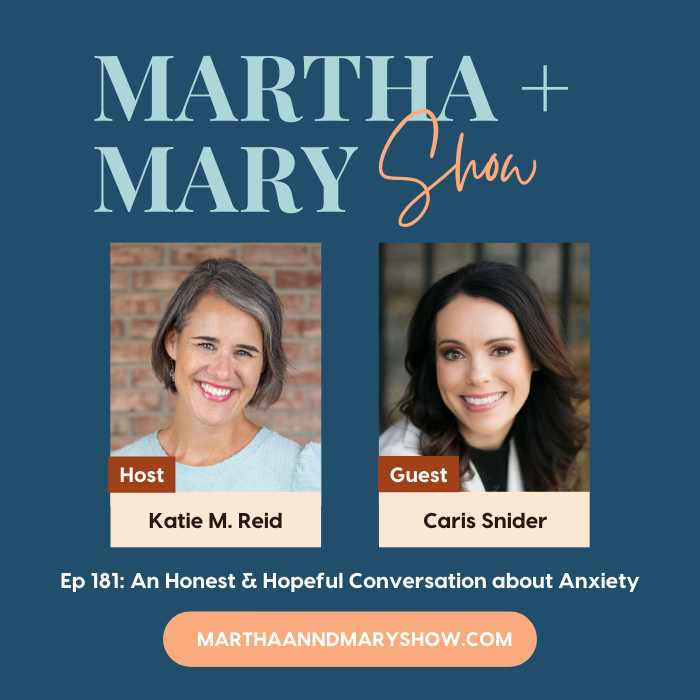 Back to school season can bring on anxious throughs. Today's guest shares her journey with anxiety and offers compassion, help, and hope for women who are batting it.
Disclosure: Affiliate links are used below. If you choose to purchase through the links, we may be compensated at no additional cost to you. See full disclosure policy.
Listen to the latest episode below, on our podcast webpage, or access Episode #181 on your favorite podcast app.
Show Notes for Episode #181 with Caris Snider
An honest and hopeful conversation about anxiety with author, Caris Snider.
Today's Guest: Caris Snider loves to share the hope of God through speaking, writing, coaching, and leading worship. From her own personal experience, she helps women in their journey of overcoming depression, anxiety, fear, and shame. Caris lives with her husband, Brandon, and two daughters in Cullman, Alabama. She is the author of the Anxiety Elephant books and the Car Line Mom devotional.
Show Sponsor: Pick up a copy of Brave Moms, Brave Kids by Lee Nienhuis.
Things We Talk About:
Encouragement from Caris:
Whatever your struggle is, it does not get to define you or what you do with your life, it doesn't get to hold you back or be the light that shines on you. Shine your light on the Lord. Take your eyes off 'what if' and focus on 'what is."
Instead of asking anyone for help with my anxiety, I tried to numb it out. -Caris Snider #marthamaryshow #anxiety #faith
Click To Tweet
Take your eyes off 'what if' and focus on 'what is.' -Caris Snider #marthamaryshow #goodnews #faith
Click To Tweet
Connect with Us:
Subscribe to the show and leave a rating and review.