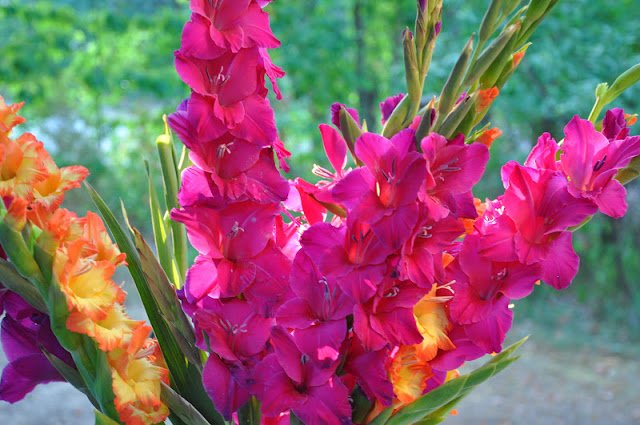 I remember when 3 of my closest friends and I were on our way to dinner. We all came with a few questions to ask each other. One of them was, "What is one thing you couldn't live without?" The one with sunshine hair said, "Color".
Color.
This summer has been filled with color.
Color all around.
Bright and beautiful hues.
Reflection of God's Majesty, His Grace, His love, love love.
Crazy, this love.
Here are some highlights from our summer of color.
By His blood we are "Approved"- youngest sitting on the summer theme sign at camp.
Cousin band…jamming to "Seeds" worship CD.
The simple delights of bright flowers and fresh produce at the nearby country Farmer's Market
Lots of company makes for colorful days and lively nights.
The Family Camp Directors did a great job on the carnival's theme- aloha!
Superban! Enjoying a local library program nearby.
A golden sunflower popped up in the back of our house! Reminder to keep hoping and not give up…keep waiting; surprises can happen just around the corner and when you least expect them.
Such a blessing to have Megan as a mother's helper for 3 days while hubby is directing camp- a thousand thank yous for brightening our world dear young lady! She read book 1 and 2 of The Hunger Games while she was here too- impressive.
"Cinderella" started playing and they both dropped everything to dance. My heart took a picture, and so did my camera! Precious moment during a busy week.
Basking in a few days away, just us. Sun splashing us with color as we thank Him, Son, whose faithfulness has made 11 years possible and beautiful.
Thank You God for the gift of color.
It makes the world a much more beautiful and rich place.
May our lives reflect right back to You, Creator.
Revelation 4:1-3
"After this I looked, and there before me was a door standing open in heaven. And the voice I had first heard speaking to me like a trumpet said, "Come up here, and I will show you what must take place after this." At once I was in the Spirit, and there before me was a throne in heaven with someone sitting on it. And the one who sat there had the appearance of jasper and ruby. A rainbow that shone like an emerald encircled the throne." (www.biblegateway.com, NIV version)