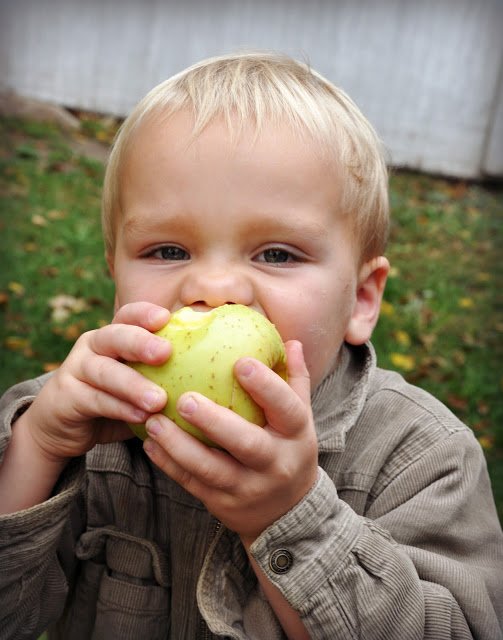 He calls himself "Apple Boy"
I used to call this sweet face "Youngest" on the blog, but then he was promoted (or bumped) from that status. I tried to come up with just the right nickname for him. Tough 'n Tender (or TNT for short) seems just about right.
This boy, #3, is indeed both tough and tender. Recently, I found him sitting on TOP of the roof of the play structure at church. I resisted the urge to scream in fright and reprimand…so I shouted something like, "Wow, you are brave to do that- but let's not do that anymore, it is dangerous." He probably thought… "Dangerous- awesome."
Several months ago Hubby and I started talking to him about how it is great to be brave, but that he needs to be wise in his bravery. For example, just because you may be brave enough to jump off the roof of the house, doesn't mean it would be wise to do so (thankfully he has not attempted this).
He was our first child to get a stitch.
The first one to get one of his teeth shoved up into his gums.
The first to disappear in the grocery store.
Isn't it ironic that this is the baby we prayed Peace over? He keeps us on our toes, and he enriches our life and lights up our faces beyond measure.
TNT is also tender. A snuggle bug. The one whose face crumbles at the thought of being disciplined. The one who loves to sit on our lap and be read to. The one who races to greet us at the door and throws his arms around us. He hugs like his daddy, all encompassing; good and tight. He likes to hold our hands.
Today, he turns 5.
TNT is the baby who worked hard to come out too early. Who made an avalanche kind of entrance at 36 weeks; a solid 7 pounds 9 ounces. His face was black and blue from flying out of the birth canal (only four hours of labor and one big push- I know, too easy, sorry). He is the baby who had fluid in his lungs and gave us several scares in
the hospital; choking, jaundice, not full oxygen intake, etc. As a
newborn he made the other moms (in the Nursing Room at church) laugh at
his big plump cheeks that just begged to be kissed. He is built solid
and strong- linebacker type material. His shins are adorned with black and blue bruises- remnants of hard play and being all-boy. He wrestles with the best of them, holding his own with his older brother.
He has a twinkle in his eye and a funny sense of humor. He knows how to pose for a camera too.
I cannot imagine our family without this little man. I love watching he and Sunshine head growing into their friendship- the best friend kind. I love how he willingly is Darling Daughter's Shetland Pony; clomping happily behind her. I love the way he talks baby talk to Strong One and sweetly kisses his head.
Happy Birthday TNT! You are the exclamation point in our family. Thanks for being you; fearfully and wonderfully made. May you be wise in your bravery, always have a twinkle in your eye and learn to love Jesus more and more with each passing year. We pray you will lead others in doing what is right and will use your gifts and talents for God's glory in your generation.
Deep Breaths:
1. Life is a precious gift, not to be taken for granted. What is one way that you can celebrate life today?

2. God answers prayers. Thank Him today for an answered prayer, and take a moment to pray for a little one in your life.