I hope you have enjoyed the guest posts in the series as much as I have. It has been a sweet joy to see friends rise to the occasion and accept the challenge of writing on a specific verse from Isaiah 40. I have been so blessed by the time, thought, and love they have put in to bless us all. Today is no exception; one last guest post to end our series.
It is a honor to introduce the lovely Shannon to you. Shannon is a compassionate and caring woman. She is a committed wife, loving mother and loyal friend. Shannon has experienced some really big trials in her life and she graciously and vulnerably shares them here. I hope that you handle these precious pearls with care as she opens up the pages of her life-book for you to read today.
Isaiah 40:31 "Yet those who wait for the LORD will gain new strength; they will mount up with wings like eagles, they will run and not get tired, they will walk and not become weary."
"But
they that wait upon the LORD shall renew their strength…" Little did I
know just how real and meaningful those words would become to me.
I
grew up in church, in the Word, constantly saturated by the essence of
God, if you will. My mom took my two older brothers and me to church
every time the doors were open. I accepted Christ as my personal
Savior at the age of seven after my heart was touched by the words of
Dr. Stan Harris. I can remember the moment so vividly. I stood leaning
with my hands resting on the pew in front of me and my head bowed. When
the invitation to come forward and give your life to Jesus was given I
could feel myself, almost literally, being nudged by the Holy Spirit. I
walked down that aisle with my childlike faith and asked God to be the
King of my life.
I
do not remember at what exact point in my teenage years I claimed
Isaiah 40:31
as a life verse, but I am sure that my initial thought was
something along the lines of, "God is my strength. That sounds great!" I
am confident that I did not truly realize the power behind that verse
at the time. Between
Awana
and
VBS
I had a lot of Scripture
hidden away in my heart. I loved to memorize
God's Word and
Isaiah 40:31
just jumped off the page at me.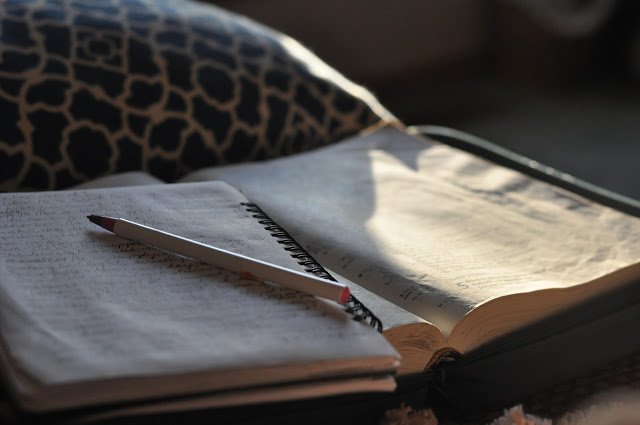 As
a child, I remember my mom being a strict, conservative, hard-working,
God-fearing woman. I recall feeling, on a few occasions, that she
was being a bit extreme; that she needed to loosen up a little bit.
Looking back, however, I can understand where she was coming from. My
dad, on the other hand, was always in the picture, but his life was
ultimately ruled by the bottle. He was present physically (most of the
time), but an absentee in every aspect that mattered. I relied heavily
on God in this area (and still do) to be my Isaiah 40:31 strength and
the father figure that I was so desperately in need of.
After
graduating from high school
in 2002, I headed off to Jamaica for two years where
I attended a Baptist Bible College. I dug deeper into the Word
than I ever had before and was surrounded by incredible Godly influences, but, I found myself failing miserably. I had to seriously depend on God
to be my strength and bring me up out of the miry clay that
I was sinking in.

I
returned home from college in 2004 to the reality that my parents had
separated. We had never been the perfect family, but nonetheless, we had
always been a family. I saw my dad reach for the bottle more
than ever and my mom headed down a wayward path. I was left feeling
devastated and torn, but still I hung onto the Lord for strength.
My Grandma was always the glue that held our family
together. My mom is the youngest of seven children and Sunday afternoon
dinner at Grandma's, with the whole clan, had been the norm for as long as
I could remember. When all other aspects of life seemed crazy, there was
comfort in the time spent with family on Sunday afternoons. However, in
December of 2005 "our glue" lost her battle with cancer. My heart was
shattered and as I watched my family crumble in the absence of the woman
who had always brought it together, I clung tighter than ever to my
Isaiah 40:31 strength.

It
was at that point, after so many ups and downs, at the end of December
2005, that I chose to get some ink, to have inscribed on me the words
that, for so long, had been inscribed on my heart. I got a lower back
tattoo that reads, "God
Is My Strength – Isaiah 40:31 – 2005". I know that everyone has their
own personal convictions and opinions about tattoos, but God has been, is, and always will be my
strength. Since the
day that I chose to have a permanent reminder etched into my skin I have
continued to rely on God to be my strength in my weakest moments. In
every moment.
In
2007, Matthew and I both said, "I do!" and shortly thereafter our lives
were changed by a huge whirlwind of pregnancies, miscarriages and loss.
The details of it all are a story for another time, but on January 8,
2009 at 28 weeks gestation I delivered our conjoined twin boys. We held
them in our arms for 1 hour and 52 minutes until God saw fit to take
them into His own. Man, talk about needing some supernatural strength.
The
point is, God has been my strength through it all; fear, doubt,
frustration, disappointment, failure, loss. I could not have survived on
my own. This is where the rest of the verse comes into play, "…they
shall mount up with wings as eagles; they shall run, and not be weary;
and they shall walk, and not faint." I love that! Wait for His help.
Trust Him. Hope and confide in Him. He will sustain you and give you the
power to overcome.

I
love to write and in September 2005 in the midst of an emotional roller
coaster I wrote a song that I titled, "My God". I would like to
leave you with just a few lines from it. Always hold fast to the LORD: your Isaiah
40:31 strength!
"Trials and heartache may come my way.
Life may get brutal and rough,
but I will not falter. I will not fail.
With God on my side I will prevail.
My God is faithful.
My God is great.
My God is wonderful.
My God is holy.
My God is just.
My God will conquer all."
Deep Breaths:
1. Thank you for joining us on this journey through Isaiah 40! If you have been memorizing with us, keep reviewing these verses and solidify them in your mind through repetition and reflection. Don't get discouraged, if the whole chapter is too much- memorize one or two of your favorite verses from Isaiah 40.
2. Isaiah 45:24 says, "They will say of Me, 'Only in the LORD are righteousness and strength.'" In what ways are your specifically relying on the LORD to be your strength? He is Strength and is more than able to offer Himself to you in whatever you are facing.
3. Memorize Isaiah 40:31
************************
I get a little sappy, but also feel a lot of relief, when a blog series is done. So much work and time goes into each one- along with a lot of love and patience extended from my Hubby and kids; but it really is a privilege to be able to do them too. I am so thankful for the wonderful guest authors that willingly shared their heart and insights with us for this series; thank you! It is our prayer that you have been:
encouraged as you studied God's Word,

assisted in memorizing God's Word,
inspired to draw closer to the Savior.

We would love to hear what God has taught you through Isaiah 40; prayerfully consider sharing your thoughts in the Comments Section below.