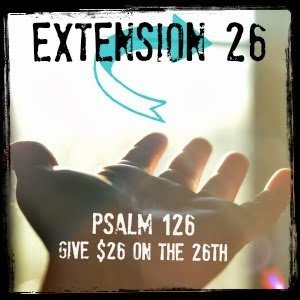 Last year, right before Valentine's day, my dear friend (an adopted mama of two) sent me this, "Dear Katie- May
this be your last Valentine's Day without your sweet baby in your
arms. Praying always….I can feel the ache in your arms…I have felt
it too. Soon, you will be fulfilled, soon." For all you waiting families out there, please read this for some encouragement today.
Little did we know that, less than a month later, we would be holding our long-awaited one in our arms, in a whirlwind of love, moving boxes, and laughter.


I can think of no better Valentine's gift than for more waiting children and waiting families to be united soon. Would you join us in giving a simple, yet meaningful and life-changing, gift of love to those waiting? Please prayerfully consider giving to Show Hope today.
++++++++++++++++++++++
Last month we introduced you to Extension 26. In a nutshell, Extension 26 is a simple way for us to be accountable to give more and to encourage others to do the same. For the month of January we asked others to give to Amazima and in February we are so excited to showcase a ministry that is very dear to our hearts… Show Hope!
Show Hope is a wonderful organization that cares for orphans. They are many facets to this ministry: Care Centers, Maria's Big House of Hope, and Adoption Aid. Steven Curtis Chapman and his wife Mary Beth Chapman initially "founded Show Hope out of their desire to see more children find their way into forever families." I am really blessed by this statement. There are many families I know who really want to adopt but feel like they can't because of the adoption fees. Thank you Show Hope for providing adoption aid to many families!
We were so incredibly blessed to receive a generous adoption aid grant through Show Hope. God provided for our adoption in many ways- and this grant was a big part of it! In January 2012, we danced and screamed and praised the Lord when we received the news that we had received this grant (you can read that post here). We are still so grateful and want to give back to Show Hope in a tangible way.
You know the kind of friends that stand on the sidelines and cheer you on like crazy through the finish line? You know the kind of friends that sacrifice in order to help you get through a tough spot? You know the kinds of friends that "get you" and understand the things that break your heart? Show Hope felt like that kind of friend to us through our adoption process. We are hoping to go say "thank you" in person to our "friend" this year during our family vacation. But for now, we will say "thank you" in a different kind of way.
My friend posted a "Pay It Forward" challenge on her facebook wall the other day, and it reminded me how a gift to Show Hope is just that, you are helping others' adopt through your giving and then those families are, most likely, giving back and helping others adopt, and hopefully, the giving keeps going on and on. What a beautiful thing!
There are many ways to give to Show Hope. Click here for numerous options…from becoming a prayer partner, to monthly sponsorship of waiting children, to becoming an advocate, to funding surgery for an orphan.
Another fun way to give is to go shopping! Your purchases in the Show Hope store will help in several ways, from furthering the mission of this great organization to spreading the word about this exciting movement to care for orphans. I couldn't think of a better gift for Strong One than this adorable "Family Rocks" t-shirt. He will be getting this for his first birthday, which is coming up in March- so hard to believe!
From now until February 26th we are asking you to prayerfully consider giving $26 to Show Hope (or more or less- however God leads). We recently signed up to be an advocate through Show Hope and our goal is to raise at least $208 for them by the end of February. That breaks down to only eight people giving $26 through Show Hope's site. Of course we would love to see lots more given, but $208 is a great start. We realize that it is a blessing to give privately, but we would love to see if this goal is reached- and all do a happy dance together! Would you consider slipping us an email @ echoesofmyheartcd@gmail.com and letting us know if you give this month?
Thank you for considering a gift to Show Hope as we extend ourselves this month and reach out with love to orphans.
P.S. If you are considering adoption yourself, be sure to checkout this site on "How to Adopt". If you need financial assistance to adopt, follow this link about adoption aid.
Deep Breaths:
1. Prayerfully consider giving this month as the Lord leads.
2. What does the Bible actual say about money and giving? Check out numerous verses here.
3. Take a moment today to say thanks to a ministry or organization that has helped you or is a blessing in your community. Write a thank you note, make a phone call, or go say "thanks" in person. A little "thank you" may be just what they need today.