"I want to meet you where you're at, you can tell me where you've come from"
(lyric from Christa Wells and Nicole Witt,
We Can Do Something EXTRAordinary
).
A little while ago I participated in my first twitter party. It was hosted by
(in)courage
and they were talking about their upcoming conference,
(in)RL
. I was planning on attending the first day of the conference (from the comfort of my own home) but was not planning on hosting a meetup for the second day of the conference. During the twitter party they started talking about hosting and I began to feel that tug that God wanted me to host an (in)RL Meetup. My tipping point was when someone said something like this,
"There are people in your community that are desperately longing to connect, but feel alone; they are dying for community."
This struck a chord with me. I remember when I was home with our first child and felt very alone. I started attending MOPS and another Mom's group; they were a lifeline to me. Community kept me afloat in those early days of motherhood. Real life friends kept me from drowning during our long wait to adopt. Because I knew the benefits and necessity of community firsthand, I nervously agreed to host an (in)RL Meetup at our church. I wanted to bless the ladies, and also have the freedom to do things how I wanted to, so I did most of the planning myself. Then God gently, yet clearly, showed me that I was trying to plan an event all about community, but I wasn't modeling community well by being an island and doing it myself. Duh!

So I enlisted the help of a few others, and they lifted the load, willingly and gladly.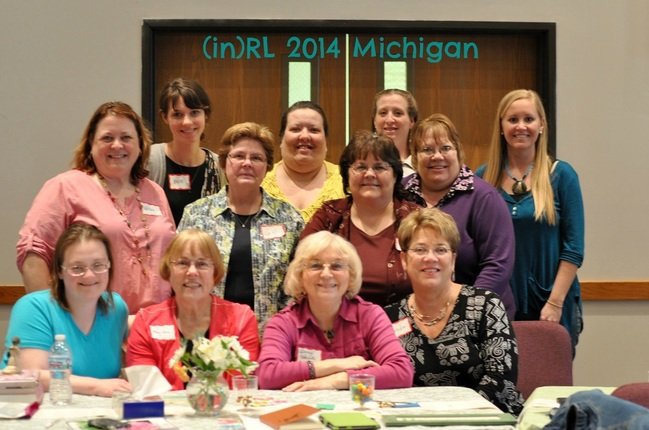 We met this Saturday for a beautiful time of fellowship. One of my favorite moments was when we went around and introduced ourselves. Each woman shared their name, where they were from, what they were looking forward to about our time and something about their story. The tears started flowing as each lady chose to transparently share a part of their story; their struggles, their joys, their hesitations.

One attendee said she almost didn't come, but God said to her, "Don't let yourself get ripped off (by not coming)." On the other side of town, another attendee's son, who has special needs, was compelled to pray for that very woman. We are so glad she came. We needed her story.

Our three hours together flew by. We could have easily met for another hour. I was so blessed by each woman who came and their courage to share their story. They didn't just show up physically, they showed up with honesty and vulnerability; it was beautiful.

Hebrews 10:25 "And let us not neglect our meeting together, as some people do, but encourage one another, especially now that the day of His returning is drawing near."

And there there's this (in)RL song (video below) that you should listen to. Darling daughter and I keep singing it. And it's the story we need to remember long after this weekend. Don't go it alone. They are great people waiting to help you, ready to listen to your heart, and longing to be heard themselves. Just take one brave step towards community. It is scary and can be hard, but it is real- a real blessing, a lifeline…His plan for you. Community looks different for many of us, but it is important. Let's not neglect this meeting together; this valuable gift.
It's Monday! That means it's time to #inspireandgrow. See the details below and consider linking-up as we encourage others, "We need your story!"