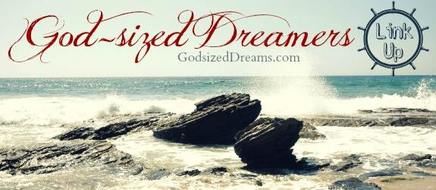 Linking-up today with
God-sized Dreams
. Come grow with us as we encourage each other.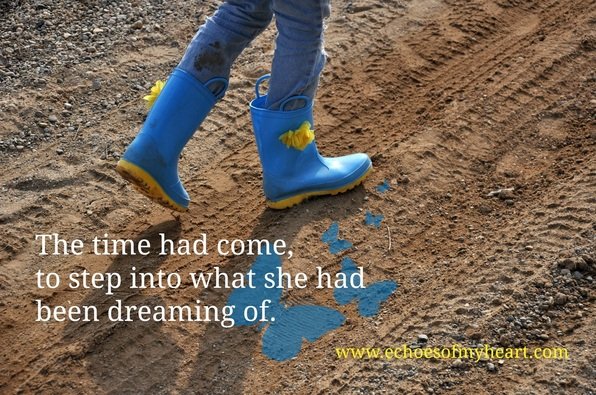 I wanted to be married for as long as I could remember. I dreamed, prayed and obsessed about who the man of my dreams would be. There was a lot of heartache on the journey to my husband. But, when God opened my eyes to His plan and man for me, it felt as natural as talking a stroll down a familiar tree-lined lane. Of course it wasn't all springtime and roses, but it was good.

As I was finally able to legitimately plan a wedding I had a strange feeling. You see, for many years, I had longed to put feet to my wedding and marriage dreams, but I couldn't because it wasn't the right time. Now, that it was time, I had to remind myself that I could dive in and plan freely because now the dream was a reality. Has that ever happened to you? Has God brought a lifelong dream to fruition, but it took your brain awhile to realize that you didn't need to suppress the dream any longer? You could act on it, with confidence, because it was time.

Here's another scenario, have you ever been sure of a God-sized dream, but when the time came to act upon it, you got scared and were tempted to run? This happened to me regarding our adoption journey. For years God gave me scripture and promptings to adopt. The desire to adopt grew and grew until I felt like I might explode if we didn't start the process soon. When God clearly led my husband and I to begin the process I was elated, but, not far into our journey, I started to get scared, "What if?" and "Did I really hear Him clearly?" and "How are we going to do this?" It didn't take long for God and my husband's pep talks to get me back on track, but I was surprised by my emotions. This was what I had been waiting for, for years. I could finally put feet to this dream, so why was I wavering for even one minute?

I think one reason, we are tempted to waver, is that our God-sized dreams are usually a big part of who we are. They are vulnerable. They are valuable to us. A precious pearl that we hold close. It might not seem so special to everyone else, but we know where the pearl came from and the depths from which it was retrieved. When it's time to put that pearl on display, we can be tempted to recoil, to hide it again. We have so much invested in this dream, the cost is great for it not to happen, but also for it to happen as well.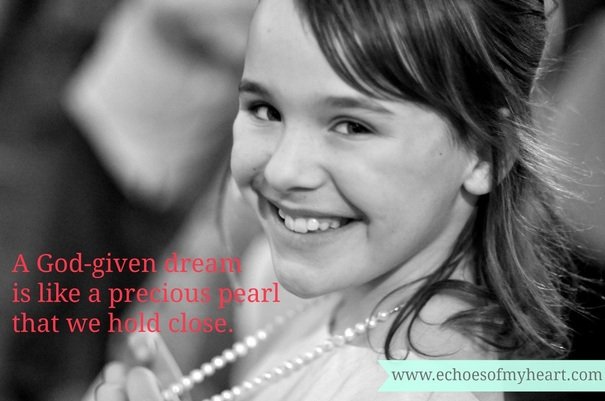 If the time has come, for you to finally step into a God-sized dream, let me encourage you, and me, to take a moment to reflect on how far He has brought us. It has most likely been a bumpy journey, with twists and turns and unexpected detours, but, here you are. 
As you stand on the cusp of this dream, remember that it is okay to be scared, to have hesitations, but don't let those feelings keep you from taking this step into this land that you've been dreaming of.
We are cheering for you! With God's lead and help, you
can
do this. And when you do, you shine bright for His glory.
Coming Into View
I can feel it
just over the horizon
I can see it
a glimpse of what's to come
I can taste it
the promised joy's appearing
I know in my heart that this is the hour
Waited so long for this to happen
and now that it's here I'm a little scared
But there comes a time when the waiting stops,
and you take that step, faith-filled
I can hear it
the sweet applause of heaven
I breathe it in
the fragrance of Your grace
I'm amazed
You've entrusted this to us
Finally, it's all coming into view
Waited so long for this to happen
and now that it's here I'm a little scared
But there comes a time when the waiting stops,
and you take that step, faith-filled
Take My hand, let's go
Let's embrace the unknown
Let's walk this out, not looking back
Finally, it's coming into view.
-Katie Reid, Track #14 from my Echoes of My Heart album (you can purchase it here).