Awhile ago my friends
LeeAnn
and
Meredith
were tweeting about something called
Five Minute Friday Snail Mail
and I joined in on the fun (thanks ladies!). Head on over to the lovely
Kaitlyn's blog
for the details (and finds lots of inspiring writing over there too). We are so thankful for this hard-working friend and how she hosts this life-giving mailbox community. This round of snail mail is closed, but we really hope that you will join us next time. You don't need a formal group to remind you to send mail though- go do it today, out of love for Him and care for others!:)
Today, I am delighted to share some thoughts about encouraging others with hand-written love. This is an invitation to pick up a pen, jot down your heart and His Words, and send off some blessings this week. It makes a big difference- coming from one who has been bolstered up by the thoughtful, timely words of others!


"So then, brothers and sisters, stand firm and hold fast to the teachings we passed on to you, whether by word of mouth or by letter. May our Lord Jesus Christ himself and God our Father, who loved us and by his grace gave us eternal encouragement and good hope, encourage your hearts and strengthen you in every good deed and word"
(
2 Thessalonians 2:15-17
, NIV).
Someone once told me that encouragement means to put courage into another. I like that. I have been on the giving and receiving end of that kind of encouragement. Speaking of courage, there is this guy named Napoleon (the French military leader not the teen from Idaho who hides tater tots in his pocket)…who said this about it:

"Courage isn't having the strength to go on – it is going on when you don't have the strength."
There are times, on this writing journey, when I have been tempted to quit, flee or hide. But, then a timely word of encouragement arrives (in my mailbox- yeah #fmfpartysnailmail, in my inbox, or from the mouth of a friend nearby) and I have the courage to keep offering because of their encouragement. God uses them to remind me to keep going, even when it feels scary.
All this to say, your courage-words matter. They make a difference. Your words come at just the right time; sacred whispers to scared women. This letter writing, this extending ourselves, at 49 cents a pop- it is life-giving, invaluable work. It matters, eternally, because you are speaking His words, and aren't those the best kind after all?
"So, friends, take a firm stand, feet on the ground and head high. Keep a tight grip on what you were taught, whether in personal conversation or by our letter. May Jesus himself and God our Father, who reached out in love and surprised you with gifts of unending help and confidence, put a fresh heart in you, invigorate your work, enliven your speech" (2 Thessalonians 2:15-17, The Message).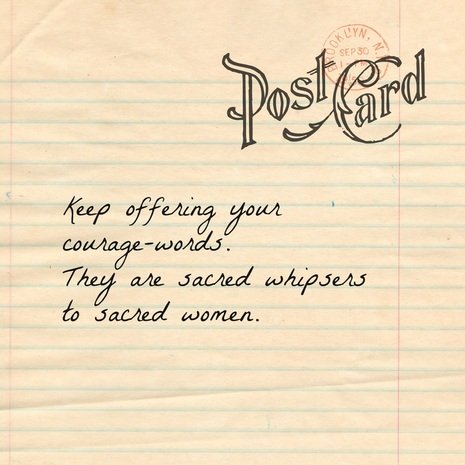 When I made this graphic, I meant to say
"Keep offering your courage-words. They are sacred whispers to scared women".
I was going to try and change it, but I think God wanted me to say sacred women instead of scared women. This community of women is indeed sacred and I am deeply thankful for them- for you!
Sacred– connected with God; regarded with great respect and reverence.

Going Forth Together with Courage,
Katie