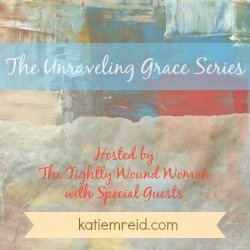 It's time for another installment of the #UnravelingGrace Series. It is a joy to host the lovely Kate Motaung today. We only live a few hours from each other and were able to connect in real life—so fun! Sit back, grab a cup of Rooibos tea and drink in these words.
Kate Motaung grew up on the shores of Lake Michigan before spending ten years in Cape Town, South Africa. She is married to a South African and together they have three children. Kate is the author of the e-book, Letters to Grief, hosts the Five Minute Friday blog link-up, and has contributed to several other online publications. She blogs at Heading Home and can be found on Twitter @k8motaung.
Out of Control
A month before I turned 21, I boarded a flight bound for Cape Town. My plan was to stay for six months.
Two years later, I was still there, speaking vows that wed me to a South African man.
Within three years of our wedding day, we had two kids. Just after our second child's birth, my mom was re-diagnosed with cancer. The breast cancer she endured four years prior had returned with a vengeance, and metastasized throughout her bones, lungs and liver.
Eighteen months later, we adopted my husband's cousin, who was orphaned at the age of six. He spoke no English and had an undiagnosed hearing disability.
Those were turbulent days.
When we got married, my husband and I made an agreement. If it was the Lord's will, we would spend the first five years after having children in Cape Town, then move to the States for the second five years of our kids' lives, before returning to South Africa.
Shortly after adopting, I was ready to make the move. My mom's health was declining, and nobody knew how long she had left. I was desperate to be with her.
We started the paperwork to obtain a green card for my husband.
I went to the U.S. Embassy to register our adopted son and get the necessary documents to make him a U.S. citizen. That's when I heard the news.
U.S. citizens who adopted children in South Africa were required to reside in the country for two full years after the adoption was finalized — a law related to the Hague Convention. We were stuck. Our adopted son would be allowed to visit the States for up to 90 days, but no longer.
I was crushed.
What was worse, I had to tell my mom. I feared it would break her. She had been holding out for our arrival, and wanted nothing more than for us to be together in the States.
There was absolutely nothing I could do.
I couldn't change the law.
I couldn't cure her cancer.
I couldn't grant either of our hearts' desires.
So I prayed. Mostly I begged God to protect my spirit from bitterness. Lord, if you take either of my parents before the two years is up, please help me not to be angry.
I wanted to stop time and speed it up all at once.
The next several months strung together in a roller-coaster of ups and downs. More strains of chemotherapy for my mom until the options ran out. Before the two year mark.
Then God did as God does, and gave us the unmatchable gift of being able to spend six weeks in the States. Mom stopped chemo when we arrived. We moved her into a Hospice facility. It was awful. But we were there. And there's no place else I wanted to be.
All too soon, our time in the U.S. came to a close. We had to go back to South Africa. The heartache shredded my insides.
It was not how I pictured my life to be. I wanted to re-paint the canvas. I wanted a new brush. A new palette. Anything to get me out of that scene. (<===Click to Tweet)

I hugged my mom goodbye, knowing I'd never see her again this side of heaven. I walked out of her Hospice room, straight into a public bathroom stall and vomited my grief into the toilet.
I had no control over my life or hers. I couldn't even control the bile that rose in my throat.
Six weeks later, my mom died.
And I wasn't there.
Yet God, in His grace and mercy, spared my heart. He answered my prayer and shielded me from bitterness and anger. He stroked my hair and wrapped His arms around my shoulders and let me cry myself to sleep on His lap. Resting in His care. Trusting that He alone holds the keys to life and death. And because of Jesus, I will see my mom again.
Held By Him,
Kate
— How has God protected you from bitterness when situations are out of your control?
— When have you seen God's grace prevail during difficult circumstances?
P.S. Get caught up on the #UnravelingGrace series here:
January:    Hurts, Hope and Healing by Jennifer Watson
February:  For the One Who Doubts God's Sovereignty by Abby McDonald
March:       Beating Inflating Fears by Kelly Balarie
April:          When Life Unravels and You're Barely Hanging On by Bethany Huff and Function in Chaos by Renee Griffin
May:            Not that "Be Still" Thing Again! by Amy Dalke and Getting A Grip By Loosening It by Celeste Barnard
June:          Choosing Stillness by Courtney Stanford and Facing Mountains of Fear by Jenni DeWitt
July:            Pinning Control to the Carpet by Molly Dragert
P.P.S. Don't miss any of this series. Subscribe by email (in the top right hand corner of my blog) and get posts delivered right to your inbox.