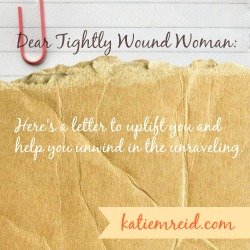 Welcome to the summer edition of Letters to the Tightly Wound Woman.
First things first. This "tightly wound" title refers to those of us who are a little uptight on the inside but mostly it's a label to be plastered on proud because we are women who are tightly wound to His side.
We are women who desire to put Jesus first and stay close to Him. We are women who live the surrendered life—not because it is easy or glamorous, but because deep down we want to live a life that matters for eternity. We want to know Jesus in a personal way and make Him known to a hurting world.
We are strong women—bold and beautiful. We are tenacious and committed to finding grace in the unraveling of life. We will not give up. We will cling to the One who is always in control and truly perfect. We have not arrived except to the conclusion that we need Jesus desperately. We choose to remain under His Sovereign care because we trust Him.
We lay our issues and wounds at His feet. We go forward in freedom because we are wound up in a Love that has no bounds.
*******
Now it's time to read your summer letter. Find a little pocket of quiet and sip these words. May they go down like honey and fill your heart with God's affection.
Dear Tightly Wound Woman:
The sunlight breaks through the blinds as you stir. Your mind races as you face what lies ahead.
You rub the blur from your eyes as you try to focus. You feel torn between resting more and the race the begs to be run. Your shoulders ache from all you carry. You stretch and breathe deep, willing your body to relax and prepare for what's to come.
If you linger at dawn you might listen better, if you sprint in circles around the track you'll tire quickly.
You have a choice.
It's time to wake up.
With this invitation comes apprehension, because you fear what coming to life might feel like. You've tuned into the static, and you zip to and fro. You work hard to numb the pain. Your senses are dulled from this hurried and harried way of living.
You reach for food to feed more than your belly. You scarf down the days without tasting their sweetness.
You grasp for control like the safety bar of a Ferris wheel so you won't feel as vulnerable as the world keeps spinning.
You make a mile long to-do list so that you won't have to check the brokenness lingering close, under paper thin surface. You mask yourself because you aren't sure they can bear the true you. You hide behind productivity because this grace thing seems too good to be true.
It's time to arise.
I know it's difficult to face the unknown. It feels unsteady; not safe. Yet, darling, there is beauty in store, even in brokenness.
I have set apart this day, unlike any other. And you are unlike any other that I have made. I like you and love you, and call you by name.
You are invited to go forth.
Arise, come forth, there is a scenic view ahead. As you follow this path, with its switchbacks and inclines, you are taking ground that I've promised long ago. There are jagged roots and unexpected twists yet the strong foundation of Myself is beneath your feet.
Freedom awaits.
As you wake, will you let My affections stir you?
As you arise, will you savor the gifts set before you?
As you go forth, will you follow My lead of compassion?
Will you wake up, Love?
Will you shed numb skin and dare to put on armor for battle?
Will you shake off the stupor and come to, with full attention?
Will you stop medicating the less-than-perfect with counterfeit comforts, and drink a heavy dose of My acceptance instead?
Let Me tell you what I have done to wake you:
I built a course for the sun to reach the window of your soul. I bled crimson in agony to replace your sin with salvation. I silenced death through an Easter resurrection. And I reign Supreme so that you can rest easy.
You can face today because My mercies are new.
You can be clothed with hope because I am here with you.
You can now because I did then.
It's time.
Wake up love.
Love,
Me
*********
Speaker and Writer, Christy Mobley, has some comforting words for moms who have graduates heading off into the world. Follow this link to read her post and also to access some free music about the subject from my "Echoes of My Heart" album.
P.S. Get caught up on the other Letters to the Tightly Wound Woman:
January: Listen Close, Listen Well
February: Finishing Well
March: Slowing Down
April: Sweet Words
May: Breakthrough
P.P.S. Linking up with Kelly Balarie for the #RaRaLinkup