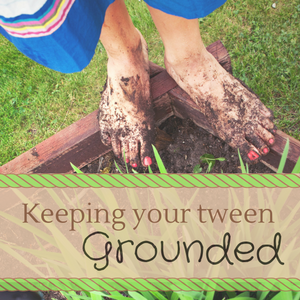 Welcome to Day #16 of the Grounded Series!
Yesterday was the "I Dare You to Try It!" Challenge. We had fun baking in the kitchen together—with Brooke taking the lead. You can access the video of the dare here. Be sure to let us know if you did the challenge, we'd love to hear about it and see pictures of what you made!
Let's take a few moments to dig into God's Word and find out what He has to say in regards to being grounded in the faith.
Okay, first of all, this is Brooke. I'm filling in for my mom. She's been doing a lot. You can tell because yesterday, in the morning, she asked me to get her phone for her. So, I handed it to her. Then, after talking to my dad, she opened it with the nifty thumb-print thing and checked her email or something on it and then, while still looking at it, she asked me: "Brooklyn, I asked you to go get my phone." 😀 My dad started laughing like crazy and said, "She did. You have it in your hand!"
Now, for our devotional!
What about Faith?
Read Ephesians 3:17
 "so that Christ may dwell in your hearts through faith—that you, being rooted and grounded in love…"
So what I want to know is, what does it mean to have faith??
Faith
When you have faith, you trust or believe in something very strongly. Some people have faith in a higher being.
I found this at:  https://www.vocabulary.com/dictionary/faith
Awhile back, we had been considering the idea of adopting a child. We prayed. And prayed. And prayed. And felt God was telling us that we should do it. And so we found a good, christian, agency that we trusted and wanted to adopt a baby from.
Would you like to know how long we waited to get a call? Almost 2 years!!
After many prayers, we got a call that a baby boy was born and so my mom and dad drove to a hospital and came home with an empty car seat. I was really confused. Where was the baby? Our baby. The one we have prayed and prayed and prayed for.
Mom explained that when they got to the hospital, the birth mom wanted to keep the baby. I cried myself to sleep that night. I was pretty mad at God.
Why would He do this? We prayed a lot and spent time with Him!! So why would he do that?
We cried, and prayed, and cried and prayed some more and started to understand that maybe God had a better plan for us.
He did. On March 9th, my mom had lunch with a good friend and they prayed together about the situation. That night before, and we didn't even know it, a baby boy had been born.
Two days later, when we were at the chiropractor,we got a call to come and pick up that baby. This time, we got to keep him and now, he is a joyful, outgoing, lovable 3 year-old and we love him like crazy.
See? This situation took a lot of faith and prayer (and crying) So, when you are in a hard situation, pray and have faith, lots and lots of faith.
 Your turn:
What do you think might be stopping you from having faith and believing in God?
How can you improve your faith and relationship with God?
Stay Grounded in Love:
~Brooklyn <3 😀
You might also like:
When Your "No" is Someone Else's "Yes"
Mourning Turns to Songs of Praise
Save
Save
Save
Save