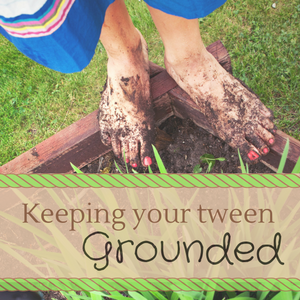 It's Day #20 of the Grounded Series!
There is a captivating quote in the movie, We Bought A Zoo: 
You know, sometimes all you need is twenty seconds of insane courage. Just literally twenty seconds of just embarrassing bravery. And I promise you, something great will come of it."
For ten years my husband and his sister wanted to go skydiving together. Their plan was to go once she turned 18. Time went by and the dream remained tucked away, but not forgotten. Then a few years ago there was a great deal on Groupon for skydiving nearby—and the rest is history.
These adult siblings demonstrated insane courage and embarrassing bravery as they plummeted to the earth (I have to say that their father and I also displayed some too by promoting, watching, and documenting the experience). I am proud of them. Ultimately, it was a lesson of trust, growth, and quite the bonding experience.
Isn't this like our faith?
When we "sign-up" we count the cost and take a leap into unknown territory. The Lord asks us to trust Him in the midst of fear, obstacles, and at times scary and exciting circumstances.
The giants are present, but the slingshot is in hand. The hand looks weak, but the power is in the One Who called, Who holds together.
God equips for the task at hand. For what is laid out, He knows the course. We ride this journey, tandem.
What is God asking you to trust Him with?
Is He calling you to something that seems impossible in your own strength? Is it self-control, mending a relationship, being kind to that "hard-to-be-nice-to" person, faithfully spending time with God, learning a new skill?
Read the rest of the post over at Kelly Balarie's Purposeful Faith…