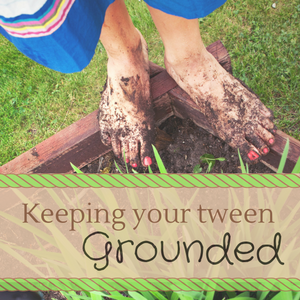 Welcome to Day 5 of the Grounded Series!
On Wednesdays we are either sharing a guest post or introducing you to a blogger who is the mom of a tween. At the end of this post, I'm linking over to Jami Amerine's blog, Sacred Ground, Sticky Floors, as she offers some much needed encouragement to mamas everywhere.
But first, some thoughts on laughter and parenting.
The Healing Balm of Laughter
During my last few months of teaching public school, my husband wondered if I was losing it. There were many challenging and heart-breaking circumstances that I learned about my students, but, in order to cope, I started laughing to my husband about what I had discovered.
I wasn't trying to make light of their struggles, but I could not control all the things, so I decided to laugh instead of cry. I think it was a way to cope with the pain.
Sometimes I laugh at the most inopportune times—funerals, being told off by a teen, when I'm trying to discipline a child, in the middle of church, during prayer, etc.
Parenting is filled with both joyful and challenging times. Some days are rewarding, others days are grueling. You don't want to change it for the world, yet you also don't really want to change any more sheets either.
Laughing is a healthy thing to do as you face this challenging season of tweendom. While we shouldn't make fun of our tween (a sure way to get eye rolls, door slams, and distance) we can find the humor in the midst of this season.
Laughter can be a healing balm as you parent tweens.
Let's not get too bent out of shape as hormones swirl and change like the wind (I'm still working on this one). As my life coach told me, don't look for your approval from your tween's behavior—find that in Christ. When we are secure in Jesus, we can parent with more realistic expectations and a clear head and settled heart.
Find  joy in the daily duties of parenthood as you find your approval in Christ not your child.
Parenting requires strength, adaptability, and so much grace (for yourself and your offspring). God is ready and willing to help us navigate this season and this child. Let's pray and ask Him for help today. He loves and knows our children better than we do or ever will.
Keep on keeping on. It might not be pretty, but you will get through this. You're probably doing a much better job with this whole parenting gig that you realize.
Encouragement can be hard to come by as you face the daily duties of parenting.
Maybe you need a reminder that you're doing a great job?
Head on over to the blog of my hilarious and smart friend (and mother of many), Jami Amerine, to read her post: Dear Moms- You are Freaking Amazing!

P.S. There are a few days left to order your Grounded shirt and sticker. Follow the link to purchase yours today!
P.S. Get caught up on the rest of the Grounded Series!
You might also like:
Dear Mom: Some Thoughts on Expectations and Victories
I Can't Do This Without You (When You've Reached the End of Yourself)
Still in My Pink Pajamas at An Embarrassing Hour