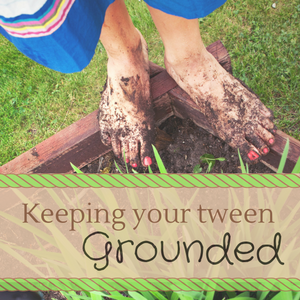 Welcome to Day 4 of the Grounded Series!
Yesterday Brooke brought up chores and how they drive her crazy! Today, I'm responding back about this topic.
More Freedom = Greater Responsibility
When I was your age, I used to make excuses to get out of work. We had a big yard, full of oak leaves and my parents needed help raking. I worked for while and then took long breaks inside the house—going to the bathroom and getting a drink of water.
I remember looking out the kitchen window, watching my parents work. I thought I was pretty clever stalling and getting out of parts of the big job.
Looking back, I realize that:
We should take care of what has been entrusted to our family—like our yard and home.
If many hands work together, the job gets done faster.
Family chores help prepare us to work hard and be a team player, both now and in the future.
Chores can be a real drag. They aren't usually fun and they seem to never end.
But chores are a necessary training ground for your character, future employment, and maybe being a part of your own family someday.
Over ten years ago, I went to a wedding that I will never forget. The pastor asked the bride's father, "Who gives this woman?"
Before he answered the question, the father said something like this: All of our daughter's life my wife and I have been preparing her for what was next. We realized from a young age that she was on loan to us from God and that it was our job to raise her in the way she should go and then let her go. Whatever God had for her, we wanted to train her to be a ready for it. God made it clear that marrying this fine young man is the next step for her and we know that she is ready. So "Who gives this woman?" God does, and we approve.
Whatever story God writes for your life, discipline and hard work will be a part of it. Even though chores aren't very fun and can drive you crazy, they are preparing you for greater responsibility and also more freedom.
As you demonstrate your ability to be trusted, more freedom awaits. As you get older, more is required. It might not all be fun, but it is working into you a good work ethic, that will serve you well, both now and in the future.
Take pride in knowing that you are learning to be a part of a team, and serving God by serving others.
Work willingly at whatever you do, as though you were working for the Lord rather than for people." -Colossians 3:23, NLT

…it is required of stewards that one be found trustworthy." -1 Corinthians 4:2b, NASB

P.S. Linking up with Kelly Balarie's Purposeful Faith. Join in the fun by adding your encouraging post on the #RaRaLinkup.
You might also like:
Listen Close, Listen Well: Preparing a Place (by Abby Banfield)
Listen Close, Listen Well: The God Dare (by Kate Battistelli)
Listen Close, Listen Well: God's Got Answers (by Christy Mobley)