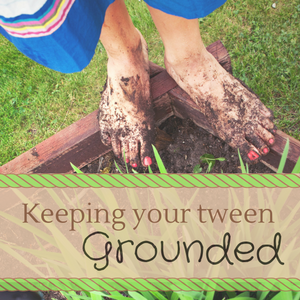 Welcome to Day #9 of the Grounded Series!
Yesterday was the "I Dare You to Eat It!" Challenge. We had fun trying a funky mixture of ice cream toppings. You can access the video of the dare here. Be sure to let us know if you did the challenge, we'd love to hear about it and see pictures of what you ate!
On Sundays of this series, we are hosting a devo for Mothers and Tweens to do together.
Let's take a few moments to dig into God's Word and find out what He has to say in regards to being grounded in the faith.
Devotional: What about Power?
Read Ephesians 3:16
That He would grant you, according to the riches of His glory, to be strengthened with power through His Spirit in the inner man…"

It takes endurance to make it through changing seasons and challenging times. The tween years are a wild and wonderful phase of life that ushers in hormonal changes and tension in relationships.
It's tempting to be "wise in your own eyes" as you fight for independence and insist on knowing what's best. However, as much as you might cringe about it, your parents do have several decades (or more!) of experience under their belt. They want the best for you and the best is not always the most fun or the easiest route to take.
In order to thrive, not just survive, the tween years, you need to tap into some supernatural power to get you through. A little heavenly endurance is in order as you encounter new challenges.
We used to live at a Bible camp. Each year the camp director did an activity where students were asked to get a parked car from one point to another. There was an adult leader assigned to each group. The leader was instructed to get into the car and sit in the driver's seat.
Most of the students tried to push the car on their own strength. The car barely budged as they grunted and shoved with all their might. However, some of the students asked the leader if he could put the car in neutral. The leader was allowed to do this, if asked. The teams that did this, were easily able to push the vehicle to the finish line, no problem.
You see, all the students had to do was ask the leader for help, and the seemingly impossible task became possible.
Jesus is ready and able to help us in our weakness if we ask Him for help.
The verse that the camp director used to illustrate this point is found in 2 Peter 1:3
His divine power has given us everything we need for a godly life through our knowledge of him who called us by his own glory and goodness."
God gives you what we need for life and godliness through the truth of the Bible, the power of His Holy Spirit, and the wisdom of loving adults in your life.
I know it can be frustrating to discover that you don't know it all. It's not a weakness to be human or dependent on God. In fact, leaning on God's help to get through life is one of the smartest things you can do!
Your Turn:
Is it hard to admit that you need help in certain areas? Why or why not?
What is one challenge that you are facing right not? Talk to your parent about this issue and then pray about it together.

We'll see you back here tomorrow as Brooke talks about something that drives her crazy…SIBLINGS!
Moms, looking for some inspiration in the midst of the chaos? Check out my friend's 31 Day series on Poetry and Writing Prompts. Angela Parlin is hosting this series and she is a wonderful mom who is in the throes of tweendom too.
You might also like:
Grounded: What about Prayer? (A devotional on Ephesians 3:14-15)
How to Be a More Intentional Mom Without Wearing Yourself Out: 3 Simple Tips
The Intentional Mother Series: Encouragement, inspiration, and support as you raise the next generation.
Save