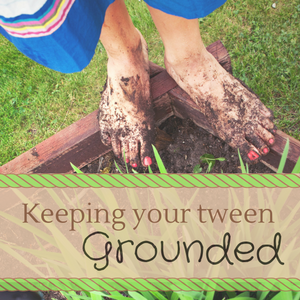 Welcome to Day #10 of the Grounded Series!
Hey Mom:
Having 3 brothers, ranging in age from 3-10, and a 5 month sister is rough. Really rough. Continuous amounts of stress pour on me like heavy rain. Crying. A LOT of crying. Yelling, fighting, slamming doors, (and that's only 5 of the, wait, 17 things that I do when brothers antagonize). Teasing me about my looks, my friends, my actions.
Let's see, what else…….oh yes, my "favorite" one, "You Roller-Blade funny, when you try to stop….you just run into the grass." Well my dear brothers, maybe it is because……..the brake is rubbed off!!! Geez.
P.S. I really do not roller-blade funny. 😉 Maybe they heard that lady that drove by when me and my cousin were roller-blading and yelled at me and said: "Ya know, if you stand up straight, you'd go much faster." Really. I was bending over just to go faster!
Anyway. Hey, so I found this verse that talks about love and brothers (or something like that). 😉

Romans 12:9-10 "Let love be genuine. Abhor what is evil; hold fast to what is good. Love one another with brotherly affection" (ESV).
Okay, at this point I think we should name this "Understanding the verse" time. Let's call it, Observation time.
Alright, time for "Observation Time".
"Let love be genuine……" What?? Is that a word in the martian vocabulary or something?? Thank goodness no.
Genuine
Genuine things are true or authentic. When you're talking about people, being genuine has to do with being sincere.
I found this at: https://www.vocabulary.com/dictionary/genuine
Love should be genuine or sincere. Or we should be genuine in love. Not in hate. We shouldn't hate. Big X over the word hate. God calls us to love. And our love is to be genuine.
And then here's the next one: "Abhor what is evil; hold fast what is good….." Abhor??  I know what all you fellow tweens are thinking……. "What does that mean? Another martian word?!?! Is she trying to poison our minds?? Woah!!" Trust me, I do not mean to make your brain explode.
Abhor
If you abhor something, it gives you a feeling of complete hatred.
I found this at: https://www.vocabulary.com/dictionary/abhor
We were just talking about hate and hatred. Wow. How funny!! 😀 But, this kind of hate is good, it says we should abhor or hate evil. That is good. It also says to hold fast to what is good. That also means to keep what is good.
Next, "……Love one another with brotherly affection." Brotherly affection. Great. I have brothers so I should love them by shooting them with toy Nerf guns?? Cuz that's what they do to me.
Affection
Affection is the positive feeling you may have or express for other people or things.
I found this at: https://www.vocabulary.com/dictionary/affection
Ah, Ha!! We should love with brotherly affection. That also means I should love people like they are my brothers. Has your brain exploded yet!?!? Well, let me wrap this up with a hug and a "It's not over. You will survive." Even if your brothers give you bruises with their Nerf Guns. 😀
Stay Grounded in Love,
~Brooklyn <3 😀 😮 😉
P.S. I encourage you to read Romans. It is a good chapter to read as a Mother and Daughter or for just plain encouragement for the month. 🙂
You might also like:
Grounded: Mom, Chores Drive Me Crazy!
Grounded: I Dare You to Wear This! Challenge
Dear Mom: Your Anger Isn't the Problem
Save
Save