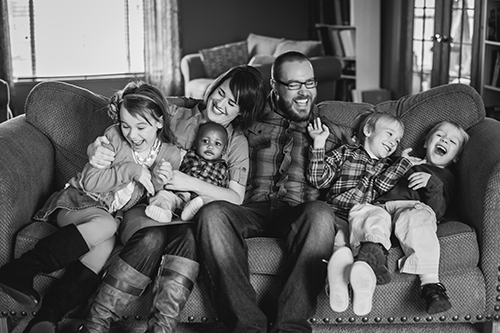 Photo Credit: Alyssa & Drew Photography
I often strive, drive, and run out of gas as I try to do more and be more.
Several years ago, my daughter and I sat down to relax and paint while the rest of the family was at soccer practice. We needed to let our souls breathe by slowing down. We had a delightful time using watercolor to unwind. My daughter is a bit horse crazy, so she brought a horse to life with deliberate brushstrokes. I took on the challenge of painting a blueberry bush. I took my time mixing colors to achieve the varying green tones found on the plant.
As we sat back with full hearts, while our paintings dried, my husband and sons came home. A few minutes later, as I was doing dishes, I turned around and saw my six year old son adding a leaf to my artwork. My sense of calm flew out the window as I shrieked in horror and reprimanded my son for intruding on my painting.
His green paint did not match my carefully crafted color palette, however, it was actually a pretty leaf. Rather than dwell on the beauty he brought to the painting, I focused on the frustration I felt that he had altered my art.
I quickly apologized for yelling at him, but made sure he knew that he should not touch someone else's work without permission.
Later that evening, as Hubby and I sat on the couch, it dawned on me…
Do I respond to God the way I did to my son?
Do I throw a fit when He comes and adds unexpected beauty to my life, because it wasn't my idea or what I was expecting?
Do I overlook His grace in the unraveling of life because I want to be in control at all costs?

Artwork: Rebekah Ellis
There is joy and peace to be found as we grab hold of grace. There is freedom at the ready, as we open clenched fists and dare to follow His loving lead.
There is beauty to be found in the unexpected. Click To Tweet
Lord, help us trust You more. Help us give others room to breathe and not choke out their contribution with our control. Thank You for Your care and Your love—even when we get it wrong, lose it, and revert back to sinful tendencies. We love You, we need You. Thank You for painting beauty in unexpected places. Thank You for planting us here, in this moment, in this place, for such a time as this. Amen.

P.S. Subscribe by email for free (at the top right of the blog) so you don't miss a post!
You might also like:
Because You're Stuck and Unstuck by Grace (Guest Post by Dalene Reyburn)
The Creed of the Tightly Wound Woman
Dear Tightly Wound Woman: Persisting
P.P.S. Add your encouraging post on the #RaRaLinkup over on the Purposeful Faith blog.
Save
Save
Save
Save