I am pleased to announce that my friend Jami Amerine and I started a podcast, called, "A Remarkable Thought." It's a short story podcast to engage your mind and lift your spirit. Each episode contains a fictional story and a quality question to help you ponder what you've heard.
We've created this podcast to be a place of peace for you—to take a beat and refresh your remarkable mind.
Listen or Read it or Both!
Serenity's Search: A short story about peace by Katie M. Reid
Serenity was tired. Bombarded by information and surrounded by noise—deafening noise, she couldn't hear herself think. 
"Where did I put my noise-canceling headphones?" she asked herself. 
The activities and appointments on her calendar no longer fit into neat and tidy boxes. They spilled over into the margins, choking out the whitespace and cluttering Serenity's vision—even when she wore her new trendy frames.
The emails in her inbox seemed to breed faster than rabbits, making them near impossible to tame. 4,534, 4,535, more to-dos, more tasks to attend to, more, more, more imposed upon her and required from her.
The mental gymnastics necessary to manage her day in and day out, short circuited her creativity and threatened to zap her peace—like an electric fly trap. Zzzipt. Zzzipt.
Retreating to the laundry room, Serenity tightened her messy bun and blew her waterfall bangs out of her face before she plopped down on a mound of clean-but-not-yet-put-away laundry. 
Like an hourly employee on a smoke break, Serenity lifted her phone for a quick fix. 
She scrolled past a friend's vacation photos from Waikiki Beach which caused her to breathe deep…for 1.5 seconds…and then Serenity felt the familiar, dizzying, ping pong match resume. 
"I'm so happy for her, that landscape looks blissful. She works so hard. I'm glad she got a break." 
Her subconscious wasted no time, volleying its counterattack, "How is that fair? She already went on vacation once this year. When is it your turn? She never was your favorite person anyway. Remember that one time when…"
Serenity knew she should drop the paddle, and remove herself from the game before someone got hurt, but she continued on as if she couldn't help herself, scrolling past a bossy post from a time management guru. 
Fold Your Laundry in 5 minutes a Day and Get on with Your Life! 
Targeted ads are the worst.
"Stop listening in" she whispered into her phone, trying to threaten Big Brother to back-off with his silicon intrusion on her suburban life. 
"And stop judging my dirty laundry! Well technically, stop judging my clean-but-not-yet-put-away-laundry. I'm doing just fine without you rubbing it in my face. Thank you very much."
Keep looking, keep looking, there's got to be something here to calm my nerves.
Next, she stumbled upon an adorable photo of a labra-beagle-shitzu-doodle. 
"Aw!I wonder how much they cost? "
Who am I kidding, where would I find the time and energy, and moola, to care for such an adorable bundle of fluff and slobber?
Next, she viewed a boasty post from her cousin once removed who had just completed her eleventh half-marathon in record time. 
Nice job, Betty. 
Serenity tugged at her oversized sweatshirt. 
More to keep up with, more to feel bad about.
Enough of this. 
This circus isn't sustainable. There's gotta be another way. A better way.
Impatient pounding on the peekaboo door was her wake-up call, proof that her hideout had been found—back to reality, down to earth after an unfulfilling jaunt—not half-marathon—through cyberspace.
"I really should fold this laundry." She side-eyed her device, half expecting a life-sized thumbs up to appear.
Snap out of it. You are not a victim, Serenity. Where has your peace gone?
Well, there's…
The clutter

The clamor

The carpooling

The carb-counting

The children that need to be fed, watered, and walked

Serenity knew she'd been given much, yet it was easy to forget—buried under the pressure to do more, be more, and look cute doing it.
Where had she gone wrong? Or was that the wrong question?
Here, peace. Here, peace. 
How much do you cost? And where are you hiding? 
Beneath her laundry throne, Serenity pulled up a pair of flannel PJ pants, approximately twenty-five stray socks, a 38C over-the-shoulder-boulder-holder, along with a hodgepodge of other miscellaneous items…in search for her namesake…peace.
Nope, peace isn't hiding out under this laundry pile.
Where have you gone, girl?
Sure, Serenity found pockets of peace here and there…
In the 5 minutes on the couch sipping her coffee and staring out the bay window before her darling offspring found her. Okay, full disclosure, that didn't usually happen, usually Serenity hit snooze three times before her brood jumped into her bed insisting they tell her their dreams from the night before or their hopes for the day to come.
Another pocket of peace was found in the driveway, after everyone had tumbled out of the minivan and she enjoyed the repossessed sanctuary of quiet.
Or in the bathtub by candle light as the bubbles nearly spilled over unto the floor.
As another candle was added to Serenity's birthday cake each year, she seemed to crave more peace, more quiet, more err—serenity—than ever before.
Most often life sounded shouty, and demanding, and she fought the overwhelm on the daily.
Here, peace. Here, peace.
Won't you come out and play…and stay?
What if you weren't just a pocket on my not-so-skinny jeans, but a plush blanket to wrap myself in…one I didn't have to take off when I stood up?
The incessant knocking continued from the other side of the peekaboo door.
No more hiding.
"Just a sec, I'm coming."
Serenity took a deep breath before lifting herself from her pile of….say it with me, her clean-but-not-yet-put-away laundry. 
As she reached to pull open the door and greet the intruder, albeit an adorable one who shared her unruly hair and brown eyes…she paused.
She listened longer than her typical pace allowed. 
What if peace wasn't something I've lost or misplaced? But it was something that was buried and needed to be uncovered?
What if peace isn't just a destination but an on-going experience?
What was this? Deep Thoughts with Jack Handey?
Serenity smiled, nope, it was that flicker of insight that was always there yet was often drowned out by the bustle of the day and the cares of life.
"MOMMY! I know you're in there!" Bellowed said intruder. Banging hard enough to knock the door off its track.
One last whisper surfaced…What if you could be at peace even when your hands were busy, Serenity?
3. 2, 1.
"Mommy, were you in a time out?" 
Amusement melted Serenity's serious expression, "Yes Buddy, you could say that." She tousled his hair. Her son hugged her leg and met her gaze with a mischievous smile.
"I drew a picture of you on the wall with red marker. Red for love. I love you, Mommy. Wanna see?"
Deep breath, Serenity, even in this, peace resides here.
The End. 
Serenity. Peace. A sense of calm. 
In quiet, fleeting moments before anyone is up, or in a sunset greeting when the sky erupts in a masterpiece of tangerine and violet, or in a bathtub of silky suds.
And also, still present, in the noise, in demanding seasons, in the scrubbing of red marker off walls, and amid laundry room retreats and invasions.
Peace isn't lost, but it might be buried and need to be uncovered.
This week's quality question is designed to help you stop and evaluate in your search for Serenity:
In what ways have you allowed peace to become buried in your own life? 
And to piggyback on that:
What would it look like to experience peace within, even when your hands were busy?
We can't wait to hear what you think!
Want your child to think for themselves? Want to write a better story with your parenting? Ready for your child to discover what's good and right with their remarkable mind—no nagging or lectures required? Well, we've created just the thing!
SocialWised U is an e-course with the sole purpose of gifting your family with the wisdom of how three parts of the mind work, while simultaneously teaching principles that will guide you and your children toward a healthy relationship with social media and each other, while creating a balanced and effective social media presence.
SocialWised U is applicable for every age level and effective for completely reforming communication with your children and teens.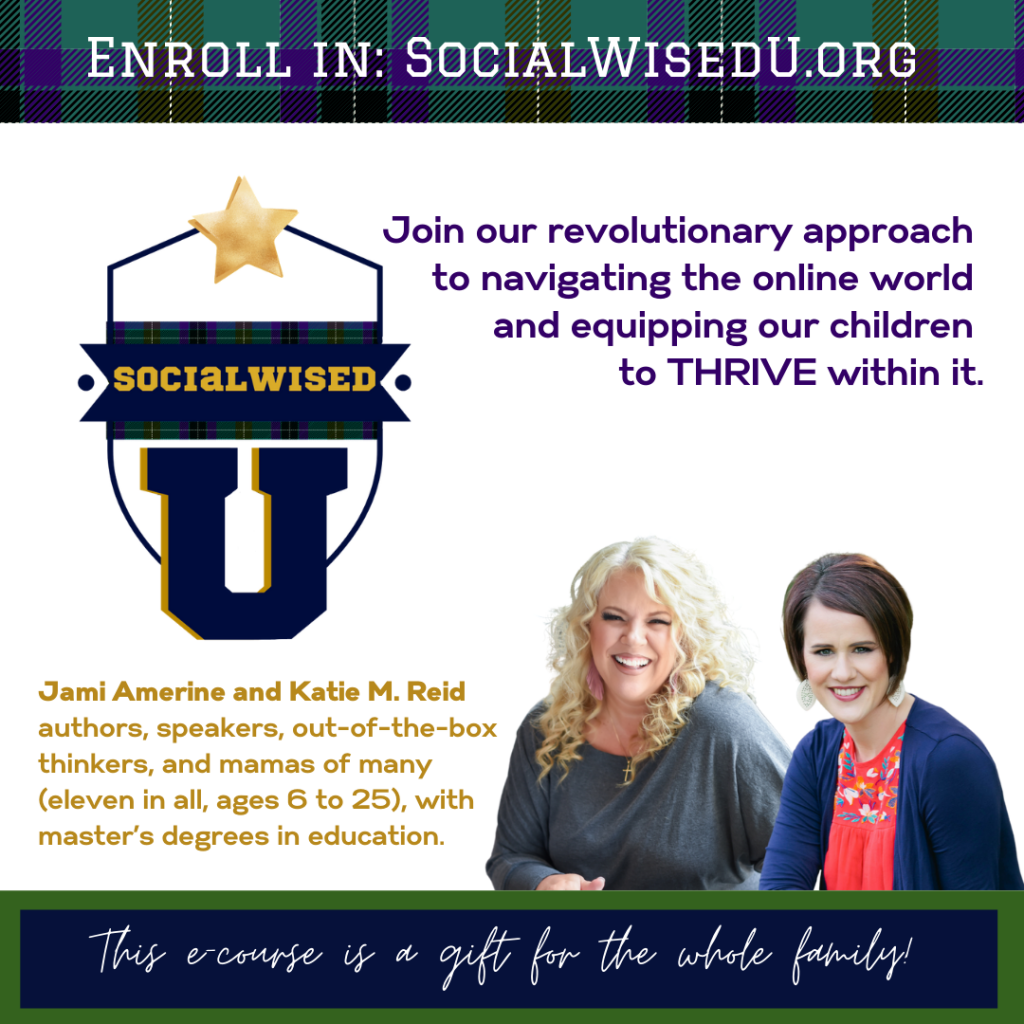 Engage your family's minds with clarity, through candid conversations and easy-to-adapt technology habits.
Whether your child has yet to log it or has multiple user names, SocialWised U will show you how to experience less panic when it comes to your kids and social media.
Ready for more peace of mind and harmony in your household? Enroll in SocialWised U, at socialwisedu.org today!