Listen in as today's guest talks about the seven generations that are alive right now and how we all can mentor well.
Disclosure: Affiliate links are used in this post. If you choose to purchase through the links, we may be compensated at no additional cost to you. See full disclosure policy.
Listen to the latest episode below, on our podcast webpage, or access Episode #127 on your favorite podcast app.
Show Notes for Episode 127: Connecting Generation with Leslie Schonfeld
Leslie Schonfeld, founder of Dragonfly Ministry, encourages us to grow in mentorship among the various generations.
Today's Guest: Leslie Schonfeld is married to David and the mother of three, Mark 27, Elizabeth 24, and Hannah 21. She enjoys speaking and writing about God's Word. She currently teaches at LakePoint Community Church in Oxford, Michigan. Leslie is also the founder of Dragonfly Ministry which helps women link arms among the generations, in mentorship.
Theme Music: "Found" by Lisa Troyer and Dawn Yoder Venture3Media/Circle of Friends
Show Sponsor: Counter-cultural Parenting: Building Character in a World of Compromise by Lee Nienhuis
Things We Talk About:
Traditionalist Generation
Boomer Generation
Gen X
Xennials
Millennials/Gen Y
Gen Z
Generation Alpha
Discipleship vs. Mentoring
Legacy book by Leslie Schonfeld
Do This:
Listen a lot
Meet at a place where they feel comfortable
Ask questions
Call them by name
Be on time
Be respectful
Today's Verse: Psalm 145:4-5
One generation commends your works to another; they tell of your mighty acts.They speak of the glorious splendor of your majesty—and I will meditate on your wonderful works."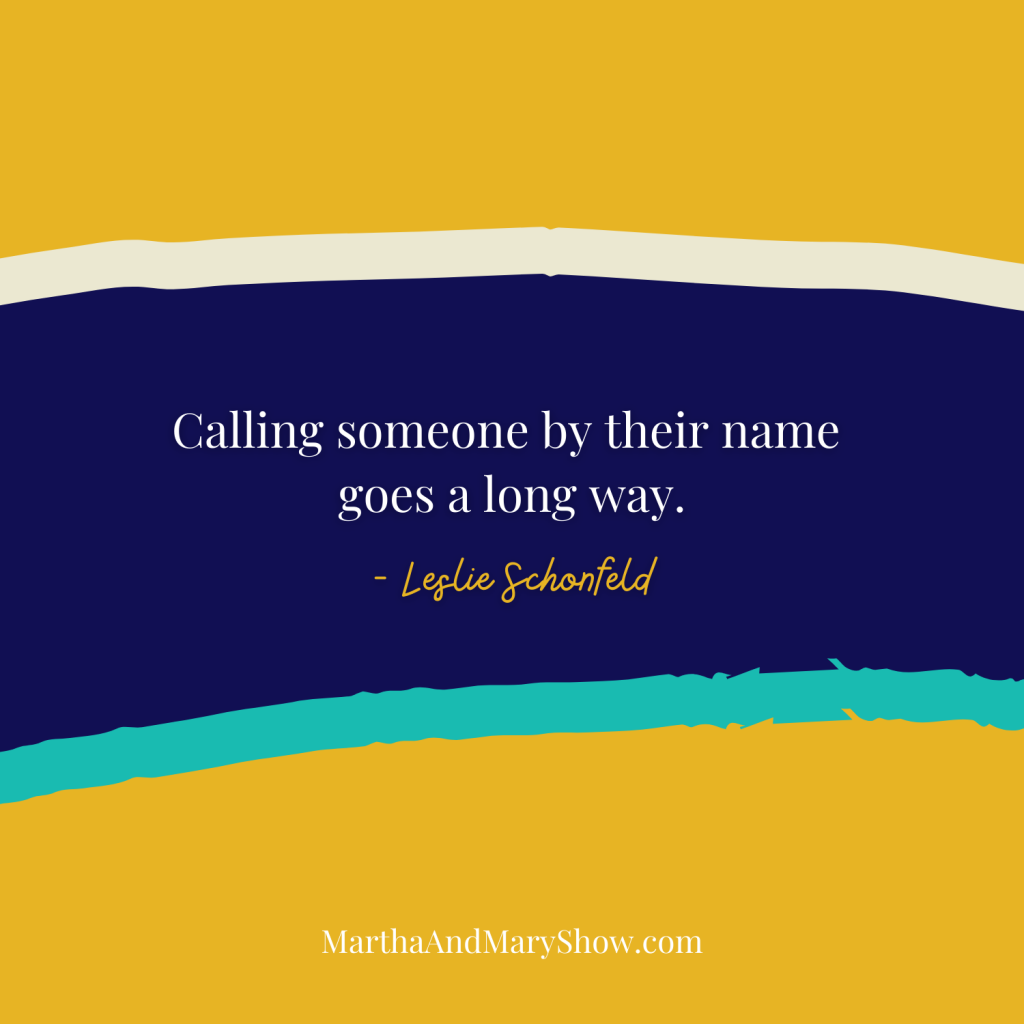 Calling someone by their name goes a long way. @LeslieSchonfeld #marthamaryshow #mentor
Click To Tweet
Connect with Us:
Subscribe to the show and leave a rating and review.
Call out the good you see in each generation. @leslieschonfeld #marthamaryshow #generations
Click To Tweet
Latest episodes of the podcast:
126: Fear Not with Charity Harris
125: From Atheist to Delight in God with Stéphanie Rousselle
124: From Toxicity to Healing with Darlene Larson