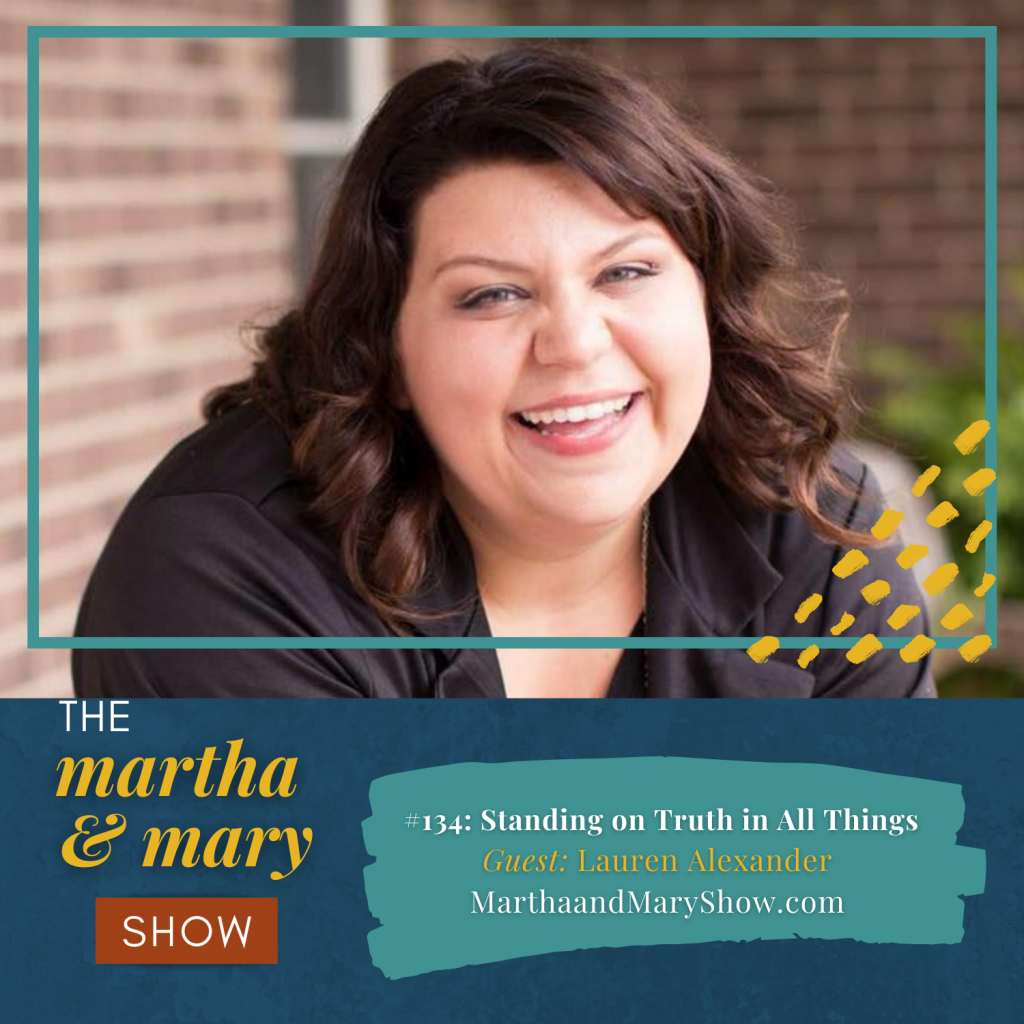 We're digging into truth with today's podcast guest! Get ready for a life-giving and challenging conversation to realign your heart to the Gospel.
Disclosure: Affiliate links are used in this post. If you choose to purchase through the links, we may be compensated at no additional cost to you. See full disclosure policy.
Listen to the latest episode below, on our podcast webpage, or access Episode #134 on your favorite podcast app.
Show Notes for Episode 134 with Lauren Alexander
Lauren Alexander challenges us to stand on truth in all things and not compromise the Gospel in our hearts, home, or work.
Today's Guest: Lauren Alexander is a relatable Bible nerd who communicates timeless truths to form 21st century disciples by teaching women to study God's Word and develop a deeper commitment to living it out. She serves the body of Christ with her husband Seth, who is the pastor at First Baptist Church in Bicknell, Indiana. They both have a sweet spot for the local church, especially rural areas that are under-resourced. They are the parents of four funny and spirited kids. Lauren founded the ministry called All The Things with Lauren Alexander in 2016 and has ministered to thousands online and through events hosted by the ministry, pointing them faithfully to the one true God and his powerful Word.
Theme Music: "Found" by Lisa Troyer and Dawn Yoder Venture3Media/Circle of Friends
Show Sponsor: Countercultural Parenting: Building Character in a World of Compromise by Lee Nienhuis

Things We Talk About:
The Gospel transforms us from the inside out. -Lauren Alexander #marthamaryshow #gospel #goodnews #transformation
Click To Tweet
Connect with Us:
Subscribe to the show and leave a rating and review.
What would it take to move from self-pity to generosity? #marthamaryshow #selfpity #payitforward
Click To Tweet
Latest episodes of the podcast:
133: Let's Go When and Where He Leads Us with Tischa van de Reep
132: Moving from Fear Stops to Faith Steps with Jennifer Hand