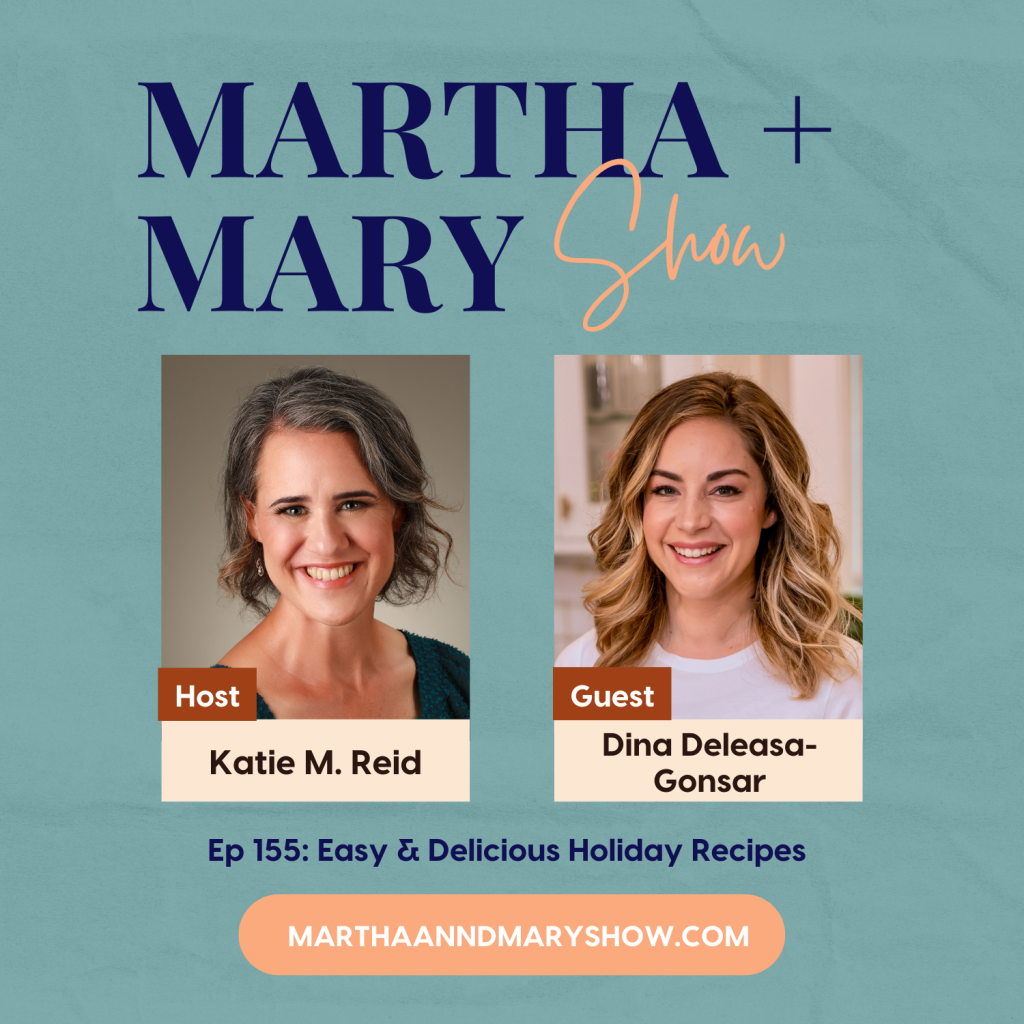 This week's episode of The Martha + Mary Show is a blast! We're dishing it up with home cook, Dina Deleasa Gonsar, and giving you some yummy recipes to try this holiday season.
Disclosure: Affiliate links are used below. If you choose to purchase through the links, we may be compensated at no additional cost to you. See full disclosure policy.
Be sure to access the gift guide below as you shop for loved ones this season.
2022 Martha + Mary Holiday Gift Guide
Listen to the latest episode below, on our podcast webpage, or access Episode #155 on your favorite podcast app.
Show Notes for Episode 155: Holiday Recipes with Dina Deleasa-Gonsar
TV Home Cook, Dina Deleasa-Gonsar, shares easy and delicious holiday recipes to try this season.
Today's Guest: Dina Deleasa-Gonsar is the creator, writer, speaker, and television personality behind the popular food blog DishItGirl.com. She was named Best Home Cook by the Hallmark Channel's Home & Family and has contributed her recipes and on air talent to the Today Show, The Good Dish, Guys Grocery Games on the Food Network, Inside Edition, GMA Online, Rachel Ray Online, Real Simple, as well as countless other media outlets. Whether it's a 4-course meal or simply breakfast for dinner, Dina keeps it real, with real-good food along the way. She currently lives in New Jersey with her husband, Brian, and daughter, Siena.
Theme Music: Here Comes Christmas song performed by Jillian Blair/Ensemble, written by Tony Wood/Don Poythress
Show Sponsor: Made Like Martha book by Katie M. Reid
Things We Talk About:
Marsala Soaked Stuffed Mushrooms, Penne Vodka for a Crowd, and Christmas Cookie Trifle...oh my! All this and more with @DinaDeleasaG on The Martha + Mary Show. #foodie #holidayrecipes #christmas
Click To Tweet
Connect with Us:
Subscribe to the show and leave a rating and review.