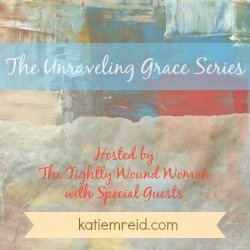 It's time for another installment of the #UnravelingGrace series. Today my friend Betsy, from across the sea, is guest posting. Get ready to laugh and let go as you learn to trust God's ability to care for you and those under your care.
Betsy de Cruz enjoys God, life, and dark roast coffee. She and her family live in the Middle East. Most days she feels privileged to live overseas; other days she wants to pull her hair out and catch the next plane home. Betsy's vision is to encourage women to get God's Word in, so their faith can spill out, even during life's bumpy moments. You can find Betsy at her blog, faithspillingover.com, on Twitter, and on Facebook.
Fears for Your Kids
Was I crazy or just an idiot? My neighbor was throwing a party to celebrate her 9 year old son's circumcision. Somehow my kids ended up in the red convertible heading the neighborhood parade. To the tune of a booming drum and screeching clarinet, honking cars took off in a line.
I stood at the curb watching my kids disappear and wondered, "How did I even let this happen?"
We'd only lived in Turkey four months. I barely knew these people. What if I never saw Andres and Camille again? I imagined calling my mother to tell her I'd lost the kids in a Turkish parade. Irrational fears filled my mind while I tried to enjoy the party.
My heart flooded with relief when my kids returned thirty minutes later. Bouncing with excitement, Andres and the other boys ran off with the soon-to-be circumcised Necat.
Three-year old Camille was screaming her head off.
"She started crying the minute we took off," someone said. Awesome. My daughter had screamed for the duration of the parade. By the time I calmed her down, Andres was gone.
"Have you seen the boys?" I asked a friend.
"They're in there with the hoja who's going to do the circumcision," she said, pointing to Necat's closed bedroom door.
I realized in a flash that my five year old was about to see his friend's foreskin cut off with a knife. Should I knock on the door and get him out of there? How could I interrupt their once-in-a-lifetime ceremony? I shot up a panicked prayer and waited.
Ten minutes later, Andres bopped out of the room, laughing.
The party happened 13 years ago. Despite my worries, my son was not scarred for life, but he definitely remembers that circumcision up close and personal!
I struggle with fear over my kids.
Are we messing them up by raising them in Turkey? Will they be able to adjust to life in America one day?
You probably never sent your kids off to join a circumcision parade, but I'm sure you can relate to parental anxiety. We worry over chicken pox, depression, learning disabilities, sunburn, accidents, bullying, and poison ivy.
Maybe the hardest part is sending them off. Whether we send them to school, Girl Scout camp, or their first day on the job, we wonder. Will they make it okay in the world?
That same boy who went off by himself in the red convertible is about to leave for college.
Always the worrier, I'm choosing to stand on the Rock and preach to myself.
The One who set the stars in place knows our children by name. He holds our kids in His hands and cares for them more than we do. When we send them out, the God of the universe goes before them. With Him as their shield and rear guard, they're in a safe place.
When fears of school violence and internet dangers assault us, let's fix our thoughts on the One who'll guard our minds in perfect peace as we trust Him. Let's turn those worries into prayers. God's bigger than any threat our kids can face. (<===Click to Tweet)

As much as we might like to hover over our children to protect them from every danger, we can't. They'll make mistakes and encounter challenges, but God causes all things to work for good, and He's got their good in mind (see Romans 8:28). We can entrust our kids to His care.
As we send them out into the world, let's choose wisdom over worry and faith over fear.
Trusting Him,
Betsy
What challenges do you face in trusting God with your kids?
Recall a time when God protected your children when you were not there.
Take a moment to lift up your children and the specific needs that they have at this time.
P.S. Read the rest of the #UnravelingGrace series here:
January:    Hurts, Hope and Healing by Jennifer Watson
February:  For the One Who Doubts God's Sovereignty by Abby McDonald
March:       Beating Inflating Fears by Kelly Balarie
April:          When Life Unravels and You're Barely Hanging On by Bethany Huff and Function in Chaos by Renee Griffin
May:            Not that "Be Still" Thing Again! by Amy Dalke and Getting A Grip By Loosening It by Celeste Barnard
June:          Choosing Stillness by Courtney Stanford and Facing Mountains of Fear by Jenni DeWitt
July:            Pinning Control to the Carpet by Molly Dragert