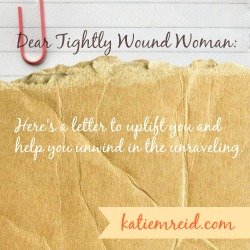 Welcome to the fall edition of Letters to the Tightly Wound Woman.
This "tightly wound" title refers to those of us who are a little uptight on the inside but mostly it's a label to be plastered on proud because we are women who are tightly wound to His side.
We are women who desire to put Jesus first and stay close to Him. We are women who live the surrendered life—not because it is easy or glamorous, but because deep down we want to live a life that matters for eternity. We want to know Jesus in a personal way and make Him known to a hurting world.
We are strong women—bold and beautiful. We are tenacious and committed to finding grace in the unraveling of life. We will not give up. We will cling to the One who is always in control and truly perfect. We have not arrived except to the conclusion that we need Jesus desperately. We choose to remain under His Sovereign care because we trust Him.
We lay our hangups and wounds at His feet. We go forward in freedom because we are wound up in a Love that has no bounds.
Dear Tightly Wound Woman:
I see the knots that have formed from pressure. I take notice of the worry lines on your brow.
May I lift your burden?
I have good news for you!
My grace is enough for you.
The questions, the waiting, the heartache, the unknown—I can still, and will, uphold you through it all.
Grace changes everything.
I changed everything when I came to die for you, in order to remove your sin and replace it with My Righteousness. When you believed in Me, by faith, you were saved. This is good news!
And what's more? My love doesn't walk out, turn away, or hurt you.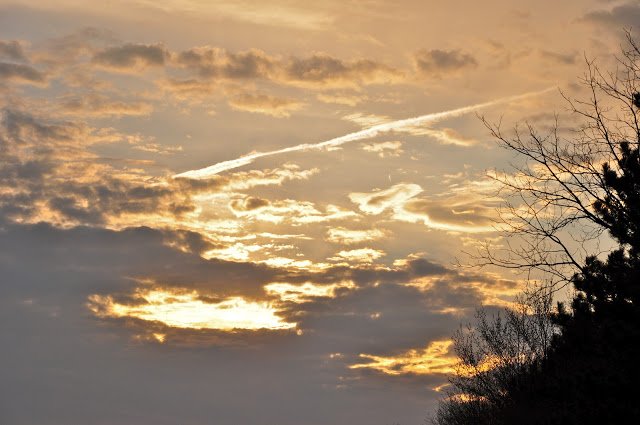 Even when dreams are dashed, even when communication lines break, even when uncertainty grows, and the future is unclear—I AM faithful.
My Love stays. My Love remains.
Ever when the stress increases, even when the to-do list grows longer, even when the questions get bigger, and the worry lines deepen—I don't change.
I stay. I remain.
Even when you feel let down, even when you are misunderstood, even when you are accused, and the pain gets worse—grace abounds.
Grace stays. Grace remains.
My grace is sufficient for you.
This gift, this grace…it changes everything.
I have done the work. You can rest easy. I have righted the wrong. You can walk free.
I AM here—full of power and love, full of truth and grace, full of justice and mercy—fully for you, and with you.
I AM enough. Through My finished work, you are enough—because My Grace is enough.
Look up love, rest in My care. We'll get through this day, and the next, and the next—together.
Love,
Me
P.S. Get caught up on the other Letters to the Tightly Wound Woman:
January: Listen Close, Listen Well
February: Finishing Well
March: Slowing Down
April: Sweet Words
May: Breakthrough
Summer: Waking Up
P.P.S. Linking up with Kelly Balarie for the #RaRaLinkup
Need to unwind? Subscribe by email (at the top right) and receive FREE music and blog updates to soothe your soul.