Here is the latest installment for "A Remarkable Thought"—a short story podcast to engage your mind and lift your spirit. Each episode contains a fictional story and a quality question to help you ponder what you've heard.
Jami Amerine and I have created this podcast as a gift for you—to take a beat and refresh your remarkable mind.
Listen or Read it or Both!
Lottie was late again. She grabbed her coffee from the formica-counter top and hurried down the stairs of her tri-level home, willing the steaming beverage, with two creamers and one sugar, not to escape its barrier.
She stepped over stray toys and an overstuffed school backpack. She had trained herself to avoid eye contact with the cobwebs and dust that collected in the corners of the stairs.
Shoot!
Lottie headed back up the stairs to retrieve her binder for work. The one she had put down in order to stir her coffee. The coffee which she was eyeing like a hawk, so she didn't spill on her blazer.
Why didn't I listen to my mother-in-law when she tried to talk us out of a tri-level? So many stairs! I mean my calves look pretty good but, even though I hate to admit it, she was right. How will this set-up be practical in retirement? What didn't I think through how inconvenient a second floor kitchen would be. What were we thinking?
She descended that stairs, stepping over the toys and backpack again, making her way out the front door, in tack. She approached her leased car, slightly out of breath.
Not again! She resisted the urge to curse like a sailor.
She turned back to the house. She had forgotten her phone by her nightstand…or maybe it was on the kitchen counter…or maybe it was….
"Mommmm! You forgot your phone." Her pony-tailed daughter sang from the doorway.
"Oh, thank you, Honey!" She retrieved her lifeline from the chubby hands of her girl, planting a grateful kiss on the top of her head.
"Let's not tell Daddy, I misplaced it again, kay?"
"Pinky promise!" her daughter's toothy grin sealed the deal.
Lottie hurried to her car. She slid into the driver's seat.
She tried to calm herself as she surveyed the crumpled fast food wrappers and an empty 20oz pop bottle that stood in the way of her securing her coffee into the console holder. Her teen son had now surpassed her in height, as evidenced by how far the seat was away from the gas pedal and the remnants of his meal on the go, which he had most likely consumed on his way home from practice last night, after eating the hearty dinner she had prepared.
Lottie adjusted her seat forward and changed the radio station from heavy metal to easy listening. She backed the car out of the driveway and stopped at the mailbox to retrieve yesterday's mail. She didn't want to miss a bill or a possible postcard from her parents who were galavanting in Europe, enjoying museums and cathedrals she dreamed of one day seeing. But only if she won the lottery or something.
Lottie's husband worked the early shift so he had left hours before she needed to. She bribed her teenage son with some of his favorite snacks to watch his sister until the bus came. His buddy picked him up for school soon after the bus arrived, since Lottie needed the car for work.
Michael Bolton sang over Lottie's cluttered mind as she reached to sip her coffee carefully. Her car accelerated onto the main road of her subdivision. Lottie replayed the rushed morning in her mind. She was always hard on herself and trying to do better. The frenzy of life was her normal and it was tiring.
Try as she might she couldn't figure out how to duplicate herself or stretch herself further in her home and work life. She gave her all but it didn't feel like enough…like there wasn't enough of her to go around. As a firstborn, Lottie had always been responsible, and a go-getter. She prided herself on good grades and an admirable work ethic. She only had a few brief run-ins with rebellion somewhere around '95 and '96, and oh that one time in '83 when she stole her teacher's fancy glitter pen that wrote in silver.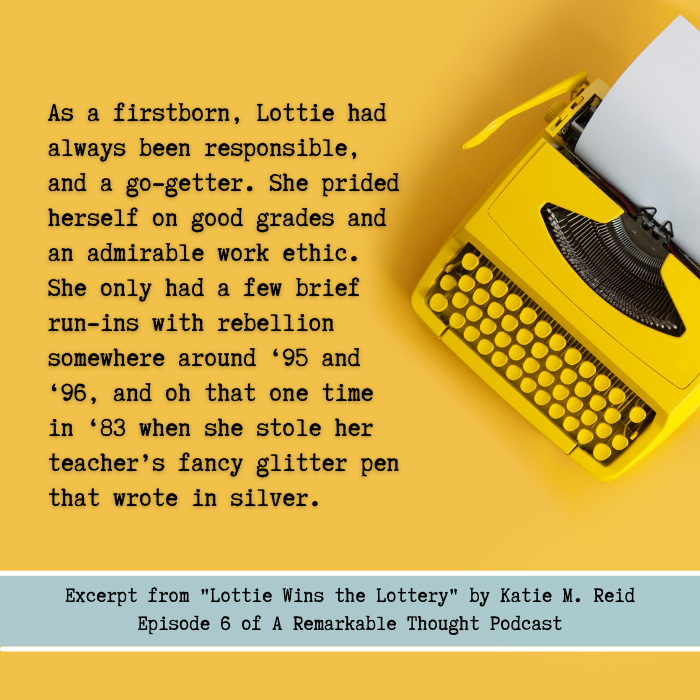 She graduated college in three years, before marrying and having her babies. She juggled a career when her son was still in diapers and her husband was in his apprenticeship.
As put together as Lottie was on the outside, she wasn't a tidy housekeeper. She always felt guilty about that…and embarrassed, but something had to give and she figured she wouldn't regret extra dust in the long run.
Lottie envied her friends who could afford housekeepers and nannies. She was crazy about her kids, even when they drove her crazy, but managing all the things, with them, the house, trying to be present for her husband whom she adored and staying on top of work projects drove her to bi-monthly chiropractor appointments to help release her tense shoulders from carrying the weight of her full yet demanding life.
The click, click of her blinker, while waiting at a stop light, mirrored Lottie's invisible clicks down her mental checklist as she visualized all that needed to get done today.
Meeting with the boss at 9:25
Tackle ever-growing work tasks.
Pray for daughter's spelling test as promised.
Quick lunch with Slyvia at noon, which would mostly likely be offering a listening ear as Slyvia cried in her chicken salad about her oldest daughter moving to LA to try and make it in the struggling movie industry. They had had a similar lunch two weeks ago…so it was likely history would repeat itself.
Send a flirty text to hubby at 1pm to remind him I still know his name and think he's attractive.
Remind teenage son to cook egg noodles to go with the pot roast for dinner.
A blaring horn interrupted Lottie's to-do review, as she quickly came to and turned onto Main Street.
The traffic was slow and congested which messed with Lottie's tight timeline.She let her guard down and let her thoughts freely form, unfiltered, as she crawled down the road, still several miles from work.
It'd sure be nice to have some outside help at home. Yes the kids do some chores, and hubby does what he can, but we need an overhaul, a deep cleaning to get things in order. If only the house was clean and semi picked up I don't think I'd feel so stressed. But I don't know where I can find more energy or more time.
Lottie approached the next stoplight…the one that took longer than a snail trying to make its way home through quicksand. Lottie took another sip of her now lukewarm coffee and ruffled through the mail. She was just about the rip up an envelope that looked like junk mail when a picture of a cleaning lady caught her eye. She opened the envelope to learn more, hoping she could finagle the budget somehow, even just for one cleaning.
The light remained red so Lottie quickly scanned the literature inside. It read:
"What if a reputable cleaning person came to you and said, "I will completely clean your home on Friday. It will be very costly, but after I complete it once, you will never have to do it again. And by the way, I will pay for it because you don't have enough to pay for it yourself. All you have to do is believe that I am able to clean it and receive it as a gift."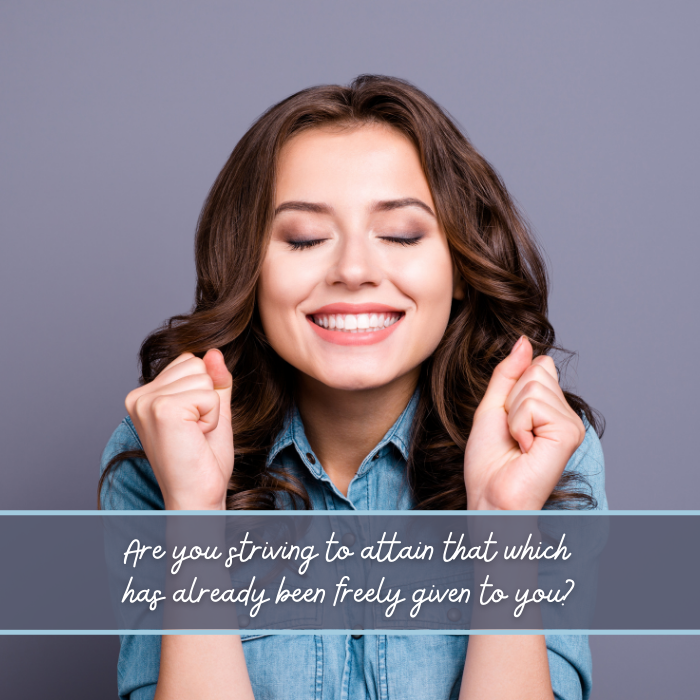 Where do I sign up?! Lottie thought. Except I'm sure this is some sort of scam. Sounds too good to be true. I've always wanted someone to gift me with a complete house cleaning. To have outside help responsible for it? And for it to be done once and for all, never to be repeated? Why, that would be downright divine!
Lottie looked on the back of the pamphlet for a phone number to redeem this lavish gift. She screenshot the number. 1-800-777-7777.
Well, that's easy enough to remember. She scoured the fine-print and there was nothing to indicate that this offer wasn't legit. In fact it had been verified from many reputable sources whom Lottie respected.
A second horn pulled Lottie from her thoughts. Lottie smiled widely as she made her way through the intersection.
According to the terms, all she had to do was accept freely that which had been offered. A clean house at last! Lottie felt her shoulder relax. She felt seen, cared for, and like the luckiest woman on the block. She couldn't wait to text her hubby the good news. She'd even throw a flirty comment in there too.
Things were looking up. Lottie felt like she had just won the lottery!
The End.
Did Lottie's good fortune seem to good to be true?
This week's quality questions are designed to help you feel like you've won the lottery too:
What if there really was someone who was ready to gift you with that which you are longing for? 

What if His name is Jesus and He already paid for that which you can't afford? What if all you have to do is receive as a gift that which you have been striving to attain?
We can't wait to hear what you think!
Do us a favor and leave a review on iTunes so more people can tune in and participate in some remarkable thoughts! Stay connected with us by subscribing to the show on your podcast app and also by subscribing with your email address at changeyourmindchangeverything.org. 
Just fill out the sign-up bar with your name and email address and voila, you'll be added! 
This has been "A Remarkable Thought: A Short Story Podcast to Engage Your Mind and Lift Your Spirit," a production of changyourmindchangeeverything.org. 
Parents! Communicating with Your Kids Doesn't Have to Be Difficult:
Educators, authors, and moms of many, Jami Amerine and I, want to gift you with the #1 question you can ask your child in order to prevent arguments through a free, fun, and mind-blowing webinar they've created for you!
Once you register you'll receive access to this transformative webinar and you'll also receive a printable summary with space for reflection, to help you start improving communication with your child.