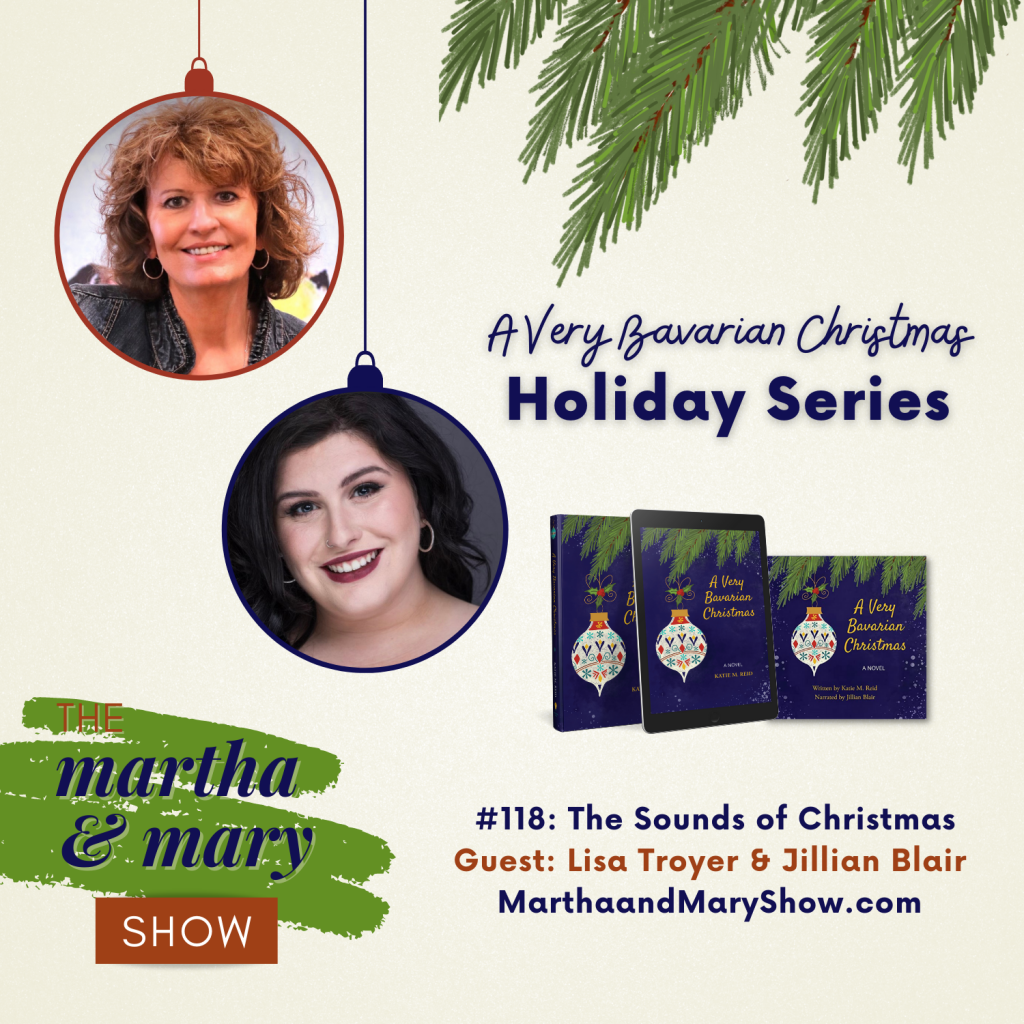 We are continuing the Holiday Series, from now until the end of the year, on the Martha + Mary Show podcast. I excited for you to meet mother and daughter team, Lisa and Jillian and hear their surprise connection with A Very Bavarian Christmas.
We are grateful for each review of the podcast. Here is a 5-star review from Amy Elaine:
I laughed and listened to these two as they shared some fun differences and their heart for God's people! There's freedom in this Martha & Mary Podcast to be who you were made to be and celebrate how we're wired differently, yet the same! Fun and lighthearted, with truth and tenderness!"
Disclosure: Affiliate links are used in this post. If you choose to purchase through the links, we may be compensated at no additional cost to you. See full disclosure policy.
Listen to the latest episode below, on our podcast webpage, or access Episode #118 on your favorite podcast app.
Show Notes for Episode 118: The Sounds of Christmas
Songwriter and cheesemaker, Lisa Troyer, and actress and singer, Jillian Blair, share their connection with A Very Bavarian Christmas and their favorite things about the season.
Today's Guests: Lisa Troyer is a wife, mom, radio personality, recording artist, speaker, and author. No matter the outlet or the venue, Lisa uses her gift of encouragement, her influence, and her resources to open doors for women everywhere to discover their significance and belonging, whether with their neighbor, on the airwaves, or in the boardroom. She and her family currently live in Ohio. Connect with Lisa at Circle of Friends Ministries.

Jillian Blair is an actor, singer, model, voice artist, wife, and dog mom to an adorable Corgi. Jillian narrated A Very Bavarian Christmas and sings, "Everything" and "Here Comes Christmas" on the album that goes along with the book. Connect with Jillian on Instagram.
Theme Music: "I'll Dream of Christmas" written by Lisa Troyer and Dawn Yoder, courtesy of Circle of Friends.
Show Sponsor: A Very Bavarian Christmas by Katie M. Reid, access the book club kit.
Things We Talk About:
Today's Verse: John 4:34
"My food," said Jesus, "is to do the will of him who sent me and to finish his work."
Who do a cheesemaker, an actress, and a mom of 5 have in common? Find out on Ep. 118 of the #marthamaryshow podcast. @LisaJills #countdowntochristmas
Click To Tweet
Connect with Us:
Subscribe to the show and leave a rating and review.
What is one of your favorite Christmas songs? #marthamaryshow @LisaJills #christmassongs
Click To Tweet
Catch Up on recent episodes of the podcast:
117: Getting Ready for Christmas with Kate Battistelli
116: From Broadway to The God Dare with Kate Battistelli
115: Taste Your Words with Bonnie Clark
114: Leaning on Jesus Every Day with Wendy Pope (Part 2)
113: Leaning on Jesus Every Day with Wendy Pope (Part 1)
112: The Joy of Healthy Living
111: Living a Redesigned Life with Tracy Steel