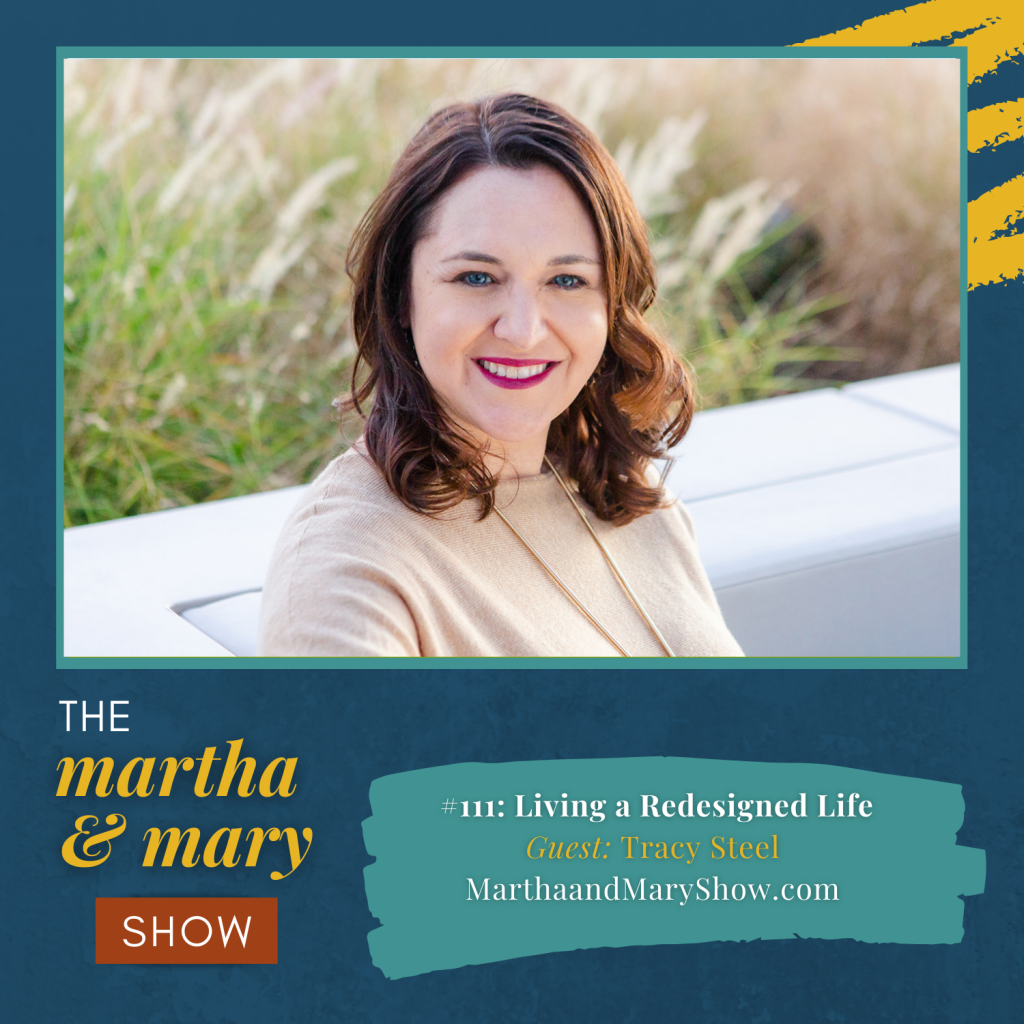 Our interviews continue with a dear friend of mine. Tracy Steel draws upon her experience as an interior designer and ministry director in encouraging us to trust God's purpose, even when life doesn't go as planned.
If you are interested in sponsoring the show, contact Katie for more details. We take on a limited numbers of sponsors.
Disclosure: Affiliate links are used in this post. If you choose to purchase through the links, we may be compensated at no additional cost to you. See full disclosure policy.
Listen to the latest episode below, on our podcast webpage, or access Episode #111 on your favorite podcast app.
Show Notes for Episode 111: Living A Redesigned Life with Tracy Steel
Tracy Steel, author of A Redesigned Life, assures us that God is their ever-present, caring Designer even when life doesn't go as planned.
Today's Guest: Tracy Steel graduated from Kansas State University with a BS in interior design in 1998 and has a master's degree in biblical and theological studies from Phoenix Seminary. God's true design for Tracy now involves improving the interior space of the hearts and minds of women around her. This military wife and mother of two enjoys leading Bible studies at her local church and speaking at various moms' groups and women's ministries events nationwide. She is also the author of Images of His Beauty, a 10-week Bible study for young women and A Redesigned Life.
Today's Sponsor: Made Like Martha: Good News for the Woman Who Get Things Done by Katie M. Reid
Theme Music: "Busy Bee" by Cade Popkin
Things We Talk About:
As we're resting, God is still moving. @tracymsteel #marthamaryshow #podcast
Click To Tweet
Connect with Us:
Subscribe to the show and leave a rating and review.
Before the mountains were born or you brought forth the whole world, from everlasting to everlasting you are God. -Psalm 90:2 @tracymsteel #marthamaryshow
Click To Tweet
Catch Up on recent episodes of the podcast:
110: Shifting Your Focus to See God with Abby McDonald
107: Telling Your Story with Kate Motaung
106: Strengthening Your Marriage with Amber Lia