Time stands still. A freeze-frame of His grace comes into focus.
They smile. You smile. You are privy to His handiwork; up close and personal, holy ground.
You slow and you start to see more clearly.
You give thanks.
Photography is a gift to help us remember, understand and appreciate the fragility and wonder of life. (<==== Click to Tweet)

It is a joy to capture sacred moments and special milestones through my lens. It is an honor to help people see God's imprint upon His creation.
One of my favorite things to do as a photographer (besides taking adoption family photos) is to help speakers, writers, business owners and ministry leaders maximize their impact. I would love to partner with you to broadcast your heart's message to the world.
Here are a few example of the kind of creative projects I do:
Darlene is my Life Coach. She is also the founder of Hearts With A Purpose and just launched a new website. It was a pleasure to work with Darlene and create unique images that reflect her heart to help others get unstuck.
It is a privilege to read the heart cries of my writing friends. I reviewed Kate Motaung's powerful ebook, Letters to Grief, and then created a series of images with quotes from her book.
How can I help you?
I can help you get your message out there— to encourage others, to showcase His glory, to reach more people with His hope—through creative ideas and captivating images.
Head on over to the Contact Form and let's start a conversation about taking your God-given dreams to the next level.
You have helped me!
Thank you for the blessing you have given me during launch week. You have uplifted me with your enthusiasm. You have encouraged me with your comments. You have supported me by showing up. You have helped me celebrate big. Thank you!
There is still time to enter all the giveaways from this week (Monday-today). The giveaways will end Saturday at 11pm and I will announce the winners over on Facebook on Monday.
To recap:
Monday= Echoes of My Heart CD
Tuesday= Journal, notecards and tea
Wednesday= Adopting Nations ladybug pillowcase set
Thursday= 4 free tracks from Echoes of My Heart album
Friday….
The lovely and talented Krafy Kash is giving one of you this beautiful "Grace" necklace!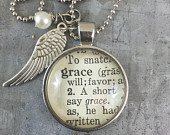 I just love Krafty's work and get many compliments when I wear my "Mother" necklace from her store. This piece is particularly meaningful because it echoes the message of His heart and this space…grace. Let's find grace in the unraveling of life as we learn to trust Him more and more.
We can sit down on the inside because Jesus hung on the cross (on behalf of our sin), was buried, and then rose again so that we can—once and for all—find grace, because He stood in our place.
I wish I could give each one of you this necklace as a reminder of what He did for you—that you don't have to be perfect because He was, and is, and will always be.
Let's cling to the Only One who is truly in control and always perfect.

Katie M. Reid Launch Giveaway (Krafty Kash "Grace" Necklace)

P.S. It's Friday and you know what that means! Head on over to one of my favorite communities on the web as the Five Minute Friday crew writes about this week's prompt: RISE. Set your timer for 5 minutes. Ready, set, GO!