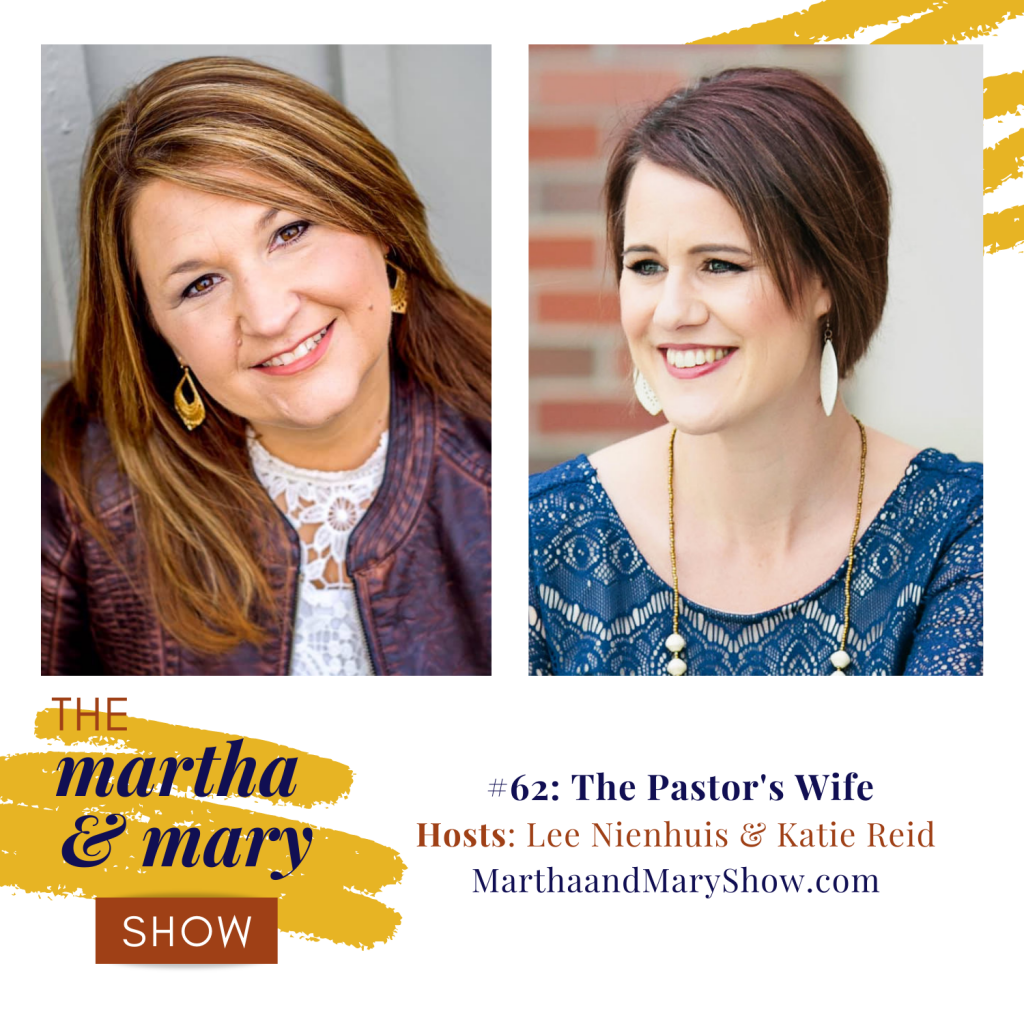 Join us over in the Martha and Mary Show Sisterhood Group on Facebook, where you'll be uplifted and in the loop about the podcast.
Disclosure: Affiliate links are used in this post. If you choose to purchase through the links, we may be compensated at no additional cost to you. See full disclosure policy.
Listen to the latest episode below, on our podcast webpage, or access Episode #62 on your favorite podcast app.
Show Notes for Episode #62: The Pastor's Wife
Lee and Katie talk about what's it's like to be a pastor's wife and the blessings and challenges of navigating ministry in this interesting time.
Theme Music: "Better Together" by Cade Popkin
Show Sponsor: The Ministry to Business Guide is a beautifully designed, easy to follow playbook will help you finally EARN AN INCOME from your passion. Join thousands of other writers, speakers, podcasters, and coaches as they get their pressing questions answered and unlock best practices from industry experts. What are you waiting for?! A FREE Virtual Ministry Guide is included when you purchase to help you pivot your productivity.
Things We Talk About:
Blessing and challenges of pastor's wives.
Pray for those in leadership over you.
Pray for your pastor and his wife:
And this is my prayer: that your love may abound more and more in knowledge and depth of insight, so that you may be able to discern what is best and may be pure and blameless for the day of Christ, filled with the fruit of righteousness that comes through Jesus Christ—to the glory and praise of God." -Philippians 1:9-11
One of the best ways you can love your pastor and his wife is by praying for them. #marthamaryshow #pastor #pastorswife
Click To Tweet
Connect with Us:
Be sure to subscribe, so you don't miss any shows!
Let's pray for God's wisdom, encouragement, and endurance for our pastors and their families. #pastor #pastorswife #momsinprayer
Click To Tweet
Listen to Season 5 of the Podcast:
#61: Fashion Tips for Busy Women with Shari Braendel
#59: What's on Your Bucket List?
#58: When People are Disappointed (Guest: Christa Hutchins)
#57: Small Means, Big Hospitality