Season 5 of The Martha + Mary Show podcast continues with an insightful interview with Christa Hutchins of "Do a New Thing."
Listen to the latest episode below, 
on our podcast webpage,
or access Episode #58 on your favorite podcast app.
Show Notes for Episode #58: Interview with Christa Hutchins
Guest, Christa Hutchins, talks about capacity, accountability, and how Jesus wisely dealt with disappointed people and we can too.
Theme Music: "Better Together" by Cade Popkin
Disclosure: Affiliate links are used in this post. If you choose to purchase through the links, we may be compensated at no additional cost to you. See full disclosure policy.
Today's Guest: Christa Hutchins equips busy communicators and leaders with project management and problem solving skills so they can turn their big ideas into a successful ministry or business. She is passionate about teaching women to find practical application of the Bible in their personal, professional and ministry lives. Christa lives in south Louisiana with her husband in their delightfully empty nest. Visit her at www.doanewthing.com to connect.
Show Sponsors: Brave Moms, Brave Kids: A Battle Plan for Raising Heroes by author, speaker, and podcast host, Lee Nienhuis.
It's a joy to let you know about this relentlessly helpful resource, The Ministry to Business Guide.
The Ministry to Business Guide is a beautifully designed, easy to follow playbook will help you finally EARN AN INCOME from your passion. Join thousands of other writers, speakers, podcasters, and coaches as they get their pressing questions answered and unlock best practices from industry experts. What are you waiting for?! A FREE Virtual Ministry Guide is included when you purchase to help you pivot your productivity.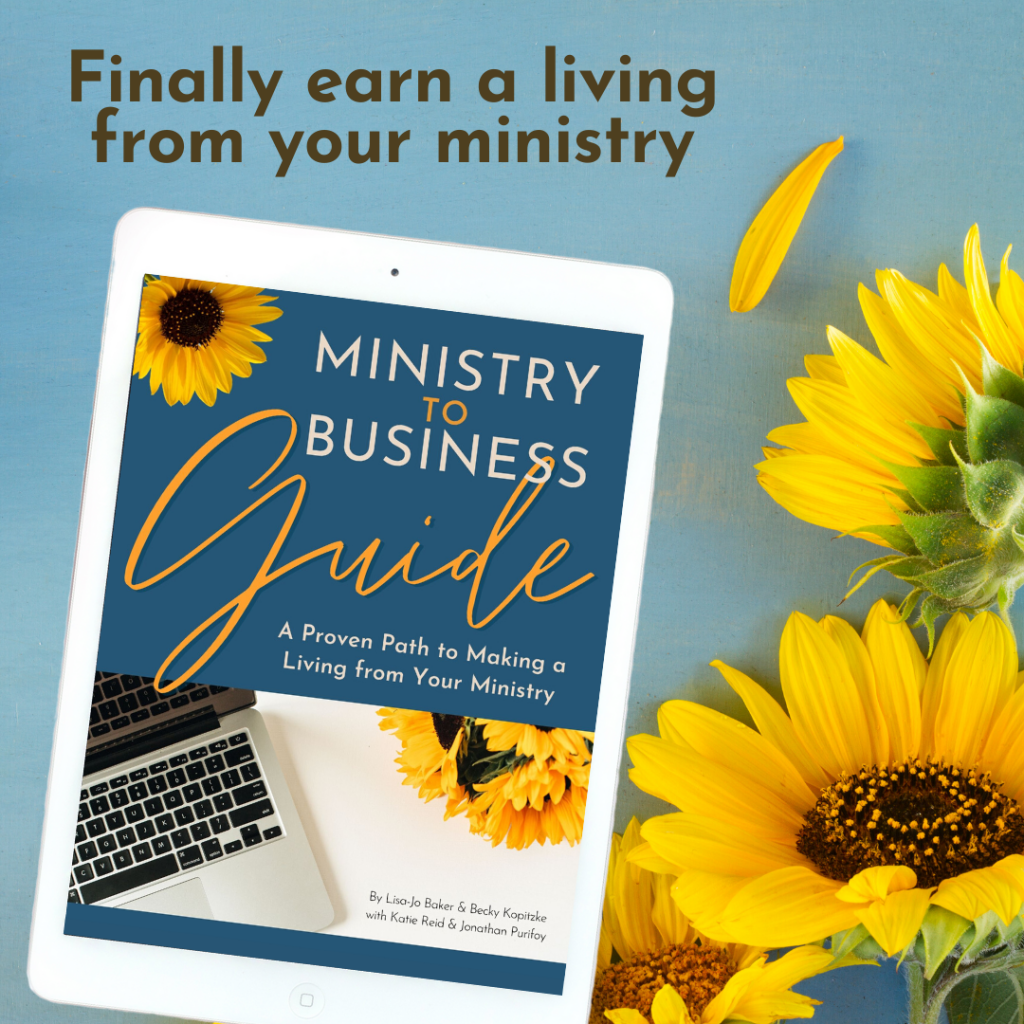 Things We Talk About:
Lee's Decision Chart: Must | Could | Should | Want To (see below)
Need a capacity check? Here's is an example of Lee's Decision-Making Quadrant. Use this tool to think through what you must do, what you should do, what you could do, and what you want to do. Compare that to the amount of time you have available in your day, week, month, and year.
How Jesus Approached Disappointed People (from Christa Hutchins):
Show compassion and preserve relationships.
Stay in the present and let go of the past.
State the truth and choose not to argue.
Be direct and deal openly.
Sometimes you have to make your plans fit your capacity and other times you have to stretch your capacity to fit your plans. -Christa Hutchins #marthamaryshow
Click To Tweet
Christa's Move Forward Mastermind:
If you're interested in being a part of Christa's Mastermind, that she talked about on the show, you can sign up between August 31 – September 7.
The Move Forward Mastermind is a place for Go-Getter Jesus Girls where a little bit of guidance and a whole lot of tough grace help you finish what you started.
In the Move Forward Mastermind, you'll learn how to:
Gain clarity on your next positive steps
Finally complete those projects that have been lingering and make time for fresh, creative ideas.
Put the things that have been blocking you in the rear view mirror and never look back
Implement systems and processes that fit into your busy lifestyle and streamline your efforts
Be part of a community that supports and encourages you to complete the tasks you've started
Be the kind of confident leader your team wants to follow
Connect with Us:
Be sure to subscribe, so you don't miss any shows!
Listen to Season 4 + 5 of the Podcast:
#57: Small Means, Big Hospitality
#55: Dear Parents of School-Aged Children (Summer Series: Michelle Nietert)
#54: Martha of Bethany (Summer Series: Rebekah Fedrowitz)
#53: Perfection is Not Up to You (Summer Series: Tracy Steel)
#52: Are You a Tightly Wound Woman? (Summer Series: Kela Nellums)
#51: My Sibling with Special Needs (Summer Series: Cindy Bultema)
#50: Blaze of Glory (Summer Series: Angie Gibbons)
#49: Freedom Forever (Summer Series: Jami Amerine)
#48: Freeing the Enneagram 1 (Summer Series: Kate Motaung)
#47: Secrets About Your Type A Friend (Summer Series: Quanny Ard)
#46: Countercultural Parenting (Interview with Lee Nienhuis)