Join us over in the Martha and Mary Show Sisterhood Group on Facebook, where you'll be uplifted and in the loop about the podcast.
Disclosure: Affiliate links are used in this post. If you choose to purchase through the links, we may be compensated at no additional cost to you. See full disclosure policy.
Listen to the latest episode below, on our podcast webpage, or access Episode #63 on your favorite podcast app.
Show Notes for Episode #63: Non-Compete Clause
Lee and Katie have adopted a non-compete clause in their friendship and in their working relationship. They're talking about it on this week's podcast episode. Maybe you want to use this in your relationships too?
Theme Music: "Better Together" by Cade Popkin
Show Sponsor: The Ministry to Business Guide is a beautifully designed, easy to follow playbook will help you finally EARN AN INCOME from your passion. Join thousands of other writers, speakers, podcasters, and coaches as they get their pressing questions answered and unlock best practices from industry experts. What are you waiting for?! A FREE Virtual Ministry Guide is included when you purchase to help you pivot your productivity. And for a limited time, learn more about the M2B Huddle—a coaching hub for Christian communicators. 
Things We Talk About:
You don't have to beg for scraps at the table when you already have a seat at the feast. #marthamaryshow
Click To Tweet
Today's Verse: Matthew 28:19-20
Therefore go and make disciples of all nations, baptizing them in the name of the Father and of the Son and of the Holy Spirit, and teaching them to obey everything I have commanded you. And surely I am with you always, to the very end of the age."
Adopt a Non-Compete Clause:
Choose contentment over comparison
Exchange a scarcity mentality for a multiplication mindset
Commit to keep growing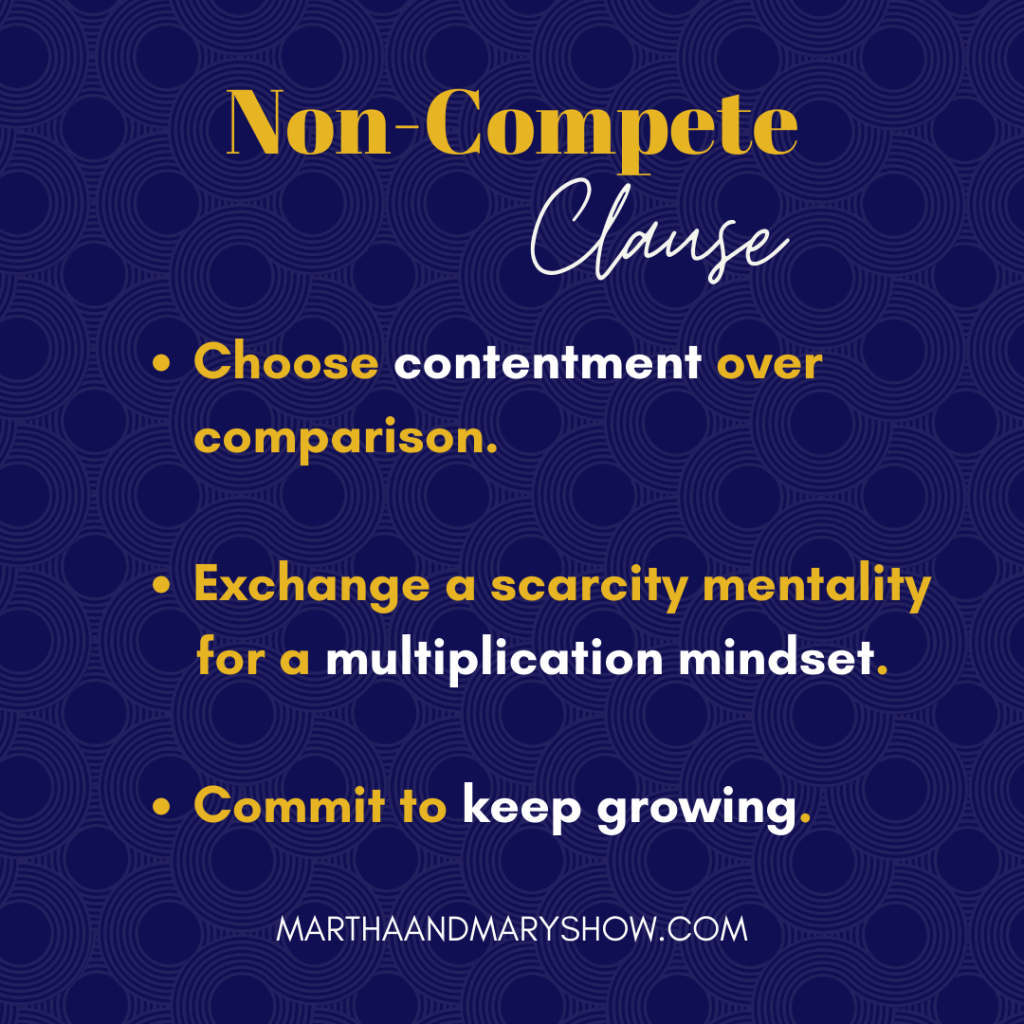 Connect with Us:
Be sure to subscribe, so you don't miss any shows!
Adopt a non-compete clause within your friendships. #marthamaryshow @leenienhuis
Click To Tweet
Listen to Season 5 of the Podcast:
#61: Fashion Tips for Busy Women with Shari Braendel
#59: What's on Your Bucket List?
#58: When People are Disappointed (Guest: Christa Hutchins)
#57: Small Means, Big Hospitality