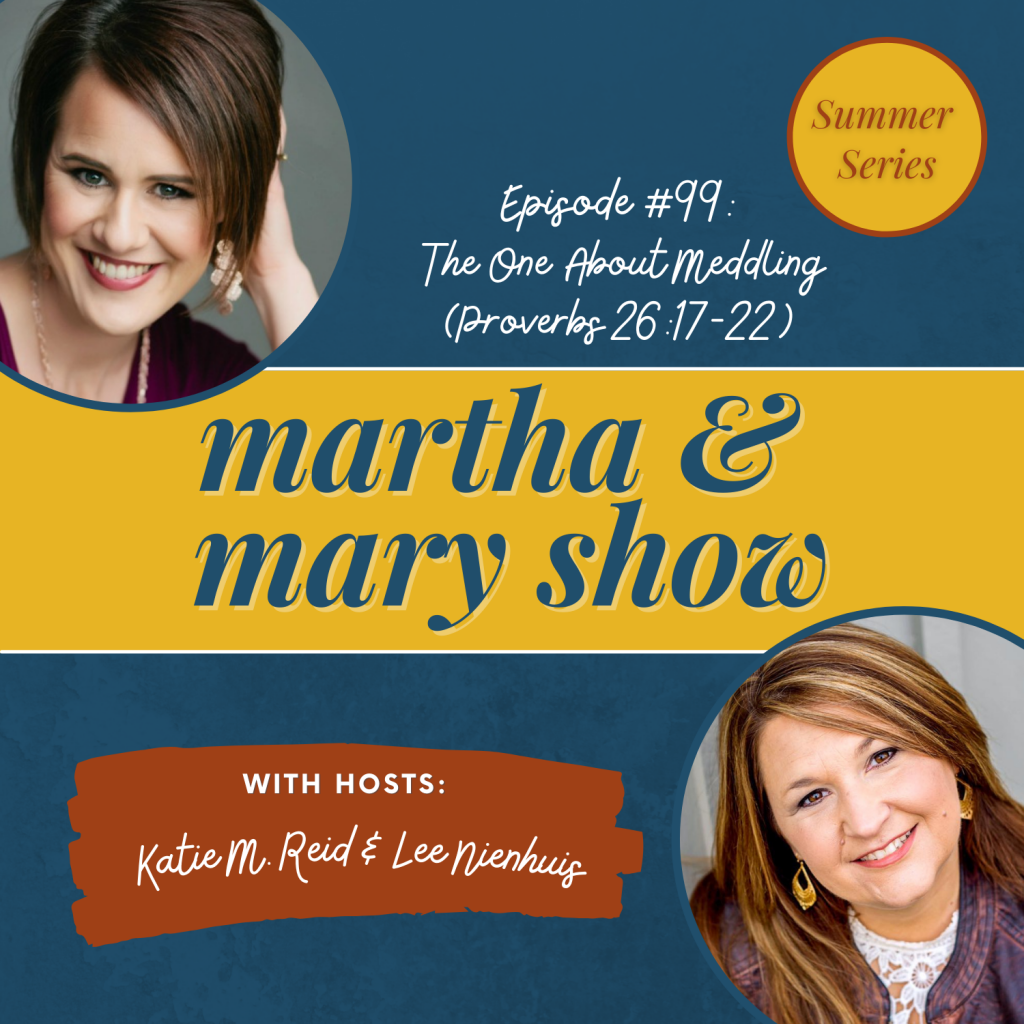 Go for a walk with us each week during the summer series of The Martha and Mary Show podcast. We're walking in wisdom as we discuss a Proverb, share a story and a resource to help you grow. The episodes are short and sweet!
Disclosure: Affiliate links are used in this post. If you choose to purchase through the links, we may be compensated at no additional cost to you. See full disclosure policy.
Congrats to Tina T. who won the Christmas in July Giveaway!
In case you missed it, the novel of my novel, A Very Bavarian Christmas, is now available on Audible.
Listen to the latest episode below, on our podcast webpage, or access Episode #99 on your favorite podcast app.
Show Notes for Episode 99: The One About Meddling
Lee and Katie talk about meddling and how we can walk in wisdom, according to Proverbs 26:17-22.
Theme Music: "Busy Bee" by Cade Popkin
Today's Sponsor: Made Like Martha: Good News for the Woman Who Gets Things Done by Katie M. Reid
Things We Talk About:
Pause before you proceed
Assume the best instead of the worst
When we're tempted to meddle, let's ask ourselves:
Why are we meddling?
Are we afraid that no one will ask us for advice?
Do we need to be needed?
Do we trust the Holy Spirit to work in other people?
Connect with Us:
Subscribe to the show and leave a rating and review.
Are you trusting the Holy Spirit to work in those around you? #marthamaryshow @leenienhuis
Click To Tweet
Catch Up on Season 6 of the Podcast:
98: The One About Self-Control
97: The One About Teachability
95: Martha and Mary Walk in Wisdom
94: Martha and Mary Go Camping
93: Martha and Mary On Vacation