Yesterday we celebrated World Down Syndrome Day! I shared this beautiful artwork that my friend, Jami Amerine, made to showcase the bond that my brother and I have.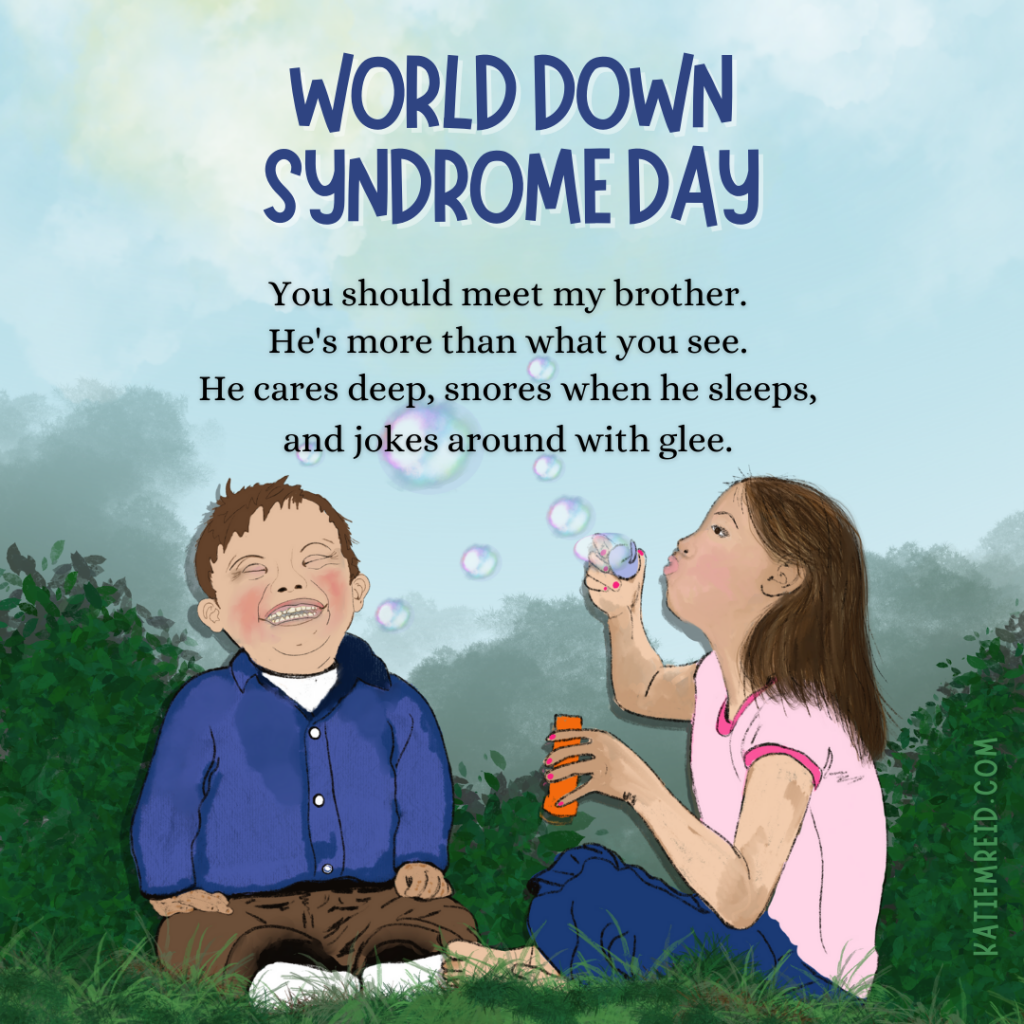 If you'd like to know more about my brother, Brian, you can read the "31 Days with My Brother" series about him.
Listen in as today's guest talks about parenting a child with special needs and how to avoid burnout when you are a caregiver.
Disclosure: Affiliate links are used in this post. If you choose to purchase through the links, we may be compensated at no additional cost to you. See full disclosure policy.
Listen to the latest episode below, on our podcast webpage, or access Episode #129 on your favorite podcast app.
Show Notes for Episode #129: Parenting a Child with Special Needs with Sandra Peoples
Sandra Peoples provides wisdom to restore your soul amid the demands of parenting and caregiving.
Today's Guest: Sandra Peoples (M Div) is a special-needs mom and sibling. She and her family live outside of Houston, TX, where she serves her church as the Inclusion Coordinator for Special Needs Families. She is also the Special Needs Ministry Consultant for the Southern Baptist of Texas Convention. She's the author of Unexpected Blessings: The Joys and Possibilities of Life in a Special-Needs Family and cohost of the podcast, Self Care and Soul Care for the Caregiver.
Theme Music: "Found" by Lisa Troyer and Dawn Yoder Venture3Media/Circle of Friends
Show Sponsor: Made Like Martha: Good News for the Woman Who Gets Things Done by Katie M. Reid
Things We Talk About:
Questions to reflect on:
Are you experiencing loneliness? What is something you could do to address that?
Do others think you have it all together? In what ways could you be more vulnerable and honest about your struggles?
Do you feel trapped by the life you are called to? How so?
How are the boundaries that have been placed in your life comforting to you?
What is a decision that you can make once and not have to make again?
She did what she could. -Mark 14:8 @sandrapeoples #marthamaryshow #specialneeds
Click To Tweet
Connect with Us:
Subscribe to the show and leave a rating and review.
Our limitations can draw us to the One who has no limits. @sandrapeoples #marthamaryshow #weakness #parenting #momlife
Click To Tweet
Latest episodes of the podcast:
128: Parenting with Love and Peace with Crystal Paine
127: Connecting the Generations with Leslie Schonfeld
126: Fear Not with Charity Harris
125: From Atheist to Delight in God with Stéphanie Rousselle
124: From Toxicity to Healing with Darlene Larson