Are you a gardener? Do you delight in the beauty of flowers? Do you marvel at the intricacies of creation?
This week's podcast is blooming with stories from the flower garden with an accomplished author and curator of beauty.
Disclosure: Affiliate links are used in this post. If you choose to purchase through the links, we may be compensated at no additional cost to you. See full disclosure policy.
Listen to the latest episode below, on our podcast webpage, or access Episode #136 on your favorite podcast app.
Show Notes for Episode #136 with Christie Purifoy
Christie Purifoy, author of Garden Maker, shares practical and spiritual insights gleaned from cultivating flowers.
Today's Guest: Christie Purifoy is a writer and gardener who loves to grow flowers and community. She is the author of two memoirs, Roots and Sky: A Journey Home in Four Seasons and Placemaker: Cultivating Places of Comfort, Beauty, and Peace, as well as the recently released Garden Maker: Growing a Life of Beauty & Wonder With Flowers. Christie earned a PhD in English literature from the University of Chicago but eventually traded the classroom for an old farmhouse called Maplehurst where, along with her husband Jonathan and four children, she welcomes frequent guests to the Maplehurst Black Barn.
With her longtime friend Lisa-Jo Baker she co-hosts the 
Out of the Ordinary
podcast and an online community for aspiring and experienced gardeners called
The Black Barn Garden Club
. Finally, with a small group of creative, faithful friends, she founded a non-profit faith and arts organization called the Black Barn Collective. You are invited to join the collective in their online home the 
Black Barn Online
 where faith and art take root, flourish, and grow.
Theme Music: "Found" by Lisa Troyer and Dawn Yoder Venture3Media/Circle of Friends
Today's Sponsor: Made Like Martha: Good News for the Woman Who Gets Things Done by Katie M. Reid
Things We Talk About:
Are there things in your life that you are weeding out that are actually good things? #marthamaryshow #garden #lifelessons
Click To Tweet
Today's Verse: Isaiah 58:11
The Lord will guide you always; he will satisfy your needs in a sun-scorched land and will strengthen your frame.
You will be like a well-watered garden, like a spring whose waters never fail."
Connect with Us:
Subscribe to the show and leave a rating and review.
You have an invitation to sow seed daily. What will you plant? @christiepurifoy #marthamaryshow #garden
Click To Tweet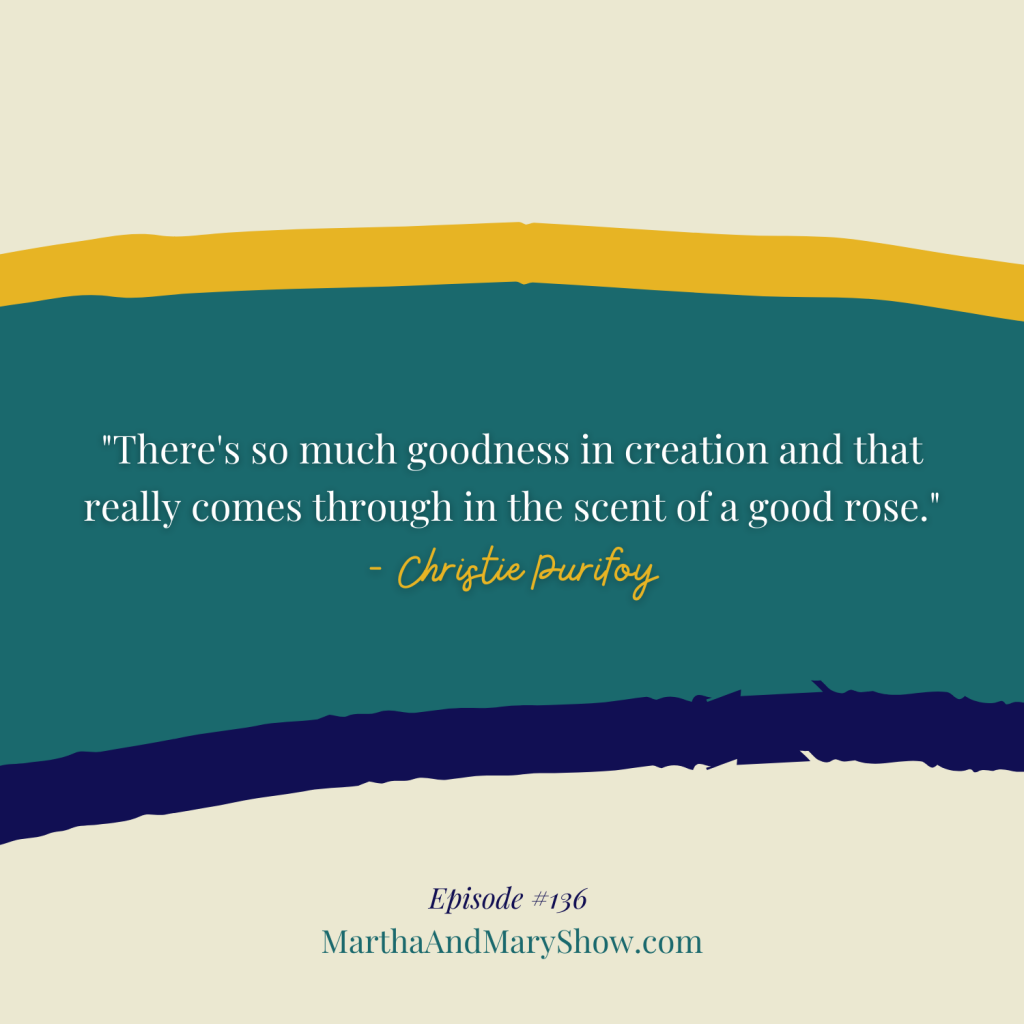 Latest episodes of the podcast:
135: Deploying Hope and Healing with Jennifer Bleakley and Jodi Stuber
134: Standing on Truth in All Things with Lauren Alexander
133: Let's Go When and Where He Leads Us with Tischa van de Reep
132: Moving from Fear Stops to Faith Steps with Jennifer Hand